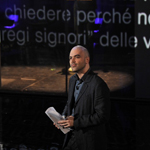 Roberto Saviano, author of Gomorrah (2006), will give the opening speech at the International Journalism Festival on Tuesday 12 April at 21.00 in the Teatro Pavone. The title of his speech is:
You disagree? You'll be delegitimized. How to recognise and stop the mud machine.
"The mud machine operates in a straightforward way: whoever criticizes certain areas of political power in Italy is attacked, often in very personal terms, by a servile section of the media. But once the mud machine is seen for what it is, it's up to each individual citizen to understand the implications and react decisively" Roberto Saviano
The event will be broadcast live on Sky News Italy and Repubblica.it.