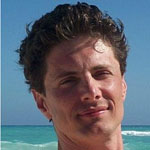 AgoraVox, set up in France in March 2005 by Carlo Revelli and Joel De Rosnay, is the first European website for participatory journalism ​​by non-professional and volunteer editors. It's been a huge success, with over a million users and 38,000 reporters. It's now the second most visited news website in France after Le Figaro.
AgoraVox will run three panel discussions during the festival.
Old media in new bottles? (16.00 friday 15 april)
From newsprint to the web. How four leading European dailies have dealt with this transformation. Is everything in order or is the backwash of radical change still being felt?
Philippe Jannet CEO Le Monde Interactif
Francesco Piccinini editor agoravox.it
Paolo Rastelli editor corriere.it
Dan Roberts national editor The Guardian
Giuseppe Smorto editor repubblica.it
Pure players (16.00 saturday 16 april)
They begin life, grow, prosper, inspire, reproduce and (will eventually, presumably) die on the web. They are the thoroughbreds of the web mediaspace, pure players through and through, almost perfectly adapted to their environment. Five leaders of online news to tell the tale of these minor miracles of media evolution.
Paolo Madron founder lettera43.it
Francesco Piccinini editor Agoravox Italy
Carlo Revelli founder Agoravox
Luca Sofri founder ilpost.it
Jacob Weisberg editor-in-chief Slate Group
Cool new media (14.30 sunday 17 april)
New media websites which are in some way breaking the mould. If these nimble operators can stay a step ahead of the game, notoriety, fame and fortune will surely follow. Owni.eu for example was one of the first media websites to work with Julian Assange, sulia.com is making waves in New York.
Jeff Israely co-founder Worldcrunch
Francesco Piccinini editor AgoraVox Italy
Federica Cocco editor-in-chief owni.eu
Josh Young vice-president editorial and expert operations sulia.com