Our personal weekly selection about journalism and innovation.
Stay up to date by subscribing to our Newsletter or by following our Telegram channel, and join the conversation on Facebook, Twitter, and Instagram.
Edited by Marco Nurra
---
Watch all #ijf19 sessions on-demand: media.journalismfestival.com

---
NYT promotes questionable study on Google and the media. "A New York Times story published on Sunday contains an eye-opening allegation: Google "made $4.7 billion from the news industry in 2018," according to a new report. The lede of the story quotes the figure again, with all of the zeroes, and mentions that this number is "more than the combined ticket sales of the last two Avengers movies," and more than what most professional sports teams are worth (the writer of the story usually covers college sports, according to his Times bio). As it turns out, the report was published by the News Media Alliance, a media-industry lobby group formerly known as the Newspaper Association of America, and the figure quoted by the Times—without any critical assessment whatsoever—appears to be based almost entirely on questionable mathematical extrapolation from a comment made by a former Google executive more than a decade ago," writes Mathew Ingram.
That "$4.7 billion" number for how much money Google makes off the news industry? It's imaginary. It's based on math reasoning that would be embarrassing from a bright middle schooler.
Newspapers' embarrassing lobbying campaign. "The industry doesn't need—and shouldn't ask for—a special law to help it compete with Google and Facebook," writes Jack Shafer.

News publishers go to war with the internet — and we all lose. "The real problem here is news publishers' dogged refusal to understand how the internet has changed their world, throwing the paradigm they understood into the grinder. In the US and Europe, they still contend that Google is taking their "content," as if quoting and linking to their sites is like a camera stealing their soul," writes Jeff Jarvis. "The efforts of lobbyists for my industry are causing irreparable harm to the internet. No, Google, Facebook, and Twitter are not the internet, but what is done to them is done to the net. And what's been done includes horrendous new copyright legislation in the EU that tries to force Google et al to have to negotiate to pay for quoting snippets of content to which they link." Jeff Jarvis was a #ijf19 speaker:
🗓️ The lessons of EU internet regulation #ijf19

with @jeffjarvis, @PaulNemitz, @natalieturveyhttps://t.co/AFxuUvvkQ1

— journalism festival (@journalismfest) April 2, 2019
🗓️ The business of news: what every journalist should know #ijf19

with @janinegibson, @jeffjarvis, @amichel, @pilhoferhttps://t.co/E1trLBlyr6

— journalism festival (@journalismfest) April 2, 2019
The Reuters Institute's eighth annual Digital News Report is out. It's their biggest report ever, based on a survey of 75,000 news users in 38 countries across the world including in Europe, the Americas, Asia-Pacific and, for the first time, Africa. It looks at audience trends and perspectives including levels of trust, concern over misinformation, the impact of populism, news subscriptions, changing use of social media platforms and more. This year's report comes against a global backdrop of populism, political and economic instability, and concern over the role of tech giants in society. The survey examines how the news is serving the needs of its consumers in this environment.
Russia, in rare U-turn after public anger, drops case against journalist. Ivan Golunov, a 36-year-old journalist known for exposing corruption among Moscow city officials, was detained by police last Thursday and accused of dealing drugs, an allegation he flatly denied. Russian journalists critical of authorities have led a dangerous existence since the 1990s – sometimes threatened, physically attacked, and even murdered for their work.
Mexico: seventh journalist murdered in just six months. Norma Sarabia, a 46-year-old crime reporter, had reportedly received threats for denouncing police corruption.
As the Christchurch massacre trial begins, New Zealand news orgs vow to keep white supremacist ideology out of their coverage. "We're going to do our job — we won't chill our coverage in any way — but we're not going to spread hate or misinformation."
How to combat health misinformation online: A research roundup. The website Journalist's Resource summarized seven recent academic studies on the efficacy of interventions used to correct health misinformation.
Ideas to improve science and health journalism in age of misinformation. Senior editors from more than a dozen countries met at WAN-IFRA's World News Media Congress in Glasgow, to review and approve recommendations for principles of best practice in science and health journalism, and to tackle misinformation. "The outcomes of the Glasgow meeting will now be developed into projects that can attract funding and action," writes Corinne Podger. Corinne Podger was a #ijf19 speaker:

🎥 Learning how to learn: what the international media development sector can teach newsrooms – #ijf19 on-demand

with @DeborahKellyTV, Dragana Zarkovic Obradovic, @corinne_podger, @anca_toader https://t.co/GtrogQ0c2U

— journalism festival (@journalismfest) June 15, 2019
🎥 What are the best mojo apps for newsrooms in 2019? – #ijf19 on-demand

with @corinne_podger https://t.co/xoBDcYWQbv

— journalism festival (@journalismfest) June 15, 2019
'How we set up a multilingual, cross-border monitoring team during the European elections'. The five main steps taken by First Draft and a team of student researchers to monitor information online as 28 countries voted for the EU parliament.
These fact checks look like misinformation. And that's the point. For the past two years, Maldito Bulo (which means "damn hoax" in Spanish) has been experimenting with formats that imitate the design and layout of misinformation. The outlet posts its debunks as images on social media with the goal of making fact checks go as viral as falsehoods on social media. "The disinformation we were seeing came in visual layouts, adapted to mobile devices and created to reach virality by being light to share and easy to consume. We decided to copy the 'bad guys' in order to fight back," said Clara Jiménez Cruz, co-founder of Spanish fact-checking site Maldito Bulo. Clara Jiménez Cruz was a #ijf19 speaker:
🎥 AI in the newsroom – #ijf19 on-demand

with Guido Baumhauer (@DeutscheWelle), @cjimenezcruz (@maldita_es), @e_paniagua, @eduardosuarez (@politibot)https://t.co/ySvwlfTwWx

— journalism festival (@journalismfest) May 22, 2019
Facebook plans to help news publishers generate revenue. The social media platform will help media organisations monetise content, including a dedicated space for news and a Facebook-powered subscription tool.
Mandy Jenkins will build McClatchy's Google-funded new local sites. It's the first time the Google News Initiative is actually putting money into building newsrooms that produce journalism, rather than just granting money for one-off projects.
'We are just like the audience': AJ+ is reinventing its newsroom to reach the younger generation. Native content, Tinder and satire are just some of the concepts Al Jazeera is embracing on its online news channel to engage with millennials.
Pepe the Frog creator wins $15,000 settlement against Infowars. Victory is latest in a string of legal actions by Matt Furie, who is seeking to halt the co-option of his cartoon by the far right.
The International Journalism Festival #ijf19 On-Demand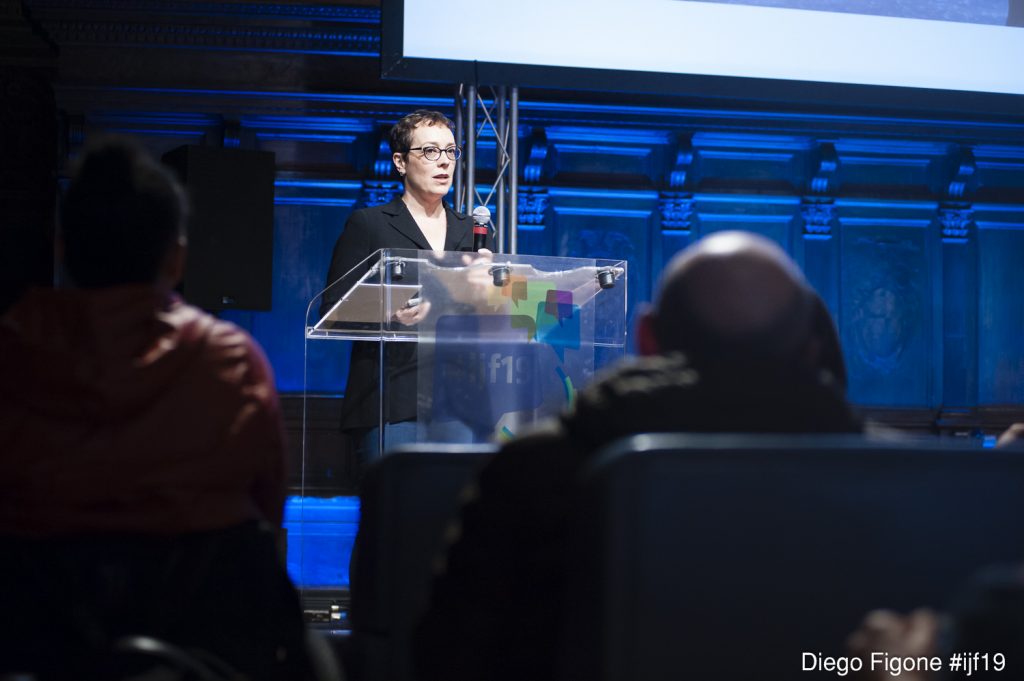 Every week, one recommendation from the extensive programme of the last edition of the International Journalism Festival.
Today we are inviting you to watch "Witness vs. forensics: the future of data-driven investigative reporting. #ijf19talk by Julia Angwin". Journalism has long focused on being a witness to events that the public would not otherwise get to see. But now that the public has its own witnessing tools, journalism needs to turn more toward forensics – verifying witness accounts and bringing our skills to places that citizens cannot go – such as deep into the black box algorithms that increasingly drive our decisions.

---
(Photo via Nieman Lab)