Our personal weekly selection about journalism and innovation.
Stay up to date by subscribing to our Newsletter or by following our Telegram channel, and join the conversation on Facebook, Twitter, and Instagram.
Edited by Marco Nurra
---
Watch all #ijf19 sessions on-demand: media.journalismfestival.com

---
What kind of climate change coverage do you read in the news? It depends on whether you live in a rich country or a poor one. News organizations in wealthy countries are more likely to frame climate change as a domestic political issue, while those in poorer countries report more on natural disasters and international relations.
How the media contributed to the migrant crisis. "Often, people I met were surprised at the lack of understanding, even indifference, they felt was being shown to them. Didn't Europe know why people like them were forced to make these journeys? Hadn't Europe played an intimate role in the histories and conflicts of their own countries?" writes Daniel Trilling in Lost in Media: Migrant Perspectives and the Public Sphere, a project of the European Cultural Foundation.
From conflict zones to courtrooms, Myanmar's journalists are under fire. Reporters, editors and advocates told CPJ in June that authorities are ramping up legal threats to stifle independent reporting, particularly on the military's campaigns against insurgent groups in volatile ethnic minority areas, including the Arakan Army, an armed group fighting for ethnic Rakhine autonomy and self-determination.
The scary trend of internet shutdowns. Around the world, governments have been turning to network shutdowns with increasing frequency to quell unrest and suppress the spread of rumors and fake news. But there is no empirical evidence that proves this tactic is effective, and activists and journalists alike have raised concerns over the catastrophic side effects these shutdowns often have on communities.
How journalists' jobs affect their mental health: A research roundup. Day in and day out, journalists report on complex and difficult topics — natural disasters, political violence and human suffering, for example — and often they do this work while also worrying about newsroom layoffs and the future of the industry. It takes a mental and physical toll. Below, we've summarized several studies that look at the effects of occupational stress on hard news reporters.
Edward Snowden's memoir is coming in September. "Permanent Record" will be published in more than 20 countries. The book discusses how Mr. Snowden helped create a system of mass surveillance the N.S.A. used to collect information on hundreds of millions of United States citizens and others, as well as the "crisis of conscience" that led him to rebuke the system he helped create, according to a statement from the publisher.
"Evidence, please" by Jeff Jarvis. "Too many momentous decisions about the future of the internet and its regulation — as well as coverage in media — are being made on the basis of assumptions, fears, theories, myths, mere metaphors, isolated incidents, and hidden self-interest, not evidence."
The disinformation age: a revolution in propaganda. New methods are being used to change politics and crush dissent. It's time to fight back.
How we fact-check in an age of misinformation. Interesting article here from The New York Times as part of their series showing how their journalists work.
The consumer trends that destroyed media's business model. Major shifts in the way consumers spend their time and money have created a lethal competitive field for news media. Here are some facts and charts about it.
Newsonomics: The "daily" part of daily newspapers is on the way out — and sooner than you might think. Seven-day newspapers aren't just talking about cutting out one or two days a week in print — they're talking five or six. Is this the only way to accelerate the transition to digital or speeding their own decline?

Bellingcat launches investigative podcast about the Malaysia Airlines Flight 17 crash. Five years of reporting and hundreds of documents later, the weekly series compiles all of the team's findings about the disaster and its aftermath.
---
The International Journalism Festival #ijf19 On-Demand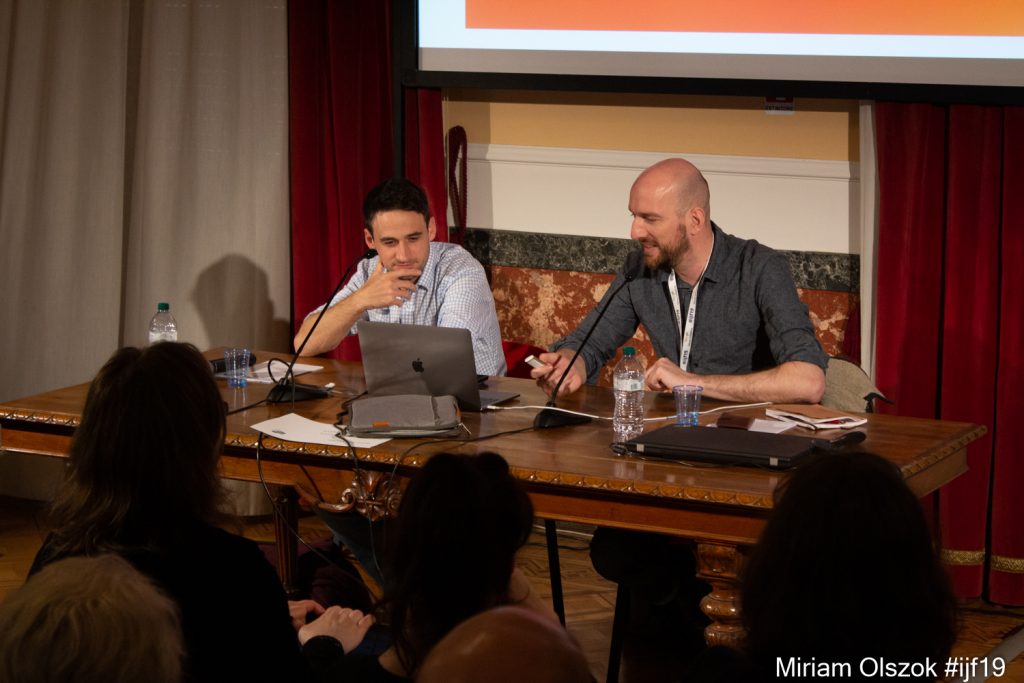 Every week, one recommendation from the extensive programme of the last edition of the International Journalism Festival.
Today we are inviting you to watch "Track changes: how to use open-source information to identify and monitor environmental issues". This workshop – led by Wim Zwijnenburg, an expert on the subject, and his colleague at Bellingcat Nick Waters – will teach journalists and attendees alike how to use readily available open data sources to investigate or locate environmental disasters. The skills taught in the workshop will allow reporters to launch full investigations, and perhaps even predict areas of future crises or conflict using just the internet, satellite imagery and available reports. These tools are an essential part of journalism's contribution to combating climate change.

---