Our personal weekly selection about journalism and innovation.
Stay up to date by subscribing to our Newsletter or by following our Telegram channel, and join the conversation on Facebook, Twitter, and Instagram.
---
Edited by Marco Nurra
The 2020 International Journalism Festival #ijf20 has been cancelled
---
To fight Covid-19, curb the spread of germs—and rumors. "How we respond to info about Covid-19 is as important as how we respond to the virus itself. Informationally and physically, we need to aim for community health," writes Whitney Phillips.
Tips for reporting on Covid-19 and slowing the spread of misinformation. Reporting on Covid-19 presents multiple challenges for journalists. Reporters have the responsibility of providing readers with up-to-date information — no easy task amidst the ongoing uncertainty around the virus — in a tone that neither terrifies people nor downplays the severity of the situation. Amplifying misinformation is a concern, but so is amplifying fear. Here are First Draft's tips for responsible reporting on Covid-19.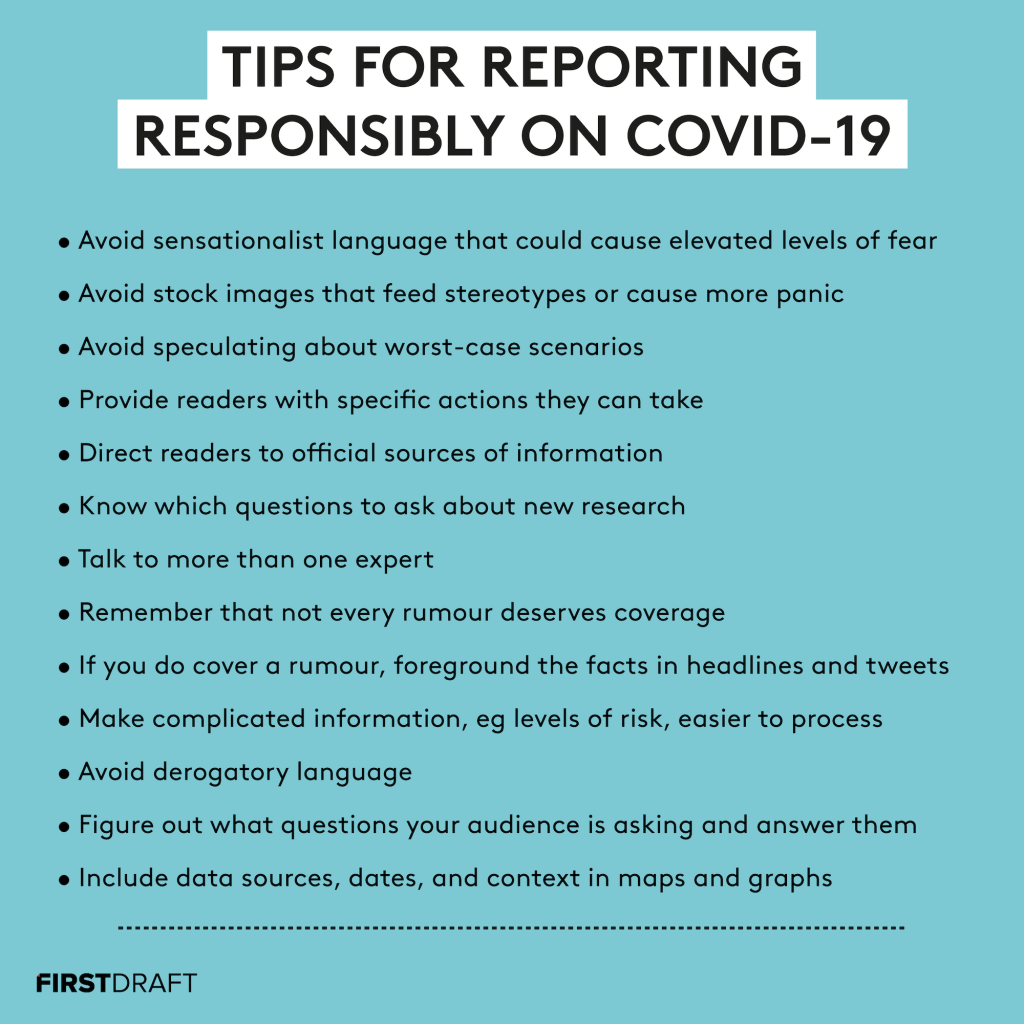 Covering Covid-19 and the coronavirus: 5 tips from a Harvard epidemiology professor. Choose your experts carefully: being a scientist doesn't make you an expert on every topic; Distinguish speculation from opinion; Beware of unpublished research; Fact-check your op-eds; Read the work of journalists who cover science topics well.
9. An example of a great data visualization is the GIF above, originally published by @TheEconomist and adapted by @SiouxsieW and @XTOTL for @TheSpinoffTV The chart is explained in this brilliant piece https://t.co/viwCXu5aiP pic.twitter.com/aXFaHoYJ9l

— Reuters Institute (@risj_oxford) March 12, 2020
I lived through SARS and reported on Ebola. These are the questions we should be asking about Coronavirus. For concerned civilians and journalists covering the coronavirus, the figures and projections can be overwhelming, frightening or confusing. Here's what reporter Caroline Chen (ProPublica) is focusing on to keep things as accurate and clear as possible.
Covid-19: The battle to spotlight credible information. "Information about a global pandemic should have a few goals: it should be accurate and trusted, precise enough to give a clear picture of what's going on, presented in a way that will not fuel panic, and actionable by the citizens. Last but not least, official information should be designed to counter the spread of misinformation," writes Frederic Filloux.
5 quick ways we can all double-check coronavirus information online. It's in your family WhatsApp group, all over Twitter and clogging up our news feeds. Here are five quick things we can do to verify content online before we share.
How to talk with kids about the coronavirus. It has to be a scary time for children. Their schools are closing, their parents are hoarding everything from toilet paper to Pop-Tarts and then they hear their parents are canceling their spring break trips. The fact is that kids hear what adults are talking about and they worry more when they don't clue them in. The Child Mind Institute, an independent nonprofit for children and families struggling with mental health and learning disorders, offers some great advice for talking to children about the coronavirus.
It's time for everybody to work from home, the Washington Post tells employees. No employee will be charged for sick or vacation time while working from home. Connell also offers tips on maintaining work-life balance when your home is your office: "Get up at a similar time, get ready, and find a spot that you designate for work." And don't forget to let your manager know when you're clocking out.
No, Trump did not ban travel from 'Europe'. President Trump's address to the nation the other night was a mess. Under almost any common definition, Trump has not banned travel from "Europe." Rather, he has banned "all aliens who were physically present within the Schengen Area during the 14-day period preceding their entry or attempted entry into the United States." Precision matters, and here's why: Trump stated that restrictions would also be applied to "trade and cargo" coming from Europe, when in fact, they won't be. (This caused mass confusion on the markets.) He asserted that health insurance providers "have agreed to waive all co-payments for coronavirus treatments," when in fact, they've agreed to waive co-payments for coronavirus testing. (All of these errors caused mass confusion among journalists.)