Our personal weekly selection about journalism and innovation.
Stay up to date by subscribing to our Newsletter or by following our Telegram channel, and join the conversation on Facebook, Twitter, and Instagram.
Edited by Marco Nurra
---
Watch all #ijf19 sessions on-demand: media.journalismfestival.com

---
Covering white supremacy and white nationalism. Since 2016 there has been a dramatic rise in the number and activities of white nationalist groups in the U.S. The number of far-right white supremacist groups has increased by nearly 50% from 2017 to 2018; far-right terrorist attacks more than quadrupled in the U.S. between 2016 and 2017, killing an estimated 40 people. In the same period, far-right attacks in Europe rose 43 percent.
Trump can't block critics from his Twitter account, appeals court rules. The decision may have broader implications for how the First Amendment applies to officials' accounts in the social-media era.
Amal Clooney takes on case of persecuted Philippines journalist Maria Ressa. Clooney called Ressa "a courageous journalist who is being persecuted for reporting the news and standing up to human rights abuses." Maria Ressa was a #ijf19 speaker:
🎥 The mission of journalism: #ijf19talk by @mariaressa – #ijf19 on-demand https://t.co/pXVTfrOpW0

(moderated by @Indira_L) pic.twitter.com/Yosel112XE

— journalism festival (@journalismfest) June 24, 2019
Governments making "fake news" a crime risk stifling real journalism — accidentally or intentionally. To stem the rising influence of fake news, some countries have made the creation and distribution of deliberately false information a crime. Singapore is the latest country to have passed a law against fake news, joining Germany, Malaysia, France, Russia, and others. But using the law to fight the wave of fake news may not be the best approach. Human rights activists, legal experts, and others fear these laws have the potential to be misused to stifle free speech, or unintentionally block legitimate online posts and websites.
Politicians are launching their own fact-checking projects. Here's why that's problematic. Fact-checkers are used to spin from politicians. But now, some politicians around the world have started to mimic fact-checkers' work to score points with voters.
Where misinformation kills, fact-checkers hope to save lives. Two months ago, Congo Check launched #FactCheckEbola, a project aimed specifically towards fake news regarding the epidemic.
Most UK news coverage of Muslims is negative, major study finds. Miqdaad Versi of the Muslim Council of Britain said he did not want to stop news outlets reporting on negative stories about Muslims but asked journalists to ensure that they considered the tone of their coverage. He also encouraged news outlets to include more positive stories about Muslims and not simply focus on terrorists and extremists.
News rejection is mostly media's fault. Despite scores of research about readership trends, the news media remains deeply disconnected with their audience. No wonder why more people prefer to avoid the news.
Mediapart guarantees its future independence. On top of its successful journalistic venture, Mediapart has now come up with its own capitalist invention by placing 100% of its capital in a not-for-profit structure which will ring-fence it and ensure it cannot be bought or sold in the future.
Working across disciplines: A manifesto for happy newsrooms. For news outlets to successfully innovate, interdisciplinary teams are essential. Here's how to make them work.
Lessons learned from more than 20 years of asking about Americans' online news habits. At Pew Research Center, they've been asking Americans about their online news habits since the mid-1990s. Since then, the ways people get news online have changed a lot — and so have the ways they ask about it.
---
The International Journalism Festival #ijf19 On-Demand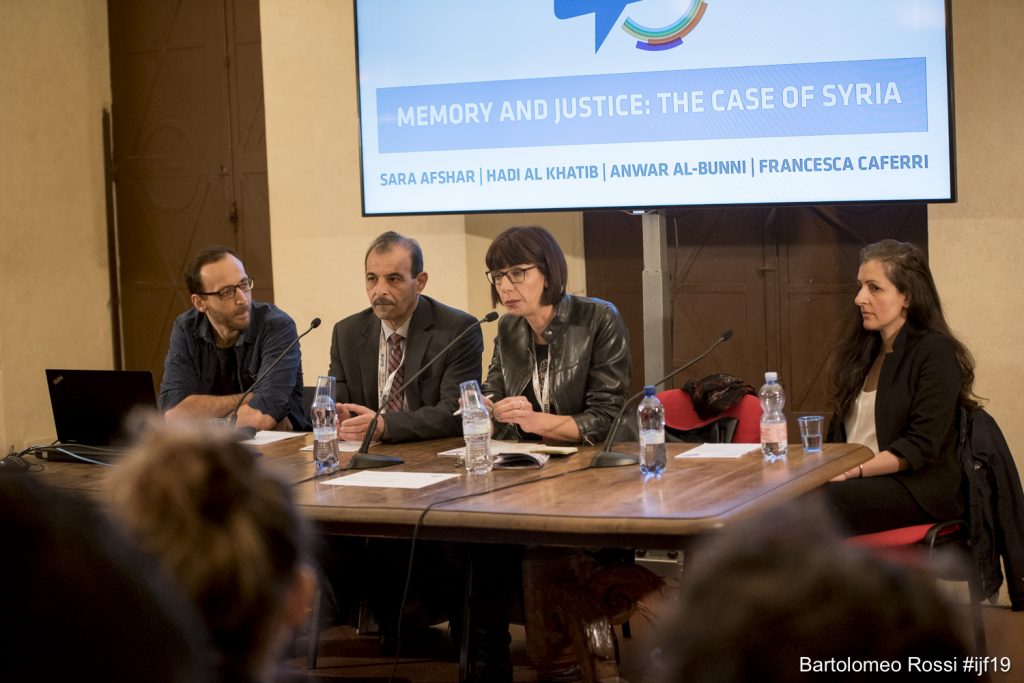 Every week, one recommendation from the extensive programme of the last edition of the International Journalism Festival.
Today we are inviting you to watch "Memory and justice: the case of Syria". With the definitive victory of Bashar al Assad, a question weighs on the future of Syria. Will there ever be justice for the thousands of people killed, disappeared or tortured? On what memory will Syria be able to base its future? Sara Afshar, author of a documentary about the documents on which an international trial of Assad could be based, Syrian lawyer Anwar al Bunni, who wants to bring Assad before an international criminal court for his crimes, and Hadi al Khatib, who is building a virtual archive of the testimonies of the revolution, discussed these and other issues. Moderated by Francesca Caferri.
---
(Photo: A Ku Klux Klansman and Neo-Nazi demonstrator holding symbolic shields at a march. Via NPR)