Our personal weekly selection about journalism and innovation.
Stay up to date by subscribing to our Newsletter or by following our Telegram channel, and join the conversation on Facebook, Twitter, and Instagram.
Edited by Marco Nurra
---
Watch all #ijf19 sessions on-demand: media.journalismfestival.com

---
Diversity is not about political correctness. It's about quality journalism. From missing valuable stories to not representing audiences we serve, lack of diversity has a real impact on the quality of reporting. Bringing different voices to the newsroom is now crucial for the survival of our industry.
Social media users have more diverse personal networks. Across the 11 emerging economies Pew Research surveyed, social media users are more likely to interact with people who are different from them.
Covering Climate Now ranks as one of the most ambitious efforts ever to organize the world's media around a single coverage topic. More than 170 news outlets from around the world have signed up for Covering Climate Now, a project co-founded by CJR and The Nation aimed at strengthening the media's focus on the climate crisis.
Cutting print is going to happen. But what's the best way to make it happen? Nieman Lab takes a look at how publishers are cutting print days — and not losing (too many) subscribers.
Want to make your journalism more memberful? The Membership Puzzle Project went around the world to identify memberful routines that incorporate community members' knowledge and produce value for news organizations.
People are lining up on the street to get free copies of The New York Times' 1619 Project. The New York Times' 1619 Project magazine issue, which reframes American history in light of how it was and continues to be shaped by slavery, has turned out to be one of the must-read, must-discuss works of the summer; nearly two weeks after its publication, it's still inspiring both rhapsodic praise and conservative backlash.
Syria's teen documentarian. Around eastern Ghouta, a suburb of Damascus, Muhammad Najem, age 16, is known as the "Little Journalist."
A deadly year for Mexico's journalists. 2019 could end up as the deadliest year on record for Mexico's journalists. Mexico is the most dangerous country for journalists in the Western hemisphere. And the impunity rate for crimes against free expression is almost 100 percent.
How China used Facebook, Twitter, and YouTube to spread disinformation about the Hong Kong protests. There have long been concerns about China's social media disinformation capabilities, but we haven't really seen the country put them into action until now.

Maybe you know that article is satire, but a lot of people can't tell the difference. Labeling satire as such may seem to take the sting out of the joke. But it's also the most effective way we know of to prevent people from taking satirical content as fact — something surprisingly common.
False images and videos about Open Arms show that not even a 'full humanitarian crisis' in the Mediterranean can stop misinformation. Operated by a Spanish search-and-rescue team, Open Arms has become the stage for a "full humanitarian crisis." El País reported Monday about its deteriorating conditions and on how often fights, panic attacks and even suicide attempts are becoming more and more common in the sea. This situation hasn't prevented Open Arms from also being the target of false information — and European fact-checkers have been working hard to catch them on social media.

---
The International Journalism Festival #ijf19 On-Demand
Every week, one recommendation from the extensive programme of the last edition of the International Journalism Festival.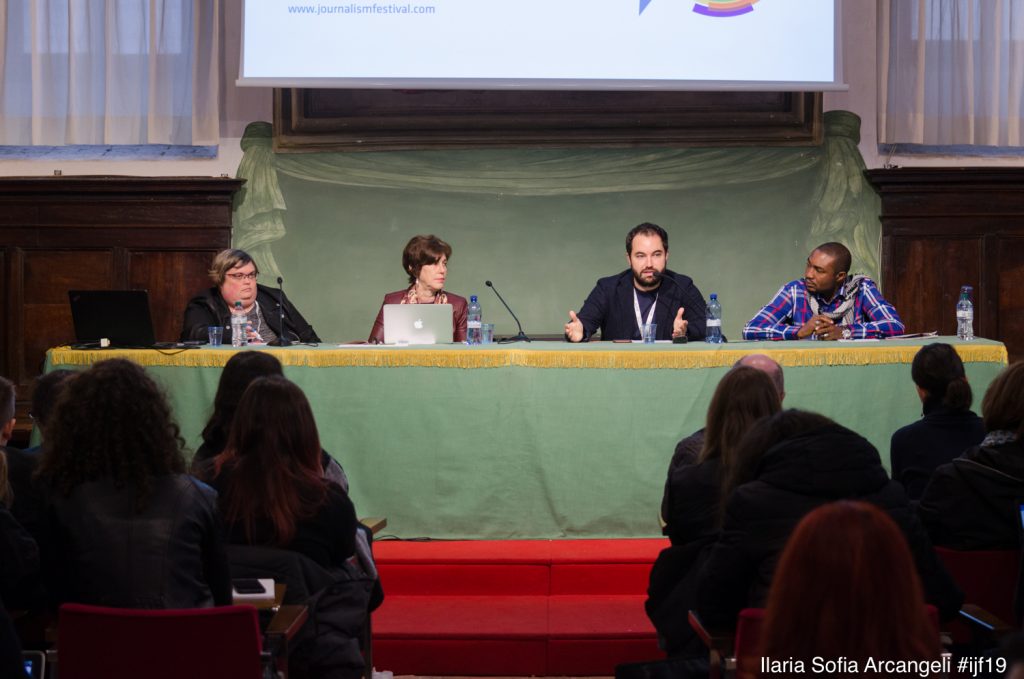 Today we are inviting you to watch "Disinformation in covering migration". Countries across the world are dealing with an unprecedented influx of immigrants and refugees, with a record 258 million people moving to new countries in 2017. In most of these countries, citizens are inundated with mis- and disinformation about migration, sometimes through ignorance and sometimes through coordinated campaigns to vilify migrants. Americans are told that the Central American "caravan" of asylum-seekers is filled with terrorists and criminals. Europeans are told that Muslim refugees from Africa, the Middle East and Asia seek to impose Sharia law in their new homes. In countries from Costa Rica to Bangladesh, social media has been used to stir fear against immigrants fleeing persecution in their own countries. At a time when disinformation is one of the greatest challenges facing journalists, how can we ensure that audiences are not being misled about migration, an issue that is only expected to grow more serious across the globe as climate change worsens?

---
(Photo via The Nation)