Our personal weekly selection about journalism and innovation.
Stay up to date by subscribing to our Newsletter or by following our Telegram channel, and join the conversation on Facebook, Twitter, and Instagram.
Edited by Marco Nurra
---
Watch all #ijf19 sessions on-demand: media.journalismfestival.com

---
The Guardian cuts gender pay gap by 40 per cent in past year. In its new gender pay report, the publisher said the improvement reflected a "better representation of women in the top and middle of the organisation as we attract more women into the company".
In Spain, coverage of a sex crime opens debate about revealing identifying details in the press. For Graciela Atencio, a journalist who heads Feminicidio.net, one of Spain's most comprehensive gender violence databases, dignifying victims of sexual violence means shielding them from unwanted scrutiny. "When a victim's integrity is at stake — especially if this involves a video containing sexual violence — I don't believe it's a good thing that the media provides information with the victim's name," she says. She adds that outlets need ethical guidelines on how to appropriately cover gender violence.
Facebook and the private group problem. ProPublica reported that members of a Facebook group frequented by current and former Customs and Border Patrol agents joked about the deaths of migrants, talked about throwing burritos at members of Congress who were visiting a detention facility in Texas, and posted a drawing of Rep. Alexandria Ocasio-Cortez engaged in oral sex with a migrant. But the Customs and Border Patrol group is only the latest in a series of such examples that have come to light recently.
A new Constitution for content moderation. "Social media platforms should look to human rights law to govern speech on the internet," writes David Kaye.
Why AI can't fix content moderation (podcast). "People are always going to try to defeat the algorithm. They're going to try to defeat it. They're going to try to game it. We can't possibly imagine all the scenarios that will come online. And of course, those decisions need to be vetted at various points along the decision-making chain."
Google tweaked algorithm after rise in US shootings. Misinformation is so common after mass shootings that Google has had to tweak its algorithm to compensate, a senior search engineer at the company has revealed.
Disinformation in covering migration — the need for better journalism. From 2015, the "migrant crisis" has dominated UK and European news and political agendas, with little indication that the narrative has progressed beyond the Calais Jungle. How can we, as fact-checkers and media producers informing the public, do a better job of covering migration? Firstly, we need to know what the problems are. We tackled this topic at #ijf19:
🎥 Disinformation in covering migration – #ijf19 on-demand

with @icfjoyce, @BostonJoan, @Moonchild509, @JacopoOttavianihttps://t.co/oZHUdzqPyf

— journalism festival (@journalismfest) July 1, 2019
Legislation aimed at stopping deepfakes is a bad idea. "Rushing forward with legislation aimed at correcting a problem before it even becomes obvious what the scope of the problem is—especially when that legislation has some obvious First Amendment issues—doesn't seem wise." Mathew Ingram was a #ijf19 speaker.
A journalist's guide to open-source tools. Here are some best picks and hidden gems for image and data verification, audio transcription and other story ideas. We tackled this topic at #ijf19:
🎥 How newsrooms can incorporate open-source investigation techniques – #ijf19 on-demand

with @MirandaOCCRP, @Tom_El_Rumi, @N_Waters89 https://t.co/jIEpZSoWAx

— journalism festival (@journalismfest) July 6, 2019
The International Journalism Festival #ijf19 On-Demand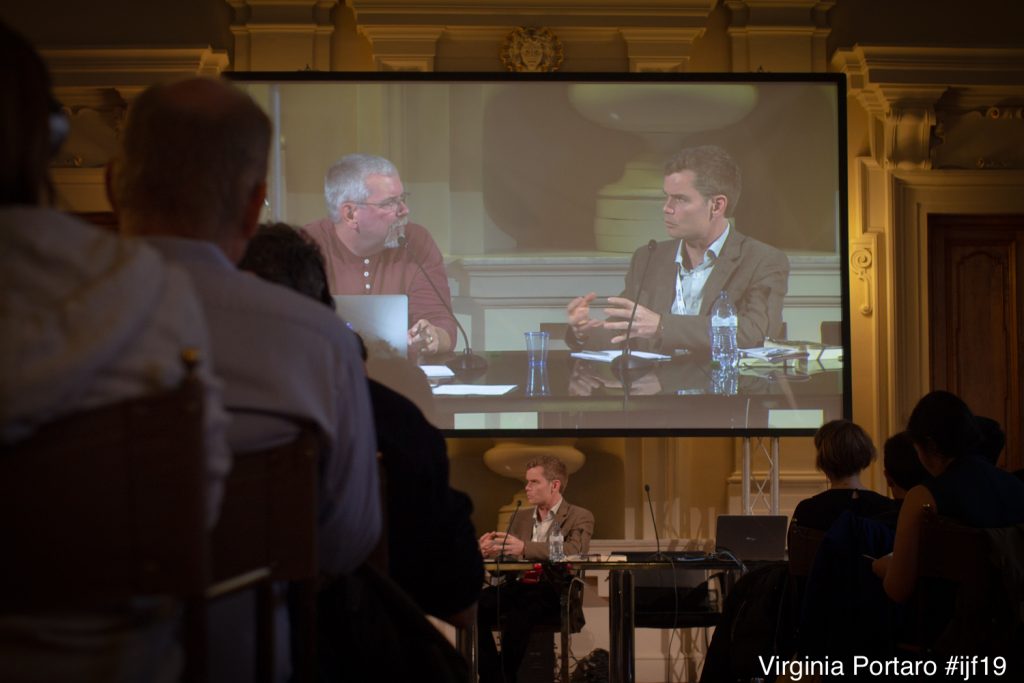 Every week, one recommendation from the extensive programme of the last edition of the International Journalism Festival.
Today we are inviting you to watch "Democracy hacked: how technology is destabilising global politics". Presentation of the book Democracy hacked: how technology is destabilising global politics (2018) by Martin Moore. Moderated by Mathew Ingram.
In the space of one election cycle, authoritarian governments, moneyed elites and fringe hackers figured out how to game elections, bypass democratic processes, and turn social networks into battlefields. Facebook, Google and Twitter – where our politics now takes place – have lost control and are struggling to claw it back.
Prepare for a new strain of democracy. A world of datafied citizens, real-time surveillance, enforced wellness and pre-crime. Where switching your mobile platform will have more impact on your life than switching your government. Where freedom and privacy are seen as incompatible with social wellbeing and compulsory transparency.
As our lives migrate online, we have become increasingly vulnerable to digital platforms founded on selling your attention to the highest bidder. Our laws don't cover what is happening and our politicians don't understand it. But if we don't change the system now, we may not get another chance.

---
(Photo: People working in the Guardian newsroom. Via The Guardian)