by Vincenzo Marino – translated by Roberta Aiello
What qualities should a modern journalist have?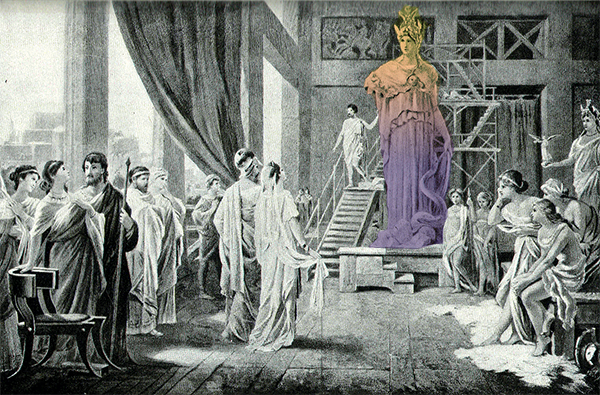 Today, journalism is an ever-expanding universe, while keeping unchanged its role in society. But how is the journalism profession changing? This week, Jay Rosen has published a couple of exchanges with news editors and executives, seeking answers to the following questions: what kind of people are they looking for in their newsrooms? What does an ideal journalist need to be able to do today? What qualities does a modern journalist need in order to be hired and make a career?
Rosen tries to draw an ideal profile. What is needed is someone who is able to work with the news (of course), having full knowledge of the habits and tastes of readers in order to adapt to them, who is able to choose the right digital tool to delineate the news, "and just make good decisions." Nothing is more difficult, nothing more necessary: following the identikit, this hypothetical ideal figure should be able to coordinate independently and juggle among summaries and captions of photos, live blogs, audio clips, online conversations and original and quick comments. "If you can make a lot of these things, you're hired."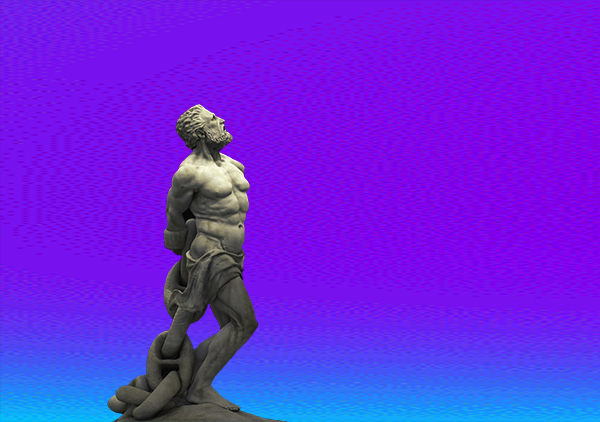 What's the name for that talent?, Rosen asks. Michelle McLellan of Knight Digital Media explains that her group defines it as "digital literacy," in the absence of a more precise terminology. Whatever you may call it, it is clear – McLellan continues – that this skill set will be central to the future of journalism, both in practice and in teaching.
Answering two rather similar questions – ie. on what needs to be learnt by an aspiring journalist today, and on what the key skills for this profession are  – the editor of digital news projects of the Washington Post Greg Barber explains that if on the one hand some skills are and would be necessary for the journalist of any historical period (such as critical thinking, ability to synthesize, empathy, tenacity and curiosity), on the other hand we need to remember to keep an eye on technology supply, being ready to choose the best format to tell the story that we want to be made public, adapting the needs to the various resources available, from graphics to emoji.
Zuckerberg talks about journalism on Facebook via Facebook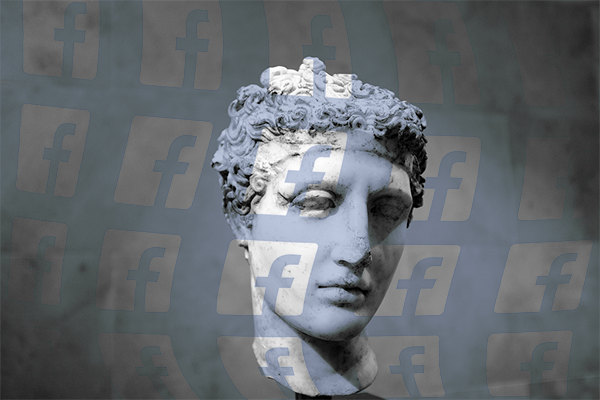 Among these tools there is of course social media, especially when it is considered that – as reported in the survey of the "10 numbers that define the news business today" conducted by Ken Doctor – most of the visits which news websites get are from these platforms, with figures that reach 75% in cases like BuzzFeed.
This sector is clearly dominated by Facebook, with its imposing mass of active users willing to read on the platform, and its attempts to approach the media market proposing itself as a key interlocutor to survive the digital revolution. This week, Mark Zuckerberg launched a Q&A on Facebook (a session in which he answered questions published on a single discussion thread) that quickly changed direction towards the issue of the future of news, also thanks to major interventions such as that of Jeff Jarvis.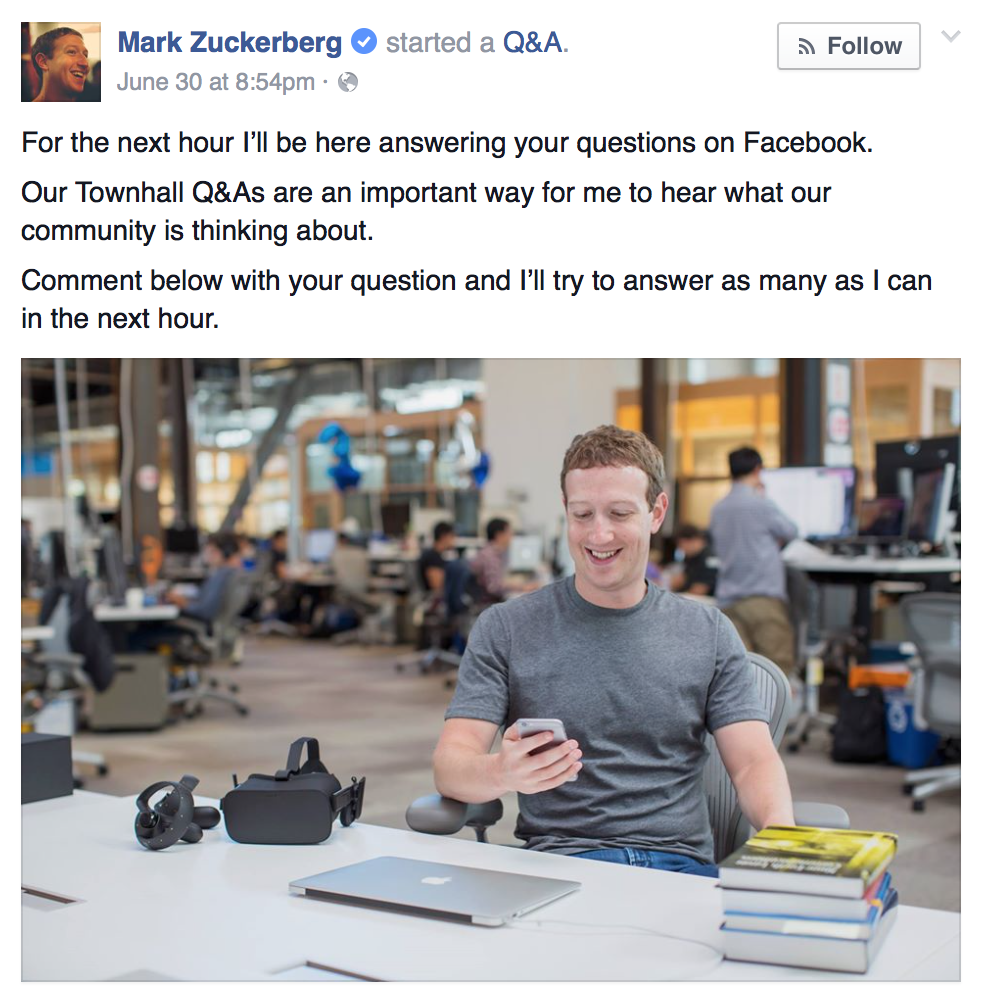 When asked by Jarvis about his opinion on the role of Facebook in the news panorama and the perspective after the launch of Instant Article, Zuckerberg answered giving special emphasis to the theme of the habits of the reader. "One of the biggest issues today is that reading news is slow," explaining that: "If you're using our mobile app and you tap on a photo, it typically loads immediately. If you tap on a news link, since […] you have to download it from elsewhere, it can take 10+ seconds to load. People don't want to wait that long."
Hence the idea, for the founder of Facebook, of continuing to focus on Instant Article, which – being preloaded on the same platform, opening almost immediately – should facilitate consultation by readers. According to Zuckerberg, the long-term goal is to make Instant Articles "the primary news experience people have." In other words, in this supposed mobile-only future, news must pass via Facebook. An unwelcome scenario, according to Walter Cronkite School of Journalism professor Dan Gillmor:
Zuckerberg wants FB to be "the primary news experience people have." And journalists race to feed the beast. Insane. https://t.co/wJb35RUlwF

— Dan Gillmor (@dangillmor) 30 Giugno 2015
"Arianna Huffington's improbable, insatiable content machine"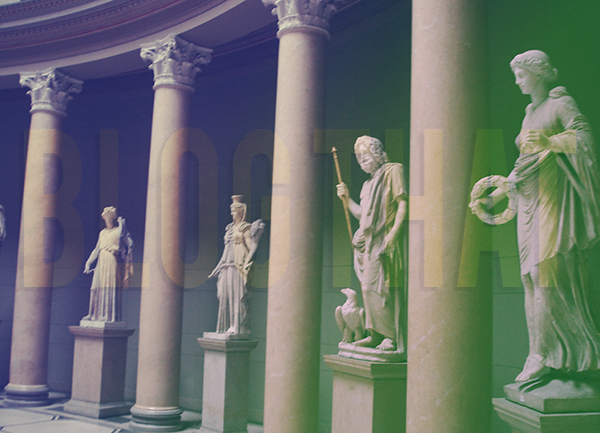 Another VIP intervention in the Q&A of Zuckerberg was made by Arianna Huffington, founder of the Huffington Post. "How do you think the way journalists and news organizations present their stories online will evolve over the next few years?" asks Huffington. According to Zuckerberg the issue is to put together rich content, speed and frequency of publication. For Arianna Huffington the hunt for a "magic formula" has been open for a decade, boasting a reputation of having been one of the first and most successful models of online publishing since the beginning of the digital age.
This week, David Segul of the New York Times Magazine has dedicated to Huffington and her creation a lengthy profile entitled "Arianna Huffington's Improbable, Insatiable Content Machine," which tries to draw a final balance on the past and present of the HuffPost, recounting the story from an inner perspective, ten years from its debut – including happy intuitions, criticism and accusations of exploitation of the unpaid work of bloggers. "When Huffington co-founded the site in 2005 – recalls the writer – Facebook was still just a network for college students. Today, roughly half her mobile traffic comes from social media, Facebook above all," with a total that amounts to about 200 million unique visitors per month (ComScore data), making it one of the landmarks in worldwide news.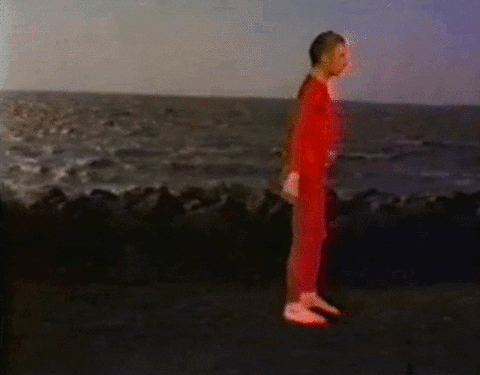 Not surprisingly, according to the estimate made by two anonymous buyers cited by AOL, last year the value of the Huffington Post was assessed at $1 billion, four times the price paid by Jeff Bezos to buy the Washington Post. In 2014, the website had $146 million in revenue, although – and this is the most worrying news for digital media, according to Michael Sebastian of AdAge – it was not able to generate any profit. If an online magazine which reaches 200 million unique visits monthly and produces 1,200 posts a day cannot turn a profit on $146 million in revenue, "then how are the other, venture-capital fueled sites with smaller audiences and fewer relationships with advertisers supposed to achieve profitability?"
Kenneth Lerer, a HuffPost co-founder, believes that news startups today have much in common with cable television networks in the the early 80s. "Small, pioneering companies that will be handsomely rewarded for figuring out how to monetize your attention through a new medium." The problem is that the competition field is very crowded, and that no one has yet been able to figure out – between advertising, crowdfunding, membership models and various shades of paywall – the winning formula.