#ijf16 day by day: Sunday 10 April
9 April 2016 italian version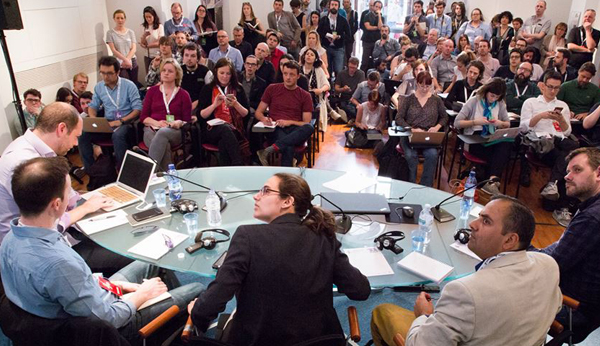 We invite you to check out the full festival programme on the website, but to provide a taster we have prepared the following brief overview. By clicking on +info► you can link to full details of each session, and then add it if you wish to your personal festival day-by-day agenda on your computer or smartphone.
…
11:00 – 12:00 > Hotel Brufani – Sala Raffaello | books
In conversation with Evgeny Morozov +info►
In conversation with Evgeny Morozov, whose latest book 'Silicon Valley: i signori del silicio' was published in Italy by Codice Edizioni in January 2016.
11:30 – 13:00 > Palazzo Sorbello | panel discussion
Who's fighting against corruption in SE Europe: the media or the police? +info►
Journalists in South East and Central Europe are often filling an institutional gap and doing investigations in cases of corruption instead of state authorities, including investigation of corruption inside the police. Instead of state authorities, journalist examine business practices of oligarchs, find people on wanted lists, investigate questionable deals involving family members of politicians in power, compare the reported salaries with the extravagant lifestyles of managers working in public companies, investigating financial and other irregularities in the churches. Journalists are working on these issues closely with civil society organisations, national authorities and financial institutions, and also international anti-corruption groups. Journalists do it in difficult conditions, and sometimes at great personal risk. Good investigative journalists may expose criminality and help bring criminals to justice, but they are not officers of the law.
12:00 – 13:15 > Hotel Brufani – Sala Raffaello | panel discussion
Does the Italian FOIA work? +info►
With the implementation of so-called Madia Law, the Italian government has approved a major overhaul of access to information, inspired by the US Freedom of Information Act with greater protection for privacy. What is new for journalists, citizens and businesses? And what needs to be improved to move Italy forward from the fifth from last position in international ratings on access to information?
14:15 – 15:00 > Sala dei Notari | documentary
Torn by Alessandro Gassman +info►
"How do you keep alive your own ideas if you are deprived of your house, your country… of everything?" (Nour Shamma, artist, playwright, Syrian refugee). After five years of war, the Syrian crisis is the greatest tragedy of our era. Half of the population has been forced to flee, more than 7 million people are displaced within their own country, while there are 4 million refugees in neighboring countries. Among them Mohammad, Nour, Alaa, Rasha and many other artists who, despite the fact that a return to a peaceful Syria appears distant, show us that life does not stop while waiting to return. The protagonists of Torn, who met in the Zaatari refugee camp in Jordan and Beirut, refuse to be seen as victims and offer a new perspective on the resilience of an entire people. The film is a glimpse into the lives of those who, torn from their own land, cling to their roots, aware of the importance of preserving their identity and that of an entire nation through artistic expression. To be followed at 15.00 by the session Art and journalism in time of war with Alessandro Gassman, Carlotta Sami, Alaa Arsheed and Patrick Kingsley.