We invite you to check out the full festival programme on the website, but to provide a taster we have prepared the following brief overview.
We invite you to check out the full festival programme on the website, but to provide a taster we have prepared the following brief overview. By clicking on +info► you can link to full details of each session, and then add it if you wish to your personal festival day-by-day agenda on your computer or smartphone.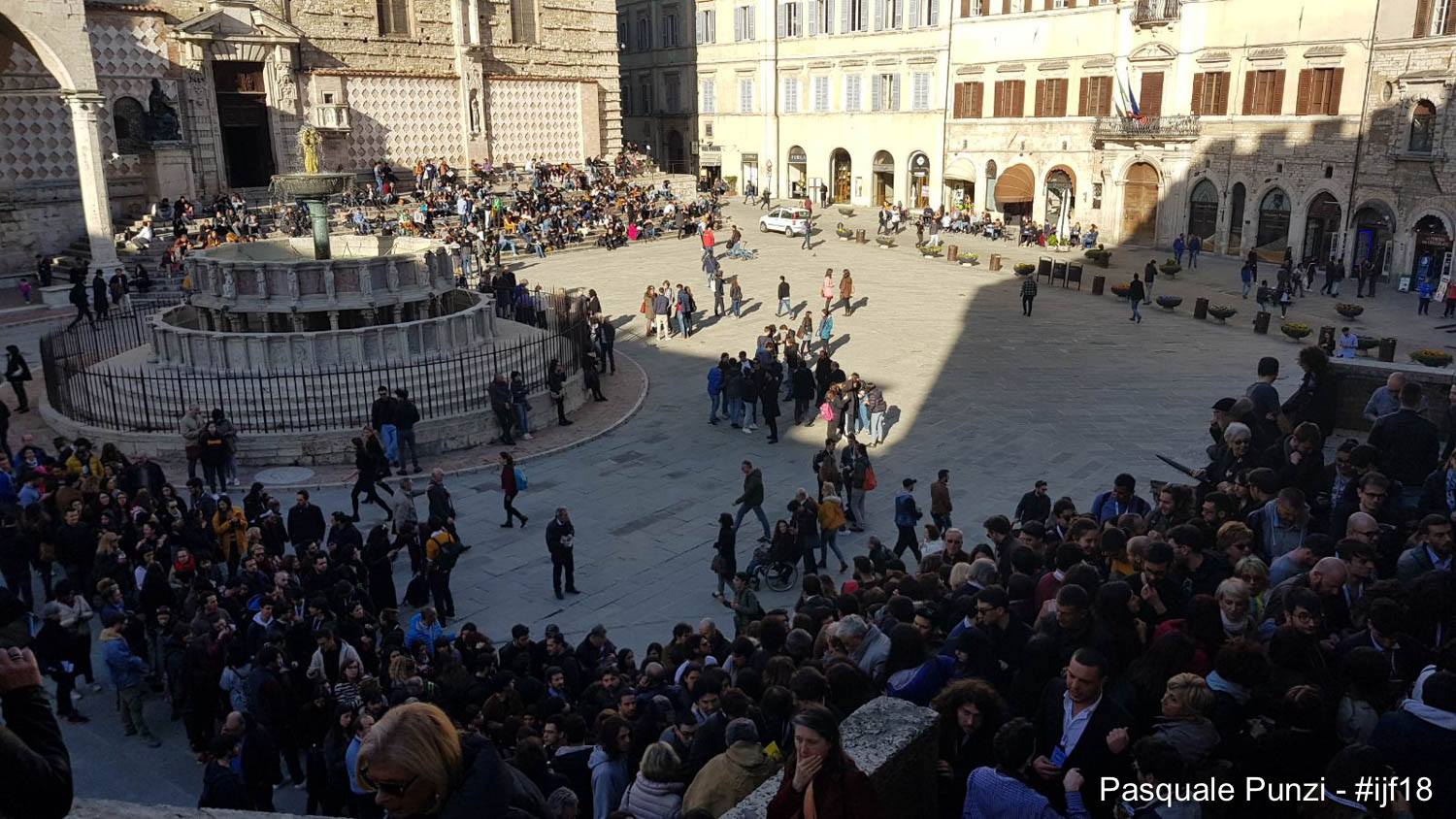 …
09:30 – 10:45 > Sala San Francesco | panel-discussion
Dangerous conversations: interviewing criminals and people with a history of violence +info►
Dangerous conversations: how to keep yourself and your sources safe when interviewing criminals, paramilitaries and others with a history of violence. With the recent rise in authoritarianism, the proliferation of everyday hate speech and closer links between officials and crime figures, this moment in time poses increased risks for an ever wider circle of reporters. But what should journalists bear in mind when talking to potentially dangerous people? This session, hosted by the Dart Centre, will examine the basic safety approaches and then dig deeper into the conversational etiquette journalists should deploy when talking to sources with a track-record of intimidation and violence. The panelists, who have expertise in covering extremism, paramilitary violence and organised crime, will also give their take on how to avoid being manipulated and why better understanding perpetrators' own past experiences of trauma is a key part of the safety jigsaw.
09:30 – 10:45 > Sala delle Colonne, Palazzo Graziani | disinformation
Misinformation and AI, challenges and opportunities +info►
I'm sorry, Dave, I can't verify that: misinformation and AI, challenges and opportunities. Given the scale of misinformation and disinformation online, new approaches to detecting and addressing information disorder will be necessary. Many have hailed the possibilities of artificial intelligence in this ecosystem, but what's really possible and what remains science fiction? What are the challenges and opportunities? In this panel discussion, we will bring in leading experts on journalism, technology and artificial intelligence to talk about their latest research in the field, insights from other practitioners, and an overview of efforts. We will also chart a path forward for 2018 and 2019, outlining possible areas of focus for people working in artificial intelligence.
09:30 – 10:45 > Hotel Brufani – Sala Priori | community-trust
Building communities through in-real-life engaged journalism +info►
Newsroom across the globe are recognizing the importance of in-real-life engagement to bring communities together. Here are three projects challenging our increasing reliance on social media by hosting face-to-face events and community projects.
09:30 – 10:30 > Hotel Brufani – Sala Raffaello | in-conversation
How can you have no ads, no branded content, no subscribers and still thrive? +info►
Jay Rosen and Ernst-Jan Pfauth, CEO of The Correspondent, will talk about membership and the merits of having members instead of subscribers and advertisers. It not just improves your business, but also your journalism (hint: your readers know more than your journalists).
09:30 – 10:45 > Sala del Dottorato | ustoo
Sexual violence: a silencing tool +info►
The Committee to Protect Journalists (CPJ) is an organization that defends the right of journalists to report without fear of reprisal. While all journalists face threats, our research indicates that women journalists face other challenges. In 2011, the Committee launched a special report The Silencing Crime which documented how sexual violence is used to shut down women journalists.  In 2016, CPJ also released the report, Attacks on the Press: Gender and Media Freedom Worldwide. Amongst other things, the report delves into how online sexual harassment can often deter women journalists from participating in the media. In truth, sexual violence, in its many forms (physical or digital) is often used to silence women journalists. Some women journalists end up re-evaluating the types of beats they cover, some maintain low profiles, some delete their online social media accounts, some censor themselves, and some leave the profession entirely. This panel will discuss how sexual violence is used to silence women journalists. The idea is that by the end of the discussion, there is a more concrete understanding of the scope of the issue, which will better inform the Committee and the public on how to respond to these threats moving forward.
09:30 – 10:45 > Sala della Vaccara | panel-discussion
Searching for online media business models in Turkey +info►
How does the media capture effect the online media landscape in Turkey? What are the news consumption habits and trends in such an atmosphere? The recent Reuters Institute survey indicates very polarised news media, high-level distrust of news in Turkey. Does the media crackdown change the sources of news (TV, online and print)? How does the political leaning and other factors play a role in news consumption? What are the searches for online media business models? Is it possible to develop a sustainable business model? The speakers will discuss the recent researches and experiences, and make suggestions.
10:00 – 11:00 > Teatro della Sapienza | in-conversation
Alt-America: the rise of the radical right in the age of Trump +info►
The story of the remarkable resurgence of right-wing extremism in the United States. Just as Donald Trump's victorious campaign for the US presidency shocked the world, the seemingly sudden national prominence of white supremacists, xenophobes, militia leaders, and mysterious "alt-right" figures mystifies many. But the American extreme right has been growing steadily in number and influence since the 1990s with the rise of patriot militias. Following 9/11, conspiracy theorists found fresh life; and in virulent reaction to the first black US president, militant racists have come out of the woodwork. Nurtured by a powerful right-wing media sector in radio, TV, and online, the far right, Tea Party movement conservatives, and Republican activists found common ground. Figures such as Stephen Bannon, Milo Yiannopoulos and Alex Jones, once rightly dismissed as cranks, now haunt the reports of mainstream journalism. Investigative reporter David Neiwert has been tracking extremists for more than two decades. In Alt-America: the rise of the radical right in the age of Trump he provides a deeply researched and authoritative report on the growth of fascism and far-right terrorism, the violence of which in the last decade has surpassed anything inspired by Islamist or other ideologies in the United States. The product of years of reportage, and including the most in-depth investigation of Trump's ties to the far right, this is a crucial book about one of the most disturbing aspects of American society.
10:45 – 12:00 > Sala delle Colonne, Palazzo Graziani | disinformation
Is the problem of fake news overblown? +info►
There have been countless articles and panel discussions of "fake news" in the past year. But does the reality match the hype? And has all this talk drowned out the important work of calling out falsehoods by politicians? This panel will explore the implications and how fact-checkers should find the right balance of debunking fake news and falsehoods.
10:45 – 12:00 > Hotel Brufani – Sala Raffaello | community-trust
Tools for trust: a practical, do-something-now guide +info►
Trust in journalism is the problem it seems everyone's talking about right now. This panel isn't about talk; it's about doing. Practical solutions you can take back do your newsrooms today to help begin addressing the problem of trust. On this panel, we will cover what we know works and what we know doesn't. We'll discuss the latest research showing how we may be part of the problem. We'll highlight tools and platforms you can use right now — some free and some paid — to improve trust in journalism.
10:45 – 11:45 > Centro Servizi G. Alessi | tech-socialmedia
The evolving ethics of social newsgathering +info►
The role of social newsgathering in newsrooms has become more ethically complex than ever in recent months, as those who seek to disrupt disinformation and propaganda campaigns must adapt to an enemy that doesn't share their values. Journalists who report on the social web must now weigh the ethical implications of debunking falsehoods vs strategic silence, of embedding versus source protection and transparency vs access to dangerous online communities. We will debate these ethical quandaries and more in what we hope will be a spirited discussion involving the audience.
10:45 – 12:00 > Sala del Dottorato | presentations
Holding algorithms accountable +info►
Julia Angwin runs an award-winning team that has pioneered a new field of algorithmic accountability journalism. Working with two programmers and a researcher, her team has unveiled the hidden discrimination embedded in automated decision-making tools ranging from Amazon's vendor rankings to software used across the nation to predict the likelihood of criminals being arrested in the future. Their coverage has led Facebook to change multiple policies, including hate-speech policies that discriminated against children, advertising automation that was allowing advertisers to discriminate against Jews, blacks, disabled people and others. And their work forced California regulators to require several car insurers to adjust flaws in their algorithms — that were resulting in unjustified higher prices in minority neighborhoods.
10:45 – 11:45 > Sala della Vaccara | humanitarian-crises
Reporting from North Yemen under siege: the storytelling of a forgotten war +info►
Reporting from inside Yemen is becoming exceptional due to the lack of visas and entry permission. In three years of war, female journalists with double nationalities and/or family ties have been able to report from North Yemen, witnessing first hand famine, cholera, malnutrition, poverty and very difficult access to health care facilities for locals. What's it like to report from a country under siege that, in some way, is also your home? What are the implications in terms of security, logistics and censorship?
12:00 – 13:00 > Hotel Brufani – Sala Raffaello | presentations
Voice news: the consumption of news in the age of AI and vocal assistants +info►
Artificial intelligence and machine learning aren't just changing the way journalists perform their job, but they are also expanding access to information: voice assistants offer customers a new way to access news. During this panel, Max Amordeluso, EU Lead Evangelist for Amazon Alexa,will show how users may listen to voice news through Amazon Alexa and how the media need to get familiar with the voice news format.
12:00 – 13:15 > Sala del Dottorato | panel-discussion
Activists of the world, unite! +info►
24 June 1981, at the initiative of the Italian Radical Party, a document against famine signed by dozens of Nobel Prizes was published in the major capitals of the West. It was the response of scientists to the indifference of governments and mass media to the death of millions of people by starvation in the Global South. Almost forty years later, we will reflect on what global action can be taken to counter the new emergency of world hunger, increased by climate change, mass migration and the systematic violation of the most basic rights in many African and Asian countries.
12:00 – 13:15 > Sala dei Notari | ijf18talks
The biggest secret. My life as a New York Times reporter in the shadow of the war on terror. #ijf18talk by James Risen +info►
#ijf18talk by James Risen. Moderated by Stefania Maurizi. The Biggest Secret. My Life as a New York Times Reporter in the Shadow of the War on Terror was published in The Intercept on 3 January 2018. James will talk about his seven-year legal fight against the U.S. government, which threatened to put him in prison unless he revealed his confidential sources. He refused, and ultimately won the battle.
14:00 – 15:15 > Sala San Francesco | media-under-attack
Fighting back: how should journalists respond against attacks? +info►
Organized or state-instigated attacks against journalists, news organizations or the very idea of news itself range from intimidation to assassination: A social media campaign urging the gang rape of a female reporter; the stoning of a TV network's service vehicles; the head of government publicly insulting editors; the engineered buy-out or outright closure of a critical news organization; an advertising boycott; a culture of death threats and legal harassment targeting journalists; the prospect of adverse legislation or jurisprudence unduly restricting the freedom of the press; the jailing of journalists and media workers on fabricated charges; physical assault on or outright assassination of critical voices in the media. How can journalists fight back? This panel will draw lessons from ongoing campaigns to fight back against attacks on journalism and discuss questions of theory and policy: Should journalists even file criminal libel suits, when they are advocates of freedom of expression? How far should news organizations or associations go to protect journalists at risk? When democracy itself is at stake, what political options are open to journalists?
14:00 – 15:15 > Sala delle Colonne, Palazzo Graziani | tech-socialmedia
Can journalism hold platforms accountable? +info►
As platform companies have grown to mediate core aspects of our society, a central question has emerged of who should and can hold them accountable? With many governments unwilling or unable to govern the digital space, journalism and journalists have been leading efforts to better understand and document the social effects of our platform ecosystem. In this panel we will discuss what the role of journalism is in holding platforms accountable, and whether journalism is sufficiently equipped and resourced for this growing role in society.
14:00 – 15:15 > Sala del Dottorato | panel-discussion
Cross borders! How to put collaborative journalism into practice +info►
Stories don't stop at national borders. More collaboration in the field of journalism is essential, as topics like global crime, climate change, or migration affect people, regions and economies across the world. A story that spans multiple countries and continents requires journalists from the affected regions to work together to highlight the story's many facets. It's also increasingly necessary to make voices and stories from underrepresented regions heard around the globe. But how can journalists create and foster these cross-border collaborations? Where do they start if they haven't reached out beyond their newsroom before? And what are potential effects of this type of collaboration on the transnationalization of public spheres? This workshop will discuss exciting new research in the field of cross-border/collaborative journalism in Europe and the U.S. and will offer practical approaches that can be learned and used by anyone. Speakers will discuss best practices and knowledge gained through both research and experience: With a hands-on approach to enable exchange between the speakers and attendees, this session will provide new methods and approaches that journalists can use to find the stories that need to be told and reach out to potential sources and collaborators across the world.
14:00 – 15:15 > Palazzo Sorbello | ustoo
Her Story. Are we giving non-white women journalists enough agency to report on the stories they believe in? +info►
Her Story will be a panel on the experience of women journalists who are not white European or American, and who are treated very differently from their white counterparts.
15:00 – 16:00 > Hotel Brufani – Sala Raffaello | in-conversation
Where millennial media went wrong +info►
This talk by David Cohn will look at a class of millennial media companies and how they have changed the way the entire industry works. It will praise them to a certain extent. But this talk will also examine foundational principles that have shaped their editorial and how this played a role in the political divide we feel throughout the US and many other countries. The talk hopes to provide a diagnoses, identify symptoms and at its most ambitious even suggest treatment for what ails us.
15:15 – 16:30 > Sala del Dottorato | tech-socialmedia
Automation, augmentation, and AI in the newsroom +info►
The rise of Artificial Intelligence in the newsroom has been hyped as both the coming apocalypse and journalism's potential saviour. But how can we even begin to understand whether these hyperbole are legitimate? Are robots really going to be taking our jobs, or will they allow us to do more sophisticated journalism and analysis? In order to comprehend the risks and opportunities for all these new AI-infused newsroom tools, we need a framework to asses each one and its merits. Is this about Automation or Augmentation? Is this about Content or Processes? This panel will explore how WSJ, Mashable, and Gruppo L'Espresso assess and chose what tools to integrate, and also hear from Wochit, one of the technology companies themselves, on how to introduce change in a newsroom without everyone fearing for their jobs.
15:15 – 16:15 > Palazzo Sorbello | panel-discussion
Protecting sources when national security is involved +info►
Sources courageous enough to leak classified documents to the media do not benefit from any legal protection in Europe. Although the Tshwane principles have been supported by the Council of Europe since 2013, the October 2017 European Parliament report calling for a directive to better protect whistleblowers says very little about national security. It will be years before the situation improves. In the meantime it falls on the journalists to protect the anonymity of the sources that trust them with classified documents. In recent years surveillance has become increasingly sophisticated and using encrypted e-mails or the Tor network is not enough. This panel will discuss tools and techniques that significantly improve the chances that a source anonymity is not compromised. It ranges from sophisticated techniques such as operating an airgap workstation to guidelines as simple as: "remove advertisement tracking from the contact page".
15:15 – 16:30 > Centro Servizi G. Alessi | tech-socialmedia
The ethics of working with social media companies +info►
67% of Americans get news from social media platforms (Pew Research Center/Knight Foundation, 2017), and publishers play a significant role in making these platforms more attractive to users. As such, journalists have a responsibility to understand the ethics of these platforms, how they support them, and what they should be doing to speak up for their readers. Discussion will include: How platforms such as Facebook and Google handle consent. Data sharing between platforms and publishers. Understanding the scope of data collection by social media companies (what should users and journalists know?). Using our close relationship with platforms to speak up for readers.
15:15 – 16:30 > Sala della Vaccara | panel-discussion
Disappearing act: what the decline of local beat journalists means for our democracies +info►
Local newspapers have historically played a hugely important role in holding local elected representatives to account, unmasking dodgy councillors, nefarious property developers and more. It is these local stories that often make it into the national press. But as local news organisations cut back on the beat reporter, who will hold the crooks to account? And if these people are not being unmasked, what way is there to stop them from going on to committing even larger-scale fraud? Journalists are said to work hand-in-glove with PRs these days, but there is a PR job to be done on our own industry. How can we better explain to the general public – without sounding too grand – the essential role we play in the fabric of our democracy? More importantly, without the cash to fund this, are beneficent third parties and/or government funding really the answer?
15:30 – 16:30 > Sala dei Notari | in-conversation
McMafia: from journalism to book to TV series. Global organised crime in a new light +info►
In conversation with Misha Glenny, author of McMafia. Moderated by Mario Calabresi. In the book McMafia (2008) Misha Glenny, former correspondent of the BBC and The Guardian, wrote of the mafia as a globalized phenomenon, a shadow economy that thrives in parallel with the official one. In 2018 the TV series McMafia – co-produced by the BBC and based on the book – was broadcast to widespread critical acclaim on the BBC and on Amazon Prime.
16:00 – 17:15 > Hotel Brufani – Sala Raffaello | tech-socialmedia
Robot journalism in the Global South: beyond the hype +info►
Robot Journalism: beyond the hype. How newsrooms in the Global South are using drones, sensors, and satellites for investigative journalism. They were initially dismissed as gadgets for geeks, but drones and sensors and satellites are increasingly driving major journalistic investigations across the Global South. Drones in Africa have caught poachers red-handed and sparked heated global debate about urban inequality, while satellite imagery is helping debunk military propaganda, and sensors are helping fight deadly smog everywhere from Lagos to New Delhi. This panel shows how the technologies and techniques have moved beyond hype.
16:15 – 17:30 > Palazzo Sorbello | ustoo
Sexual harassment in the newsroom +info►
It's been several years since INSI carried out a survey into harassment in the newsroom and found that 1/3 women journalists had experience violence or harassment in the course of their work. In light of the Weinstein scandal, this panel will consider what's the current status for the news media, how systemic is the situation for female journalists and why do they still feel uncomfortable in coming forwards? How can managers create a climate that is more conducive to those who experience the abuse speaking out without fear of victim-blaming or having one's career being threatened?
16:30 – 17:45 > Sala delle Colonne, Palazzo Graziani | community-trust
Listening leads to trust. Here's how to help your newsroom listen better +info►
Trust in media across the world is in decline. Fully two-thirds of people surveyed as part of Edelman's Trust Barometer 2018 believe that media organizations are more interested in attracting big audiences than they are in reporting. The way to win back trust isn't through more click-chasing, it's through listening. The more we show our audiences and communities we're working on their behalf, the more they'll trust our work. Learn about how your newsroom can more effectively listen and engage audiences, building trust, loyalty, and revenue in the process.
16:30 – 17:45 > Sala del Dottorato | humanitarian-crises
The Mediterranean refugee crisis: funding flows and migration routes +info►
For months, journalists investigating the effects of injections of Italian and European funds into North Africa to stop migratory flows and externalize border control have reported on the routes that the money takes, which in turn change the scenario on the ground and the migration routes, often making them more dangerous and illegal than before. The panel will examine the situation in Libya, Tunisia, Niger and Ethiopia.
16:30 – 17:45 > Sala della Vaccara | panel-discussion
Elements shaping the Middle East media landscape +info►
Who wins public space to become the influencer of the global narrative, with far reaching impact on how we perceive of the world around us? A critical look at technology, the management of fake news, and the role of the big platforms in shaping the media landscape in the Middle East. "Media is the space within which many of the latent battles of interests is now being played out in our region" said a colleague in summing up the massive blockage of news websites that recently took place in Egypt. It is a common understanding within the region that media (its ownership, management, content and future) is now an area of focus in the geo-political struggle for dominance and survival in the region. The ability to control technology (from blocking websites to finding ways to circumvent the blockage) to the control of the narrative (via ownership, fake news manipulation, legal constrains, trolling) and the massive influence wielded by powerful platforms. How to we begin to make sense of the media landscape and chart strategies to ensure journalism that speaks truth to power is able to continue to exist and influence audiences.
16:45 – 17:45 > Sala dei Notari | in-conversation
Mosul Eye: the blogger who revealed to the world the atrocities of ISIS +info►
Omar Mohammed, better known under the pseudonym Mosul Eye, is a history student who wrote on his blog about the atrocities of the Islamic State in the Iraqi city of Mosul. For almost two years, he secretly documented life in his city, talking to people on the streets, to shopkeepers and to ISIS soldiers, witnessing public executions and everyday violence. He informed the world how extremism was changing the face of Mosul, writing its present, erasing its past and putting at risk the future of all its inhabitants. No one, not even his mother, knew what Omar was doing. If he had been caught, he would have been executed. In 2015, he left Iraq and, passing through Turkey, fled to Europe where he is today and from where he continues his work of historical reconstruction following the liberation of Mosul. In November 2017 he revealed his identity publicly for the first time in an interview with The Associated Press, in which he renewed his commitment to help rebuild his city. Interviewing Omar Mohammed will be Corrado Formigli, who closely followed the battle to free Mosul.
16:45 – 17:45 > Teatro della Sapienza | panel-discussion
Ethics in the hotseat +info►
The increasingly complex subject of ethics cuts across every region and across all sectors – business, government, sport, music, tech – everything. This panel will look at how we cover ethical issues, how we adhere to ethical practices in doing so, and, how we navigate in a world where sometimes true north is obscured. Moderated by Craig Silverman.
17:30 – 18:45 > Hotel Brufani – Sala Raffaello | panel-discussion
Weaken from within: Russia's information age art of war +info►
Moscow has been honing an information age art of war – through fake news, disinformation, leaks, and trolling – for more than a decade. How can free societies protect themselves? The panel will take as its staring point the November 2017 article published in New Republic entitled Weaken from Within by Hannes Grassegger.
17:45 – 19:15 > Sala della Vaccara | panel-discussion
Media literacy unconference +info►
The debate surrounding media literacy is often too focused on the impact of social media platforms (namely Facebook and Twitter) on the one hand, and the ability and responsibility of citizens to evaluate whether to trust media content on the other. Meanwhile, disinformation is plaguing the news ecosystem, delegitimizing journalists and newsrooms. If nothing is done, it will have serious implications on our representative democracies and our intermediary bodies. What is missing today reinforces the responsibility of journalists to confront falsehoods and engage the public in identifying, and fighting, disinformation. Journalists and newsrooms are "the missing link" in the current media literacy debate. The goal of this unconference is to invite journalists, academics and motivated citizens to co-produce a European Media Literacy Toolkit in order to combat misinformation. What is an unconference? It's different from a classical conference where speakers and sessions are defined. The agenda of an unconference is defined by the participants themselves.
17:45 – 19:00 > Sala delle Colonne, Palazzo Graziani | panel-discussion
Does journalism, and do journalists, still need WikiLeaks? +info►
WikiLeaks was born with a very journalistic ideal in mind: bring transparency to the most untransparent organizations in the world. For years, it did just that. And its hacker founder Julian Assange not only called himself the editor of WikiLeaks, but he also successfully worked with traditional journalists (they still do, sometimes), breaking some of the most impactful stories of the early 2010s. After Wikileaks' role in the lead up to the US election last year, critics claim that WikiLeaks and Assange have now become a witting or unwitting agent of Russian propaganda, and that they have been compromised. Should journalists trust WikiLeaks? Should they trust Julian Assange? Do we even need to trust them? After all, the most revolutionary idea behind WikiLeaks – namely providing a tool for sources to, without any if and buts, drop documents in a completely anonymous way – can now be done via other, less concentrated means (SecureDrop, GlobaLeaks, etc). So does the world of journalism still need WikiLeaks?
17:45 – 19:00 > Sala del Dottorato | panel-discussion
Journalists, meet your new overlords: when nerds run the show +info►
Print is dying, and we all know digital is our future. Yet, year after year, at newspaper after newspaper, we keep putting print people in charge. We see the same phenomenon in broadcast as well. Yes, you have fancy prizes and decades of experience managing a legacy platform. But is that what we need right now? Will it be in five years? In short, when do the nerds take over? Consider this panel (of nerds, of course) an alternate universe where the nerds are sitting in the glass office. How will things be different? What changes do we need to make, and what aspects of our legacy do we need to preserve at all costs?
17:45 – 19:00 > Centro Servizi G. Alessi | media-under-attack
Isolation, lawsuits and bombs +info►
The new tactics used by criminals to stop independent investigative journalism, and how we can react by working in a team. From the recent murders of two journalists in Europe, to the isolation and jailing of an Azeri journalist, passing through the lawsuits that independent reporters have to face almost daily. In this panel we will discuss the recipe for resistance by a network of investigative journalists.
18:00 – 19:00 > Hotel Brufani – Sala Priori | presentations
Automated journalism in real life +info►
How bots can help fact-checkers. Bill Adair, professor of journalism at Duke University and the founder of PolitiFact, will demonstrate new apps and tools that are being used by fact-checkers as part of the Duke Tech & Check Cooperative. Some tools are finding claims to fact-check in transcripts of cable news channels. Bill will also demonstrate Share the Facts, the first voice-activated fact-checking for the Amazon Echo, and FactStream, a smartphone app that was tested during the U.S. State of the Union address in January. The tools and apps show how automation can be used to help journalists in many different ways.
18:00 – 19:00 > Sala dei Notari | in-conversation
The Israeli-Palestinian conflict: women on the march for peace +info►
In conversation with Yael Deckelbaum and Meera Eilabouni of the Women Wage Peace movement. Moderated by Barbara Serra. The Women Wage Peace movement was set up immediately after the bloody clashes of 2014. A broad, politically unaffiliated movement, it is acting to prevent the next war and to promote a non-violent, respectful, and mutually accepted solution to the Israeli-Palestinian conflict within a limited time. In October 2017, tens of thousands of Israelis and Palestinians, Jews and Arabs, women of the left, right and center, both secular and religious, marched together – while singing, dancing, praying – for a week across Israel, demanding an end to violence.
21:00 – 23:00 > Sala dei Notari | in-conversation
Sea Sorrow. In conversation with Vanessa Redgrave +info►
Screening of the documentary Sea Sorrow followed by a discussion and Q&A with Vanessa Redgrave, Carlo Nero and Carlotta Sami. Moderated by Barbara Serra. Sea Sorrow marks Vanessa Redgrave's debut as a film director, with her son, Carlo Nero, as producer. The meditative piece was filmed in Greece, Lebanon, Italy, Calais, and Sands Films (London) & Twickenham Studios where Vanessa focuses on the present and past history of refugees in Europe. She tells her own story beginning as a two-year-old 'evacuee' from London at the outset of World War Two; later as a student volunteer helping Hungarian refugees; concluding with her return to Lebanon to visit Palestinian three-year-olds in a refugee camp nursery school. Lord Alf Dubs, the Labour peer, reflects on his escape from the Nazi occupation on the Kindertransport and explains why he is passionate about assisting child refugees to gain their rightful protection in the UK. Alf has inspired people all over the country to do what they can to help the refugee children. Sir Peter Sutherland, who has been advising the UN General Secretary on international refugee protection explains simply and forcefully why European governments must not break the conventions on asylum for refugees. Ralph Fiennes, Emma Thompson and Simon Coates contribute unique scenes for the refugees, while the valiant Juliet Stevenson, who spent nine months working for the Calais children, alongside Help Refugees, Citizens UK and Safe Passage, speaks out at a rally in Parliament Square. The film includes a scene from Shakespeare's The Tempest with Fiennes playing Prospero. As well as artistic interpretations, the film includes testimonies of modern day survivors from conflicts and persecution in the Middle East and Africa.
…