We invite you to check out the full festival programme on the website, but to provide a taster we have prepared the following brief overview.
We invite you to check out the full festival programme on the website, but to provide a taster we have prepared the following brief overview. By clicking on +info► you can link to full details of each session, and then add it if you wish to your personal festival day-by-day agenda on your computer or smartphone.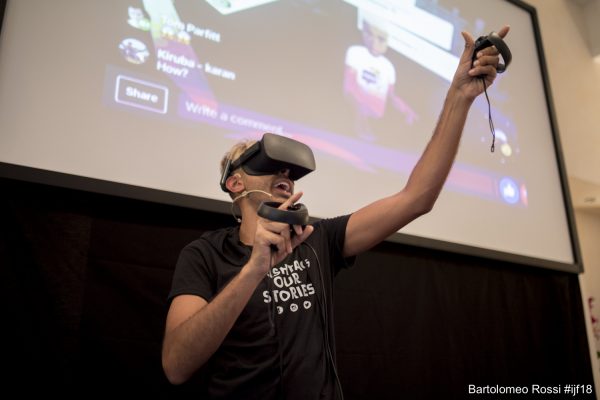 …
09:30 – 10:45 > Hotel Brufani – Sala Raffaello | tech-socialmedia
Help define the moral imperatives that should be guiding media and platforms' decisions +info►
Both platforms and media helped get us into the mess we are in — and before we can expect them to get us out we need to help them write the principles that should guide their decisions on product design, business model, policy, and culture. What are their social responsibilities to freedom of expression, to quality of expression, to convening civil and informed public conversation? How do we expect them to balance openness with control? This isn't just about how platforms operate in a new reality — it is also about how journalism and media should operate.
09:30 – 11:00 > Sala delle Colonne, Palazzo Graziani | presentations
Group therapy with De Correspondent: our top 10 f*ck-ups with members, and other awkward moments (including yours) +info►
Since their crowdfunding campaign in 2013, Dutch online medium De Correspondent has grown to 60,000 members. Now, they are working on an international expansion, with an English-language platform planned for late 2018. At a time when trust in journalism is at an ultimate low, and that silver bullet for the revenue stream question remains elusive, De Correspondent is often seen as an example for a member-supported model. But guess what: the truth is – as always – far messier than the success story you hear about. Behind every milestone with De Correspondent members, there was a lot of blood, sweat and tears – awkward moments, and even total f*** ups. In this fun session for journalists and editors who want to develop meaningful relationships with readers, editors (and former journalists) Maaike Goslinga and Jessica Best will share De Correspondent's worst  f*** ups with you so that you don't have to make these mistakes yourself . Then, in a one-hour workshop (call it group therapy…) they will invite you to share your own professional f*** ups and fears through a series of games and interactive activities – designed with the help of a De Correspondent member who is also a therapist. It's going to get awkward. But as any therapist knows, sharing can be cathartic, and help us move forward to better relationships with our readers, and one another.
09:30 – 10:45 > Sala del Dottorato | ustoo
Embedding diversity in the newsroom: going below the surface +info►
This panel features senior journalists working in radio and tv sharing examples of how they take diversity in news beyond tokenism. They'll talk about embedding inclusion into planning, reporting, recruitment and presentation. The panel is chaired by Diane Kemp from the UK's Broadcast Journalism Training Council.
10:45 – 12:00 > Sala San Francesco | panel-discussion
Fixers and journalists: the changing paradigm +info►
Journalists rely on fixers as much as a politician relies on his voters! Weird analogy, right? From reporting in war zones to threatened democracies, journalists and news organizations rely on fixers for information that is crucial and hard to obtain in a local milieu. Yet this relationship is fraught with tension as fixers receive no security – much like freelance journalists – and never get credits for the stories they share with the world. But with digital journalism taking center stage, fixers are finding their niche and their voice as well. So, how will this relationship evolve? How responsible are journalists for a fixer's safety? To what extent do news organizations value fixers? In what way do news organizations work with fixers? Is there a fixer training rule-book? How important is it to train fixers? These are a few questions we hope to find answers for in this session.
10:45 – 12:00 > Palazzo Sorbello | disinformation
Newsrooms of the world unite! Finding a global solution to misinformation +info►
Trust in media and the fight against misinformation is a global problem that requires a global solution; it can never be solved within one region alone, or just by the richest newsrooms. Across the world, newsrooms and journalists have been on the front lines in the fight against misinformation and the preservation of trust in media – not just for months but for decades. They have solutions because they wouldn't have survived without them, but those ideas rarely get heard, let alone have the chance to be merged with other ideas from people in similar situations. The only way we can effect real change is with a global solution that takes into account all of the voices with a stake in this issue. The industry needs to come together around the core issues of information sharing, innovation, collaboration and co-ordination of initiatives and ownership of our own narrative in the wider ecosystem. The panelists in this session will discuss how such work might be possible while at the same time highlighting global cases that we should sit up, listen to and take real note of.
10:45 – 12:00 > Hotel Brufani – Sala Raffaello | panel-discussion
Connecting science and journalism though climate change and digital innovation +info►
The last few years have been too centered on the issues of fake news and debunking, particularly in some field of science, to actually reflect other very urgent questions that, in the long run, are likely to be even more impactful and significant. For instance, there is a huge issue around 'trust' between science and journalism communities that goes far back in time. While science and journalism have different roles to play, they have many things in common; both science and journalism are all about facts and evidences. They both need to be independent and seek new information that need to be told to inform the public. And both have experienced a dramatic transition from a one man job to a much more collaborative dimension of their work. For both of them, technological innovation has led to a huge amount of available information, data, new tools to deal with. Science has reached an amazing ability to build super sophisticated models, to improve precision in calculation, to describe complex phenomena. Journalism has seen the advent of tools and formats that allow the design of very innovative and sometimes even immersive ways to tell stories. Especially in complex topics like climate change, especially in the age of information abundance and mixed voices, both journalists and scientists tend to struggle with communicating the facts in the way public understands it.
10:45 – 12:00 > Centro Servizi G. Alessi | humanitarian-crises
Reporting the Rohingya crisis +info►
Since August 2017 more than half a million Rohingya people have fled the destruction of their homes in the northern Rakhine province of Myanmar, crossing to Bangladesh. The three panelists in this session were some of the first in Cox's Bazaar, Bangladesh in August or have reported extensively from Myanmar. They will explore the challenges of reporting from a development emergency, how NGOs increasingly act as news outlets in such situations and how innovation and technologies are allowing us to innovate in our reporting from crises.
12:00 – 13:15 > Palazzo Sorbello | disinformation
Memes, journalism and visual misinformation +info►
The session will contain the following: A continuation of the conversation from #IJF17, looking more concretely at the role of memes in misinformation. A presentation of findings from the work of Visual Social Media Lab and First Draft on building a typology of visual misinformation. A look at the memetic communications style of Donald Trump, Xi Jinping and Rodrigo Duterte, amongst others. An exploration of the 2017 Council of Europe paper entitled Information Disorder: Toward an interdisciplinary framework for research and policy making and the implications of its recommendations in the context of internet culture.
12:00 – 13:00 > Hotel Brufani – Sala Raffaello | data-journalism-school
Masterclass in data journalism tools +info►
How do you get the most out of Google Trends? What tools does Google provide to help data journalists – and what is coming in this area? Sit down with Data Editor Simon Rogers to find out more about what his team does at Google and how you can use the results.
12:00 – 13:15 > Centro Servizi G. Alessi | presentations
Lightning talks: innovation by public service media news labs +info►
Four lightning talks to highlight some of the most exciting recent innovation cases done by the news and storytelling labs of divers public service media. Hervé Brusini, Director of Digital News at France Television, will showcase some of the new visual formats FTV is developing to engage their (young) audiences. Antonella Di Lazarro, Deputy Director of Digital at RAI, will talk about their strategy for new distribution platforms and apps. Mika Rahkonen, Head of Development, News and Current Affairs at YLE, will talk about working with bots in the newsroom. Wilfried Runde, Head of Innovation at Deutsche Welle, will talk about working with cloud services, AI, machine learning, automated translation and showcase a few of their latest tools for reporters in the newsroom. Moderator Ezra Eeman.
12:00 – 13:15 > Sala della Vaccara | ustoo
Foreign correspondents: how women have changed the role +info►
Organised in association with the International Women's Media Foundation.
14:00 – 15:00 > Hotel Brufani – Sala Priori | workshop
Facelift challenge: collaborative processes for climate change journalism +info►
Facelift challenge: Let's get together and find collaborative processes for climate change journalism. Journalists, we have a problem. We need to find new narratives, new sensible ways to use climate change data, models, evidences in our journalistic coverage. We need to get over news that focus only on emergencies, disasters, apocalyptic future perspectives. We need to find new ways to engage our audiences more deeply, leave them empowered by what they read/see, rather than hopeless. But to get there we really need to work in a different way, shaping a new process of collaborative work between scientists, who own the data and know the fact, and journalists, who know how to turn those data and facts into a story for their audiences. We also need to listen to the audiences and understand what they want to see and read so that they feel part of the bigger picture. We need your help and ideas.
14:00 – 15:15 > Hotel Brufani – Sala Raffaello | disinformation
Misinformation whack-a-mole: who is doing what and what might be missing? +info►
In the last year, foundations, universities and other institutions answered the call to build solutions for global information disorders. How are these initiatives working together? How are they addressing the continuum of need in the face of growing and changing threat? What might be the gaps that need to be filled? Our panel of fixers and funders will talk about what in place, and what's next. Moderated by Vivian Schiller. Presented by Craig Newmark.
14:00 – 15:00 > Sala delle Colonne, Palazzo Graziani | panel-discussion
How local should global go? +info►
Large, global media companies are pursuing new audiences in a more localised way, tailoring offerings for different territories. How local should these global players go. Are these offerings disruptive to local media outlets or complimentary? And what responsibility do global news organisations have as they increase their activities in this arena?
15:15 – 16:30 > Sala San Francesco | panel-discussion
Follow the money: how the crash of 2008 changed journalism worldwide +info►
To coincide with the tenth anniversary of the 2008 financial crash, this panel will consider the impact of that crash on the media worldwide, and ask what lessons have been learnt, by business reporters and their editors, in how to cover the economy and powerful corporations. Did the media fail its audiences then? And is it doing a better job now of disseminating and explaining the economy?
15:15 – 16:30 > Sala del Dottorato | humanitarian-crises
Empathy engine or poverty porn? The challenges of telling stories from the developing world with 360 video +info►
Both newsrooms and charities are increasingly embracing the format of 360 video to engage, and immerse their respective audiences in, stories from the developing world. More like storyliving than storytelling, the technology enables the filmmaker to place the viewer in the middle of the story allowing the viewer to rub shoulders with children in diamond mines, to stand on a boat as it rescues migrants in the Mediterranean, or to witness first-hand what life is like for one Rohingya woman in a refugee camp. But with the great power of the new medium, comes great responsibility. For example, how seriously should we consider the risk of vicarious trauma, and should local filmmakers be used to mitigate the extent of a colonial gaze? This session will hear from four experts who, using case studies, will highlight both the technical and ethical challenges of using the format, and how they overcame them. After this session there will be a half-hour Virtual Reality Pop-Up in the courtyard outside the venue. This hands-on session will give attendees the opportunity to experience some of the featured 360 videos for themselves. The panel members will be available to help and answer any questions. Headsets will be provided – just bring your smartphone, with the YouTube app pre-installed if possible.
15:15 – 16:30 > Sala della Vaccara | media-under-attack
How can journalism networks help investigations under authoritarian regimes? Case study: Turkey +info►
Investigative journalism in Turkey is a crime. Publishing public interest stories from the outside can be a lifeline for the Turkish press. There are opportunities to transform the way in-depth, Turkey-related investigations are done. But diaspora media, too, have their own challenges. Last year, Eastern European web magazine The Black Sea, European Investigative Collaborations (EIC.Network) and its partners published exclusive reports that exposed the secret financial dealings of the families of Turkey's president and prime minister. The revelations were ignored by Turkish mainstream media which functions under great self-censorship. Instead, The Black Sea's reporters were denounced as terrorists live on TV by prominent journalists, the courts tried to block the pages, and the website was hacked. The diaspora media, too, kept its distance, demonstrating the breadth of problem and the lack of solidarity, even among 'opposition' media; it is clear that something fundamental has changed in the roots of Turkish journalism over the last decade. How much hope should we place in regional – as well as interorganisational – collaborations as holding the key to quality investigative reporting where there is heavy state repression?
16:30 – 17:45 > Centro Servizi G. Alessi | panel-discussion
How to report on hacks, leaks and data breaches +info►
Hacks, leaks and data breaches are more and more frequently becoming objects of interest for journalists. Recent cases, such as the DNC email cache released by WikiLeaks or the Hacking Team hack, challenged reporters on how to effectively and ethically cover this kind of information. When they obtain material by leakers or hackers, journalists have to be cautious in assessing the authenticity and the newsworthiness of the source material, in order to avoid potential manipulations and the risk of inadvertently become megaphones for their sources' agendas. The panel will analyse challenges and perils involved with the coverage of hacks and leaks, explain their differences and focus on best practices and on technological and legal implications.
16:30 – 17:45 > Sala della Vaccara | media-under-attack
Journalists' polarisation in Poland. Media, politics and history +info►
The parliamentary victory of the conservative Law and Justice party in 2015 has brought a fundamental change to the media landscape in post-1989 Poland. The ruling party led by Jarosław Kaczyński went ahead through the parliament with amendments to the media bill, taking full control over the state broadcasters and promised a shift from public to "national" media. The current government's battle for a new 'national' narrative has fuelled political and journalistic discourse in Poland and beyond. Documentary-makers, story-tellers, museum designers and journalists have been engaged in a fierce fight over the shape of old and new history of the country. The scale, depth and ambition to reshape the media system, alongside broader change in ths judiciary and the way civil society functions, have brought widespread international criticism of Poland from the liberal press and international institutions. How do journalists respond to such new challenging times? Is it possible to remain impartial and objectively report the news when the country and its journalists are so highly polarised? What are the dividing lines in national versus liberal narrative of the history in Poland today? How do journalists and film-makers contribute to the national discussion on what it truly means to be a Polish patriot in contemporary Europe?
16:30 – 17:45 > Sala del Dottorato | community-trust
How you can work with your audience members for stronger journalism and site sustainability +info►
Hear how a new generation of publishers are working with their audiences to benefit their financial bottom line—and their journalism. With the support of readers around the world, sites including The Texas Tribune, Uruguay's La Diaria, Chicago's City Bureau, and the Dutch site De Correspondent have identified super contributors and tapped their community members' knowledge in meaningful ways. Emily Goligoski from NYU's Membership Puzzle Project will moderate this discussion on what "audience engagement" actually looks like for these supporter-driven and highly collaborative sites.
17:00 – 18:15 > Teatro della Sapienza | ustoo
Journalism to empower women in conflict zones +info►
The Yazidi minority, who were mainly living in the Sinjar District in Iraqi Kurdistan, became victims of terrorists after the rise of the Islamic State and regional war. The panel will focus on the experience of Zina Hamu, who found in photojournalism a tool to change the path of her life, allowing her to raise the voice of pain of her persecuted community.
17:30 – 18:30 > Sala San Francesco | presentations
WikiTribune: the news is broken and we can fix it +info►
Orit Kopel, co-founder of WikiTribune, will discuss with Dan Gillmor, from the School of Journalism Arizona State University, the inventive Wiki-based news platform which aims to fix the news. WikiTribune brings together a community of volunteers with hired professional journalists in an effort to create a collaborative news space. The elaborative public participation in editing the news provides verified and improved fact-based articles that have a real impact in both local and global events. This unique radical structure is designed to bring back the public's trust in the media.
17:30 – 18:30 > Hotel Brufani – Sala Raffaello | in-conversation
Propaganda and social media +info►
In conversation with Nathan Jurgenson. Moderated by Fabio Chiusi. The argument against "normalizing" political figures like Trump risks missing how normal politics-as-entertainment is and how normal bigotry is in the political process. Campaigns and their coverage are more often hostile to real politics but instead consist of objectively dumb speeches, pretend debates, and breathless hype — essentially fan fiction — that elevates a ridiculous authority figure chosen by a massive reality show. To understand Trump's tenure, we must better describe how his conduct aligns with conventional "normal" presidencies and how they have been covered. Criticizing Trump in order to prop up a fantasy of presidential dignity fundamentally misunderstands American politics. The most important moment in the coverage of Donald Trump's presidential campaign was the first: when his political career was greeted by pundits and journalists with laughter. For those whose job it was to describe it, political reality was downright laughable. And after election night, we failed to put the feelings of shock and confusion to good use. The degree of disconnect between political reality and how journalists and pundits describe it was exposed, yet little has changed. At last the news business is no longer beholden to electoral news cycles: Trump's election has pulled off the trick of making the campaign perpetual. An election that never ends. Can journalism break from the idea that more information means being more informed?
17:45 – 19:00 > Sala della Vaccara | panel-discussion
Structures of media ownership +info►
The panel will focus on media ownership, investigating the relationship between quality journalism and independent foundations. The role of foundations regarding quality journalism will be discussed and also the role that they could and should play in the current media landscape. Organised in association with European Press Prize.
17:45 – 19:00 > Sala del Dottorato | panel-discussion
The business of news beyond advertising +info►
Advertising has historically accounted for a large part of the business of news. But as legacy media platforms decline, digital media grow more important, and platform companies like Facebook and Google dominate digital advertising, most news media increasingly have to look beyond traditional forms of advertising to sustain their business and fund their journalism. This panel focuses on the future of the business of news beyond advertising, and discuss the experience of different approaches, including a focus on building distributed reach via social media, a focus on paying subscribers, and a focus on diversification. We ask how news can create and capture value, and what role journalists should seek to play as the business of news changes.
18:30 – 19:30 > Hotel Brufani – Sala Raffaello | panel-discussion
Who needs trust? +info►
In a world where people pay attention to journalism because of their beliefs and feelings, why bother with objectivity? Can you have subjective journalism without feeding the fake news frenzy? Does personalised content create filter bubbles or can you build a model for news that combines trust, evidence and emotions?
19:15 – 20:45 > Sala dei Notari | in-conversation
What's left of the Syrian revolution? +info►
Noura Ghazi Safadi in conversation with Francesca Caferri and Donatella Della Ratta. It was 15 March 2011 and thousands of people took to the streets of Damascus, shouting slogans similar to those that had resounded in the streets of Tunis in the previous weeks. Who was there remembers those days as a moment of hope and the end of fear. Seven years later, everything has been shattered under the blows first of the civil war and then of the international conflict. And so many of the protagonists are now dead. The session will feature Noura Ghazi Safadi, human rights lawyer and widow of Bassel Khartabil Safadi, an information engineer and activist and one of the fathers of the Syrian revolution, who was executed by the Syrian regime in 2015. And Donatella della Ratta, professor at John Cabot university, an expert on Syria and a friend of Bassel Khartabil.
…