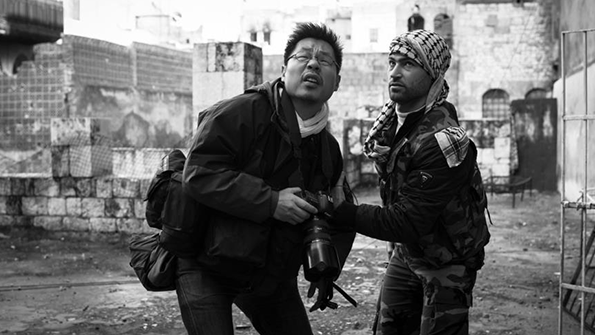 by Emilio Fabio Torsello – translated by Roberta Aiello
The French photographer Olivier Voisin died today from injuries sustained a few days ago during fighting in the city of Hamah, Syria. He had gone there to bear witness to the atrocities of war, following the Free Syrian army. Olivier was due to participate with me on a panel at the International Journalism Festival on 25 April 2013, together with Amedeo Ricucci (RAI) and Andrea Iacomini (UNICEF), to talk about the largely forgotten and frequently ignored reality of Syria.
"I'm just a little photographer, the little Olivier, for me it's an honour to be able to tell the story," he told me regarding the invitation to Perugia. The honour was all ours. Before Syria, Olivier photographed Libya, Haiti and many other situations of war and hardship. Among his upcoming projects, there was also to be a trip to Burma. A humble and courageous journalist, he tried to tell the truth: "War changes your life – he told me – after you've lived through it, you experience everything with a different awareness." Despite his many traumatic experiences, Olivier was a sunny, open and helpful person, surrounded by many friends. When he wrote me, he always began with "Hi from Syria". And I always finished with "Olivier, be careful".
I was due to go to Aleppo with him in December. But it fell through, for financial reasons. He wrote me almost every day.
Olivier died reporting on war. His photographs will remain www.oliviervoisin.fr. Thank you, Olivier.
Here is the last email sent by Olivier from Syria, to the Channel 5 News journalist Mimosa Martini.
***
Syria, 20 February 2013
In the end I managed to pass! After the Turkish authorities refused to let me cross the border, it was necessary to do it illegally again. There was a way, not too far, but through no man's land with some mines on the left and right and with the payment of three soldiers. Here I am all alone, going through the bed of a river with about 1.2 miles to go, hiding to avoid being noticed by snipers.
Holy shit, I had such a rush that I would get caught and make the wrong move! And then, suddenly, the Syrian friend waiting for me and I feel like it's a liberation. The bag, and especially cameras, weighed a ton on our shoulders.
The car is up there with the men of the combat section which I reach in the north of the city of Hamah. We have two hours on the road and arrive with the lights off so as not to be seen. The men greet me incredibly well! And they remain impressed by my solo crossing of the border.
The first artillery shells are heard in the distance. I hear that the loyalist forces are more than 16 miles north of Hamah and the front line is represented mainly by the demarcations between Alawites and Sunnis. Assad's forces bombard blindly and remain powerful. Fortunately, the planes do not attack anymore because the weather sucks!
The living conditions here are more than precarious. It's a bit hard. The good news is that I will lose a little belly, even when I return I'll need 10 showers just to become presentable.
Today I met some families coming from Hamah who have lost their homes. They live underground or in caves. They have lost everything. Suddenly you re-evaluate the problem of the conditions of life with the people you're with. I took pictures but I'm not even sure that the AFP will take my photos.
The night is cold. Luckily I bought some stockings in Turkey and this makes it a little more bearable. The artillery fires every 20 minutes or so and the ground trembles often. The fact is that I have a feeling they shoot blindly and they have guns powerful enough to cover a dozen miles.
There is little direct combat. The company needs more or less $20,000 of ammunition to hold between 2 and 4 hours of battle. Consequently they fight little. They do not do anything all day. I wonder how they can win this war.
I have the confirmation of what I suspected. The war will last a long time. Sometimes the headchief brings us a sheep to eat, and the men go into the woods around here for firewood. He also brings us cartons of cigarettes and makes all his soldiers pray at night! Some of them are very young. They have already lost twenty companions, others are wounded but are still there and I think especially of Abu Ziad, who lost an eye and makes rudimentary rockets to launch them in combat. He is bold and courageous. Always in front, always the first for everything, to help, to chop wood, to give cigarettes, to get up. With a few Arabic words we try to talk. Evidently the conversation often touches on religion but they do not consider themselves Salafis. Just between us, if it were not so, I would not be alive. I like being with him. When others ask me of things – curious about the equipment I have – he always yells at them to leave me alone!
Compared to Aleppo I have the distinct feeling that it is less heavy than last summer. In the summer it was really heavy, even if the older colleagues say it is nothing compared to Chechnya. Surely it was because I was standing closest to the fighting and confusion daily. Here again, it costs so much for them that they shoot only occasionally. It's also different from Libya, where they had all the ammunition they needed. And here there are many more battles in open terrain, nothing to do with the fighting in the city.
Last week Aleppo was just declared the most destroyed city since the time of Stalingrad during World War II. The commander asks me when France will provide them with military aid. How do I know!
I am ashamed because it has been already two years and nobody knows. They tell me nobody helps them, and ask what the West is afraid of. I don't want to answer. There is a fear of extremism that feeds constantly from the lack of intellectual education of people who consider that the Koran is the only book to read … what to do? And then what the hell, I'm not a man of power or a politician. I'm just the little Olivier, who is starving with them and is breaking his balls because direct combat is long in coming. The problem is what AFP asks. The less I do, the less I earn, there is also this, what I make now is certainly not fantastic and the more days pass the more photo requests I get and don't shoot.
And it's true, I'm a junkie for this shit. No other drug is as powerful as the adrenaline that triggers the incredible feeling in the moment, above all wanting to live.
Tonight it has been three days since I arrived. And like an idiot I forget, everytime, to take a book so therefore I do not have much to do at night. Working on photos takes me more or less an average of two hours and since there is no internet, and connection is limited, I feel like a jerk.
Most of the guys are kind to me and try to make my stay with them as pleasant as possible. They make 1,000 questions about Paris and France and still do not understand how I could be French. I tell them that my father is French and my mother Korean. It's not the first time it has happened to me! In all southern countries they mistake me for "Chinese", saying that I am Korean is always seen in a better light! As always, they imagine how we live in our house. And that's even before the war.
I always feel embarrassed when they ask me for pictures of me in Paris because the gap is so strong. It's like when an old friend told me about one of his trips in Eastern Europe after the fall of the Wall, people in Lithuania could not understand there were poor who died of cold in winter. Not showing them those pictures (even if I have them in the laptop!) allows me to live the present moment and not the one before or the one after.
What is missing is a bit of alcohol! If God is nice, it would be good that the next war was somewere other than in an Arab or Muslim country! And that you could talk to women too. Men ask me if I have pornographic photos. That's funny … and sad at the same time because they will not have more after the war. With all these idiotic, religious moralists.
There is so much violence. The hatred is so great. How can they feed a similar hatred? A similar desire to go and kill? I have seen videos of the inhabitants of Homs badly beaten by loyalist soldiers, I have never seen so much violence and blood everywhere with men who cry like children … and blows which continue to strike down on feet, hands, or cane strokes that make the blood spatter. Still I've already seen quite a bit of this shitty world.
These images of their violence, if one day confirmed by witnesses, considering you can see the faces of the soldiers, will be useful for the International Criminal Court.
In the West we believe, or we grew up with this idea of law, that it is possible to judge men by other men. How do you do this with people who only believe in divine justice? Tomorrow will be as bloody, if tomorrow ever comes. The issue of reconciliation is important to us for our Christian culture.
I repeat: after the fall of the wall in Poland or Czechoslovakia, we find this idea of reconciliation in Christian countries which also suffered persecution under Communist regimes. The comparison stops there. "This confidence of the heart" of Brother Roger of Taizé which has marked me and my friends, even today.
More than ever it is the prayer of the paratroopers that comes to my mind whenever I doubt; "My God, give me what others do not want, give me a fight and storm, I'm asking You tonight because tomorrow I will no longer have the courage."
Olivier