Our personal weekly selection about journalism and innovation.
Stay up to date by subscribing to our Newsletter or by following our Telegram channel, and join the conversation on Facebook, Twitter, and Instagram.
Edited by Marco Nurra
---
Watch all #ijf19 sessions on-demand: media.journalismfestival.com

---
Al Jazeera's Hussein detained in Egyptian prison for 1,000 days. Hussein has been jailed in Cairo without charge since December 2016 after arriving from Qatar to visit his family.
Jailed Turkish writer Ahmet Altan: My words cannot be imprisoned. Altan, a combative and outspoken opponent of the Erdoğan regime, was jailed in September 2016 pending trial for allegedly sending "subliminal messages" on television in support of the coup. In 2018, he was sentenced to life imprisonment without parole.
Washington Post builds ad network for publishers to take on Big Tech. On Tuesday they will unveil Zeus Prime, a product that will allow companies to buy automated ads in real-time, similar to Big Tech platforms. Zeus will also support a new ad network that will include other publishers.
The Economist turns up the heat on climate change reporting. For the first time in its 176-year history, the publisher is dedicating an entire issue to topics such as carbon dioxide levels and how we got to this point.
How to use solutions journalism to report on responses to social problems. From finding the right interviewee to asking the right questions, the Solutions Journalism Network explains how to report on what is going right.
Why can't we agree on what's true any more? "It's not about foreign trolls, filter bubbles or fake news. Technology encourages us to believe we can all have first-hand access to the 'real' facts – and now we can't stop fighting about it," writes William Davies.
How the dystos defeated the technos (by Jeff Jarvis). This paper explores the victory of technological dystopians over technologists in regulation, legislation, courts, media, business, and culture across the United States, Europe, and other nations in the latter years of what is now known as the Trump Time.
The Facebook Supreme Court will see you now. Facebook has been hard at work over the past year creating which it is now calling an "Oversight Board." In an attempt to keep the board as independent as possible, Facebook says it will appoint two co-chairs, who will then be free to select whomever they wish to fill out the rest of the membership.
Source Hacking: Media Manipulation in Practice (Data&Society report). In this report, Joan Donovan and Brian Friedberg use case studies to illustrate four main techniques of source hacking: Viral Sloganeering (repackaging reactionary talking points for social media and press amplification); Leak Forgery (prompting a media spectacle by sharing forged documents); Evidence Collages (compiling information from multiple sources into a single, shareable document, usually as an image); Keyword Squatting (the strategic domination of keywords and sockpuppet accounts to misrepresent groups or individuals).
Deepfakes and Cheap Fakes (Data&Society report). Coining the term "cheap fakes," Britt Paris and Joan Donovan demonstrate that the creation of successfully deceptive media has never necessarily required advanced processing technologies, such as today's machine learning tools.
Why Instagram could be a major site for disinformation in the 2020 US election. The visual nature of content makes it easier to stoke discord by speaking to audiences' beliefs through memes. This content is easy to produce but more difficult to factcheck than articles from dubious sites.
Data journalism solves big problems, but it's an organizational mess. A new tool from the AP aims to fix that. Last week, the AP unveiled AP Datakit, a free and open source tool built to make it easier for newsrooms and journalists to collaborate on data journalism.
After a $2.6M crowdfunding campaign, The Correspondent will have just one full-time journalist in the United States. The Correspondent is hiring a total of five full-time journalists.
7 key takeaways on information disorder from #ONA19. From deepfakes and bots to forensic tools and networked factions, here are some of the top lessons in all things disinformation from the 20th Online News Assocation annual conference in New Orleans.
---
The International Journalism Festival #ijf19 On-Demand
Every week, one recommendation from the extensive programme of the last edition of the International Journalism Festival.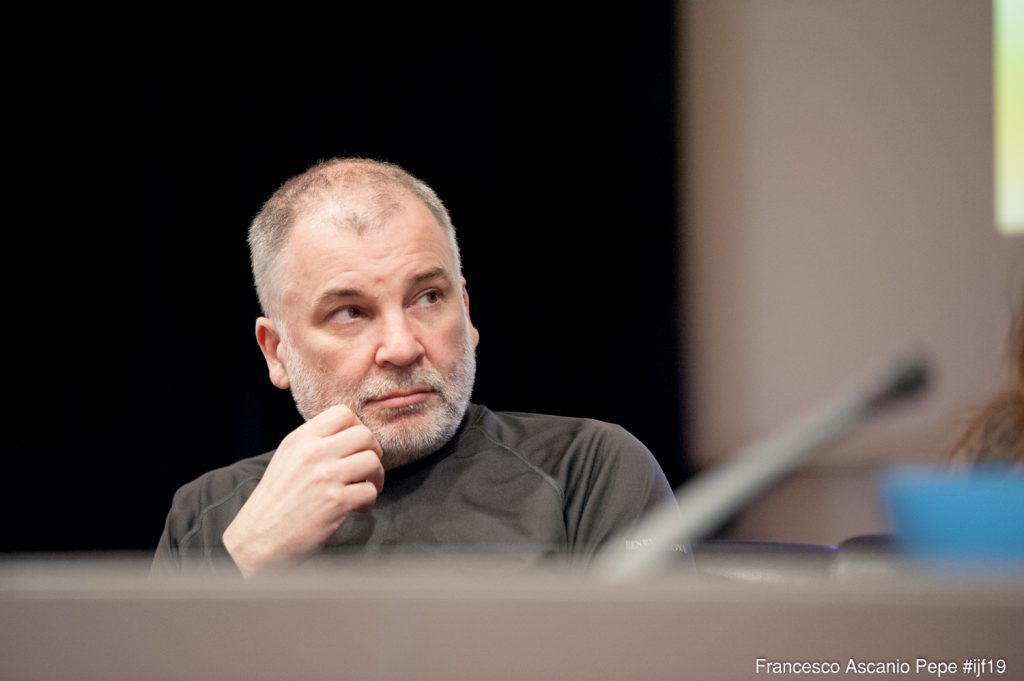 Today we are inviting you to watch "News orgs that are doing it differently". Whether it is their ownership structure, business model or editorial focus, more and more news organizations are moving away from the well-worn paths of the past. This panel will feature three news organizations that do things a little differently: two new and one old. How they approach their mission a bit differently, and what we as an industry can learn from them.
(