Our personal weekly selection about journalism and innovation.
Stay up to date by subscribing to our Newsletter or by following our Telegram channel, and join the conversation on Facebook, Twitter, and Instagram.
Edited by Marco Nurra
---
Watch all #ijf19 sessions on-demand: media.journalismfestival.com

---
'Credible evidence' Saudi crown prince liable for Khashoggi killing. Using recordings of conversations from inside the Istanbul consulate where Khashoggi was killed, UN transcripts outline discussions on how to carry a heavy body in separate pieces. The crown prince of Saudi Arabia should be investigated over the murder of the dissident journalist Jamal Khashoggi because there is "credible evidence" that he and other senior officials are liable for the killing, according to a damning and forensic UN report. In an excoriating 100-page analysis published on Wednesday of what happened to Khashoggi last October, Agnes Callamard, the UN's special rapporteur, says the death of the journalist was "an international crime". We tackled this topic at #ijf19:
🎥 Jamal Khashoggi: born 13 October 1958 (Medina) murdered 02 October 2018 (Istanbul) – #ijf19 on-demand

with @francescacaferr, @iyad_elbaghdadi, @ghoshworld, @margheritamvs https://t.co/4YECQXkT9U

— journalism festival (@journalismfest) June 3, 2019
Russia: Ivan Golunov's case shows the power of publicly and resolutely denouncing despotism. Using trumped-up drug charges to silence critics is nothing new for Russian authorities.
Glenn Greenwald, Intercept Brasil staff threatened after publishing corruption investigation. Beginning on June 9, The Intercept Brasil, an independent investigative news website, published a series of stories based on documents, recordings, and private WhatsApp messages leaked anonymously to the news outlet, which raised ethical and legal questions about the conduct of Brazil's justice minister and the chief prosecutor in "Operation Car Wash," the investigation into political corruption that has been ongoing since 2014.
Tech journalists troubled by Assange computer intrusion charge. The Trump administration's decision to charge Julian Assange with 17 counts of violating the Espionage Act has generated significant controversy. Technology journalists and legal experts shared significant concerns about the Computer Fraud and Abuse Act (CFAA), and their growing fear that it could be used to implicate journalists in the criminal activities of their sources.
In wake of Christchurch, tech regulation in EU and Australia risks restricting journalism. The livestreaming on Facebook of the March attack on two mosques in Christchurch, New Zealand that left more than 50 people dead was the latest in a string of terrorist attacks designed for the digital age. More than a dozen world leaders met in Paris last month to sign the Christchurch Call, a joint, voluntary pledge with tech companies to "eliminate terrorist and violent extremist content online." Policymakers in Australia and the European Union have separately moved forward with aggressive strategies to remove and prevent the dissemination of violent extremist content. The challenge is to make sure these efforts succeed without undermining reporting or putting journalists at risk of being considered criminals.
What's it like being a refugee journalist? Three journalists reflect on their experiences of going from reporting the story to becoming it. This story is one of a series written as part of the Refugee Journalism Project which supports displaced and migrant media professionals to build their careers in the UK. This is an initiative based at London College of Communication and delivered in collaboration with The Guardian Foundation.
Writer Meghan Winter says it was a struggle to find an outlet willing to run her reporting on abortion. "No male editor has ever accepted my pitches on abortion. […] The time has passed for news stories to make a practical difference for the women affected by these laws. Outlets should have been increasing coverage after the 2010 midterm elections, when Republicans swept state legislatures and many states dramatically accelerated their attempts to restrict abortion. At least 338 new abortion restrictions were passed between 2010 and 2017."
Journalism and libraries: "Both exist to support strong, well-informed communities". How librarians are teaming up with journalists to promote media literacy, spur civic engagement, and even take on reporting projects.
'Fact-checking has to be more than just checking': How to fight misinformation beyond 2019. During the sixth annual Global Fact-Checking Summit, journalists, technology companies, nonprofits and startups from around the world are mingling to discuss the possibilities and obstacles facing the future of fact-checking.
The ambitious plan behind Facebook's cryptocurrency, Libra. More than 100 people were gearing up for a dual challenge: building a global currency on top of blockchain technology, especially for those underserved by banks, and convincing people to adopt it despite the fact that Facebook built it. The result is Libra, a new crypto coin and payment infrastructure. Its aspirations are set out in a white paper released Tuesday. Mission: "a simple global currency and infrastructure that empowers billions of people." It begins with a new cryptocurrency designed for payments ranging from micropayments to remittances without fees ("as easy to send money as an email") as well as enabling more exotic "smart money" use in cases like dynamic contracts, which could enable blockchain-based loans or insurance. The value of the coin will be pegged to a market-value basket of several trusted currencies, with individual Libras worth about a dollar. It's money, not an investment vehicle.
The International Journalism Festival #ijf19 On-Demand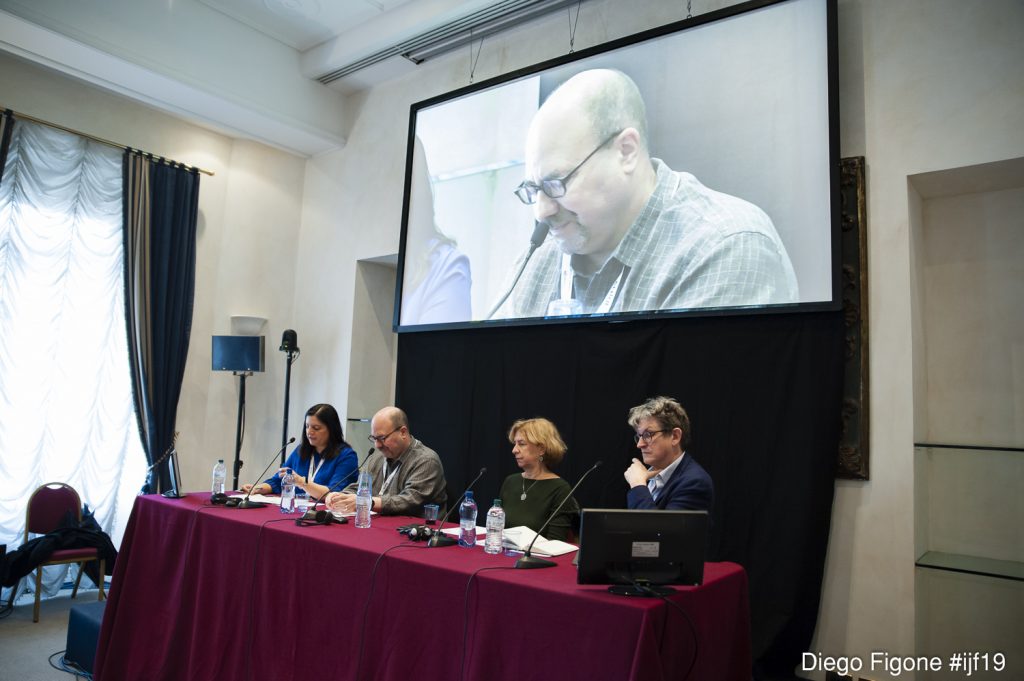 Every week, one recommendation from the extensive programme of the last edition of the International Journalism Festival.
Today we are inviting you to watch "Is philanthropy the answer to save journalism?". What are the advantages and pitfalls of journalists soliciting donations from readers, foundations and grant-makers, and knights in shining armor trying to save journalism with infusions of cash? Join Indira Lakshmanan of nonprofit Pulitzer Center; Alan Rusbridger, formerly of the Guardian and now chair of RISJ; Vivian Schiller of the Scott Trust and the Civil Foundation and Craig Newmark, who has donated millions of dollars to support a range of news organizations, to discuss the pros and cons of relying on philanthropy to support news and information.

---