FREE ENTRY
The festival is free entry for all attendees for all sessions on a first-come-first-served basis. Just come to Perugia and enjoy the festival.
WELCOME POINT
Are you looking for information or a festival brochure? The festival Welcome Point (open daily from 09.00 to 19.00) is in the Hotel Brufani in Piazza Italia, Perugia.
PROGRAMME
Here is the festival programme in an easy-to-read flip format. Here is the festival speakers page, with the sessions of each speaker listed at the bottom of the profile, and here is the full festival programme, divided into categories or venues for ease of reading.
SIMULTANEOUS TRANSLATION

All sessions are held in English or Italian, depending on session speaker composition. For selected sessions English-Italian simultaneous translation is provided free to attendees. The language of each session (and whether simultaneous translation is provided for that session or not) is indicated in the festival programme and in the festival brochure. Please note that simultaneous translation is not available via IJF live-streaming or on the IJF videos. Simultaneous translation will this year be provided in only one venue (the Auditorium San Francesco al Prato). This venue has been chosen because it offers sufficient space to distribute the (Covid-secure) translation headsets safely.
LIVE STREAMING AND ON-DEMAND VIDEOS OF FESTIVAL SESSIONS
Worried about missing some festival sessions? Too much interesting content to follow directly? No problem! The video platform media.journalismfestival.com offers live-streaming and on-demand videos of all 2022 festival sessions, plus an archive of all sessions from previous festivals back to 2013. You will also be able to follow all sessions live-streamed on the festival YouTube channel and on the festival website: videos are embedded at the bottom of each session page in the programme and at the bottom of each speaker page. The videos can be downloaded and used without restriction.
FREE WI-FI
Free Wi-Fi will be provided to all festival attendees in all festival venues, with Wi-Fi name journalismfestival and Wi-Fi password journalismfestival
ANTI COVID-19 MEASURES


We have summarized above some of the anti-Covid measures which will be in place for the 2022 festival. For further information please check this post.
FESTIVAL VENUES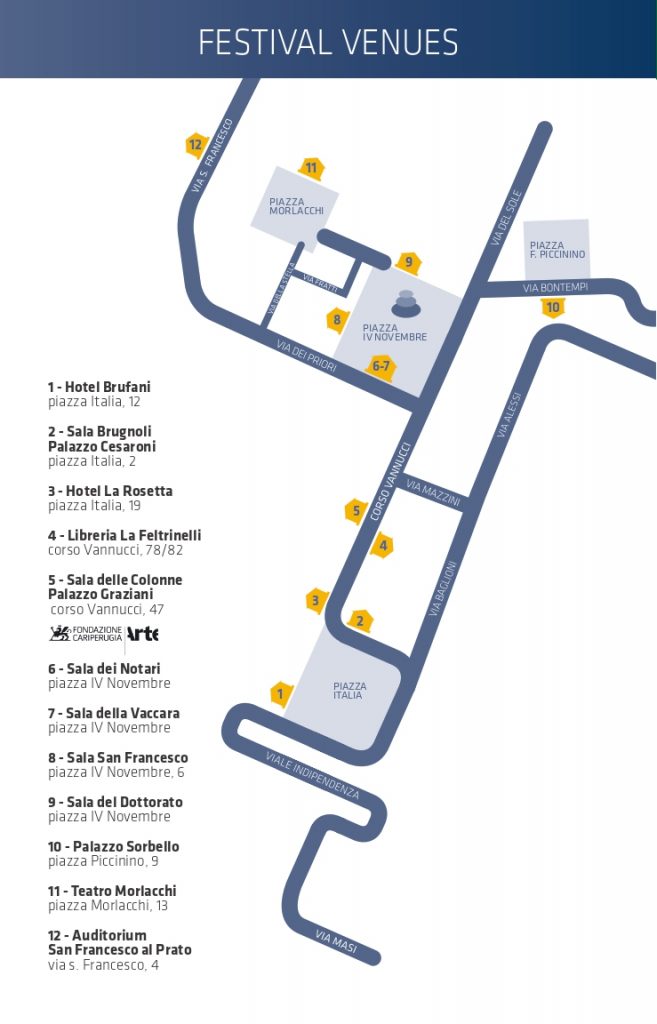 (Preview image by Tobia Faverio)