Our personal weekly selection about journalism and innovation.
Stay up to date by subscribing to our Newsletter or by following our Telegram channel, and join the conversation on Facebook, Twitter, and Instagram.
Edited by Marco Nurra
---
Watch all #ijf19 sessions on-demand: media.journalismfestival.com

---
Twitter to ban all political advertising, raising pressure on Facebook. Social network's move comes as Facebook faces controversy over ads that promote misinformation.

Unpopular decisions. "I will please no one with this post about Facebook's and Twitter's decisions regarding political advertising and news. The popular opinion would be to praise Twitter for banning political and issue ads and condemn Facebook for not fact-checking political ads. I'll do neither. I disagree with both companies, for I think they each found diametrically opposed ways to take too little responsibility for what occurs on their platforms," writes Jeff Jarvis. ""In the end, both Facebook and Twitter — and let's throw Google and all the other platforms in now — refuse to make judgments. They cannot get away with that anymore."
Twitter's refusal of political ads won't end viral lies. But it beats Facebook's profit-focused shrug. "Twitter's move is an imperfect one — and far from universally heralded. Ryan Grim of the Intercept pointed out Wednesday that Twitter ads have allowed lesser-known political candidates, without big-money funding, to build their followings. […] But let's face it. With these platforms' immense power and reach comes huge responsibility. Maybe there's a better way to deal with the onslaught of political lies other than shutting down these social media advertising avenues altogether. Other solutions might be better, but they are elusive because of the overwhelming size of the problem: How do you fact-check a tsunami?," writes Margaret Sullivan.
Twitter's 'ban' on political advertising is easier said than done. The policy announced by CEO Jack Dorsey will need to go above and beyond any efforts the company has previously introduced to address the issue, writes First Draft digital editor Alastair Reid.
Facebook, free speech, and political ads. A roundup of some of the comments from Mathew Ingram's interview series on Facebook and free speech.
EU disputes Facebook's claims of progress against fake accounts. Commissioner says 'still some way to go' in battle against disinformation on social media.
Facebook fact checkers did not know they could vet adverts. Many third-party contractors learned of new policy from Mark Zuckerberg's testimony to Congress.

Americans trust local news. That belief is being exploited. Brendan Nyhan explains why we should worry about the misinformation threat from impostor local sites, which take advantage of the trust people have in local news.
WhatsApp spyware was used to snoop on two dozen Indian activists and journalists. A vulnerability in WhatsApp – the messaging app used by 1.5bn people globally – was used to target journalists, human rights activists and political dissidents with an Israeli firm's spyware that was designed to take over smartphones. The revelations, reported by news outlet Indian Express, come as the Facebook-owned messaging service filed a lawsuit against the Israeli company for helping government spies break into the phones of roughly 1,400 users across four continents.
---
The International Journalism Festival #ijf19 On-Demand
Every week, one recommendation from the extensive programme of the last edition of the International Journalism Festival.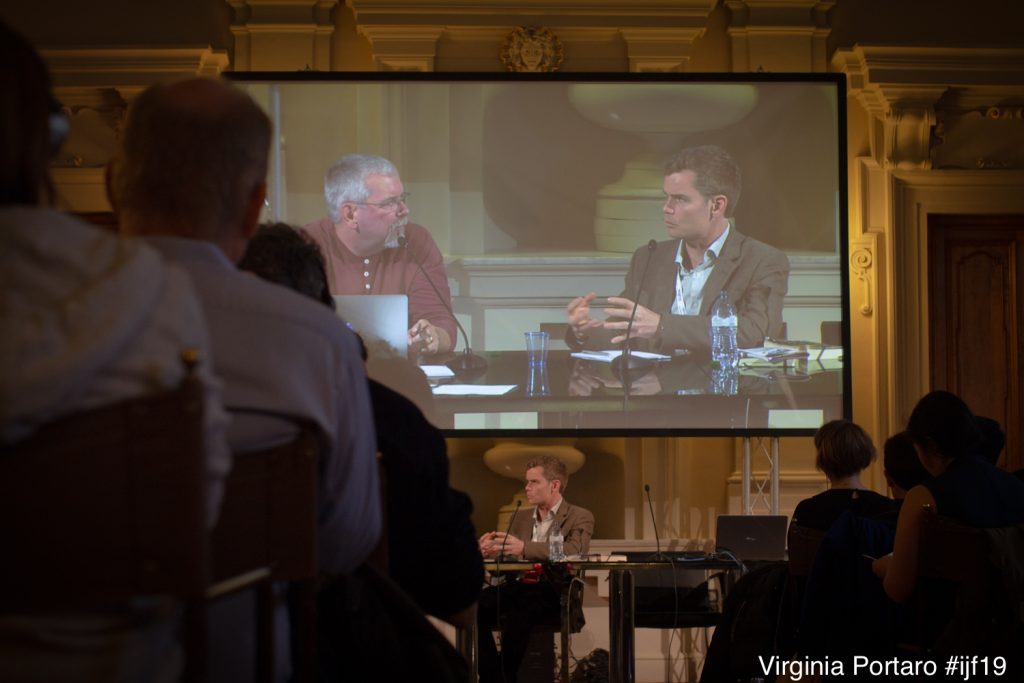 Today we are inviting you to watch "Democracy hacked: how technology is destabilising global politics". Presentation of the book Democracy hacked: how technology is destabilising global politics (2018) by Martin Moore. Moderated by Mathew Ingram. In the space of one election cycle, authoritarian governments, moneyed elites and fringe hackers figured out how to game elections, bypass democratic processes, and turn social networks into battlefields. Facebook, Google and Twitter – where our politics now takes place – have lost control and are struggling to claw it back. Prepare for a new strain of democracy. A world of datafied citizens, real-time surveillance, enforced wellness and pre-crime. Where switching your mobile platform will have more impact on your life than switching your government. Where freedom and privacy are seen as incompatible with social wellbeing and compulsory transparency.
(Photo via Yahoo News)