Our personal weekly selection about journalism and innovation.
Stay up to date by subscribing to our Newsletter or by following our Telegram channel, and join the conversation on Facebook, Twitter, and Instagram.
Edited by Marco Nurra
---
Watch all #ijf19 sessions on-demand: media.journalismfestival.com

---
In 2018, reporter Selene San Felice survived the Capital Gazette shooting that left five of her coworkers dead. Here's what she learned about dealing with journalists in the aftermath of trauma.
EU parliament calls on Malta PM to resign now over Caruana Galizia. Resolution questions 'integrity and credibility' of murder investigation.
For the sake of press freedom, Julian Assange must be defended. Assange's first hearing is set for February 25, 2020. Meanwhile, Assange is apparently in such bad health in Belmarsh Prison that some 60 doctors have written to the U.K. government to urge his release.
In the year since TIME named besieged journalists the Person of the Year, the war against truth has continued unabated. "It's much worse this year," says Maria Ressa, chief executive officer of Rappler, the last major independent news site in the Philippines. "I posted bail eight times in three months."
How China undermines media freedom in Hong Kong and Taiwan. Understanding how China tries to influence the media is a first step to preserve press freedom. Hong Kong and Taiwan are on the frontlines of this battle. In deeply polarized Hong Kong, journalists are under pressure as independent outlets struggle to counteract strong pro-Beijing influence. And Taiwan must navigate how to maintain its openness and press freedom while fending off Beijing's vast resources and technological prowess. A special report by the Committee to Protect Journalists.
Internet blocked as protests intensify in northeast India against the Citizenship Amendment Act. The amended Act segregates the identification of refugees on the basis of their faith. After the protests became violent on 11 December, local authorities ordered the shut down of the internet in Assam and Meghalaya to stop the spread of rumors. This also affected online mobile transactions and mobile internet connections.
Fewer journalists killed but more detained. Reporters Without Borders says 49 journalists have been killed in 2019, the lowest figure in 16 years. But the reasons for the fall in deaths are not wholly positive.
Number of journalists killed falls sharply as reprisal murders hit record low. The number of journalists killed in the line of duty fell in 2019 to the lowest level in 17 years, as dangerous regional conflicts stabilized and the number of journalists murdered in reprisal for their reporting was the lowest since the Committee to Protect Journalists began keeping track, according to its annual analysis. At least 25 journalists were killed in 2019, the lowest figure since 2002, when at least 21 journalists were killed because of their work. Nearly half of the journalists on the list this year were killed in Syria and Mexico, with seven and five cases respectively.
Here's what ProPublica learned about managing a collaboration across hundreds of news organizations. "Since the project began in 2017, we received more than 6,000 submissions, gathered hundreds of public records on hate crimes, and published more than 230 stories."
Nieman Lab launched their annual end-of-year package, highlighting predictions for what's coming for journalism in 2020. Each year, they ask some of the smartest people in journalism and digital media what they think is coming in the next 12 months. Here's what they had to say.
A new guide for telling powerful and inclusive stories with underserved communities. Across Europe, news organisations are being challenged to be more representative of their users and, in particular, underserved communities too often left out of coverage.

How the press and public can find common purpose. A new American Press Institute survey conducted in collaboration with the NORC at the University of Chicago shows most Americans view holding political leaders accountable as an important function of the press. It also finds a majority of Americans value their own right to question leaders in politics, business, and their community.
Industry, experts, or industry experts? Academic sourcing in news coverage of AI. New research looks at which experts the news media turn to when discussing artificial intelligence. Study looked at the top 300 cited experts in the UK and US and found the 10 most mentioned scholars account for 70% of overall news mentions.
It might not be AI technology itself that threatens our information ecosystem, but the inflamed belief in it. "It's not just that you might make people believe that something that's fake is real. But that you might make them believe that something that's real is fake."
Facebook will have a team of community reviewers analyzing "obvious online hoaxes" in the United States. The final call about the veracity of a piece of content, however, will still be made by professional fact-checkers.
How Google highlights fact checks in Search and Google News. Google has highlighted fact checks in Search and News for almost three years as a way to help people make more informed judgments about the content they encounter online. In an effort to quantify the reach of fact-checking in Google Search and News, over the past few months, they shared the number of impressions that fact checks get on these two services.
---
The International Journalism Festival #ijf19 On-Demand
---
Every week, one recommendation from the extensive programme of the last edition of the International Journalism Festival.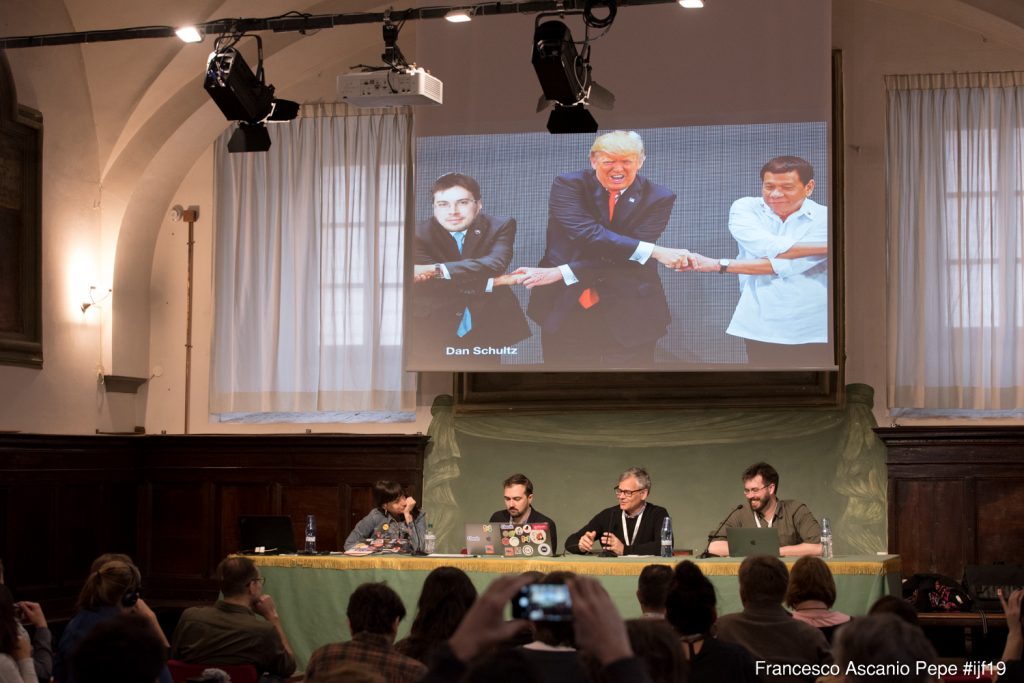 Today we are inviting you to watch "Deepfakes, shallow fakes and real deal journalism". As internet users migrate to more visual platforms like Instagram, YouTube and Twitch, both misinformation and useful information are become more visual, and video is taking the front seat in the challenge for verification. Of particular concern is synthetic media, but of day to day concern are videos cropped, edited and taken out of context. Along this spectrum lie a range of tools and techniques for journalists to detect, debunk and contextualize these videos, using both automated and manual means. This discussion will include an overview of resources to look at include how to lean on trusted sources, archiving, metadata, and what role artificial intelligence can play currently and moving forward.