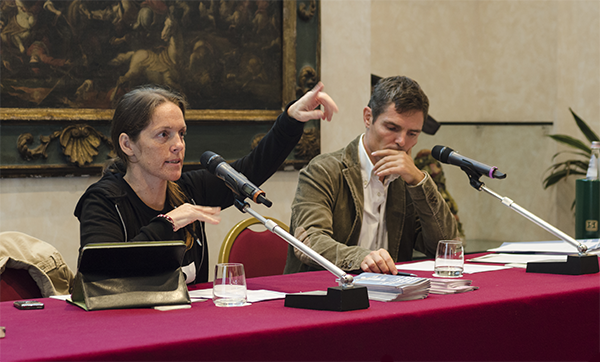 (Arianna Ciccone and Christopher Potter – photo by Pietro Viti)
The International Journalism Festival is back in play.
On Thursday 17 October we announced the closure of the festival due to a shortage of funds for the 2014 edition.
Yesterday, Monday 21 October, we held an open public meeting to explain to the citizens of Perugia and to the wider world the reasons behind the Thursday announcement and to answer any associated questions. During this meeting we also provided an update on what had happened since Thursday, in particular on two unexpected sets of events:
> following the Thursday announcement the festival was inundated with tweets, Facebook comments and emails from former festival speakers and others expressing disappointment at the closure and suggesting practical ways of keeping the festival going. Crowdfunding was frequently mentioned.
> following the Thursday announcement the festival received a number of proposals from other towns and cities interested in hosting the 2014 festival.
In consequence, yesterday we announced the following:
1. we will evaluate the proposals received from other towns and cities.
2. we will evaluate the most effective way to organise a crowdfunding campaign to support the 2014 festival. Corporate sponsors will of course continue to play an essential role in festival financing.
We hope to be able to reach a decision within about 10 days.
Arianna Ciccone
Christopher Potter