Our personal weekly selection about journalism and innovation.
Stay up to date by subscribing to our Newsletter or by following our Telegram channel, and join the conversation on Facebook, Twitter, and Instagram.
Edited by Marco Nurra
---
Watch all #ijf19 sessions on-demand: media.journalismfestival.com

---
'Citizens should be able to fact-check by themselves and also to fact-check us'. In 2013, the well-known Spanish television journalist Ana Pastor decided to join the fact-checking community. Inspired by PolitiFact, she hired a team and designed a show called "El Objetivo" for the TV channel LaSexta. Every Sunday night, reporters would go live on the show to fact-check politicians' claims, as well as hoaxes that had gone viral on social media. Six years later, Pastor said she feels confident enough to teach others how to fact-check without worrying about competition. Her newly-launched project, Newtral Education, is geared toward empowering citizens to conduct their own fact-checking, so that they may verify claims or photos on their own and also be able to double-check the work done by fact-checkers.
Misconceptions about disinformation leave us vulnerable to manipulation online, writes Kate Starbird on Nature. "Perhaps the most common misconception is that disinformation is simply false information. If it were, platforms could simply add 'true' and 'false' labels, a tactic that has often been suggested. But disinformation often layers true information with false — an accurate fact set in misleading context, a real photograph purposely mislabelled. The key is not to determine the truth of a specific post or tweet, but to understand how it fits into a larger disinformation campaign. Another misconception is that disinformation stems mainly from agents producing false content (paid 'trolls') and automated accounts ('bots') that promote it. But effective disinformation campaigns involve diverse participants; they might even include a majority of 'unwitting agents' who are unaware of their role, but who amplify and embellish messages that polarize communities and sow doubt about science, mainstream journalism and Western governments."
'The Great Hack' is a misinformed documentary about misinformation. "It is tedious, seemingly complicated but intellectually underdeveloped, crammed with false facts and exaggerated statistics."
'Real news' may be doing more harm than 'fake news'. The LSE's Rodolfo Leyva recently completed two experimental studies: one looking at the effects of fake news stories on voter support for US presidential election candidates, and one testing the effects of conservative newspapers in the UK on anti-immigrant attitudes and political behavioral intentions. Based on his work, he explains here the relative risks of 'real' and 'fake' news.
You are what you watch? The social effects of TV. The evidence from social science suggests that biased or sensationalist news programs may misinform citizens or discourage civic engagement.
Adani protest: French journalists arrested while filming anti-coal activities. Four journalists working for the public television network France 2 have been charged with trespassing for filming a protest near the Abbot Point coal terminal, in north Queensland, targeting the operations of the Adani group. The group of journalists includes Hugo Clément, a reporter well known in France for his documentaries about climate change and environmental issues.
Philippines libel trial of journalist critical of Rodrigo Duterte begins. Maria Ressa faces prison term if convicted under criminal cyberlibel law. Maria Ressa was a #ijf19 speaker.
Remembering photographer Anas al-Dyab. Anas, a Syrian photographer and a member of the volunteer search and rescue group known as the White Helmets, was killed in Khan Sheikhoun in a airstrike while documenting the bombardment of the city. He was 23.
White supremacy: Research on cyber-racism and violence. Covering white supremacy is a difficult job that requires newsrooms to weigh the value of providing the public with information with the risk of promoting or glamorizing the ideas and actions of right-wing extremists. Also, here's 10 tips for covering white supremacy and far-right extremists.
How The Washington Post's new computational journalism lab will tackle 2020. The lab, orchestrated by director of engineering Jeremy Bowers, will work with Northwestern assistant professor and algorithmic reporting expert Nick Diakopoulos and have between three to six contributors. The lab's main outputs will be reporting tools for the newsroom to cover all the 2020 U.S. elections, new storytelling experiences and projects ("what would an election sound like?"), and semi-frequent blog posts sharing what they're working on and learning.
Trust in news is correlated to distribution modes. Markets where consumers are the best connected with news brands, where people pay more often for online journalism, and overall trust more what they find on social media, enjoy a higher trust in their media.
Lionel Barber on his tenure as Financial Times editor, why his paper appeals to millennials, and the correct journalistic response to Trump and Brexit.
---
The International Journalism Festival #ijf19 On-Demand
Every week, one recommendation from the extensive programme of the last edition of the International Journalism Festival.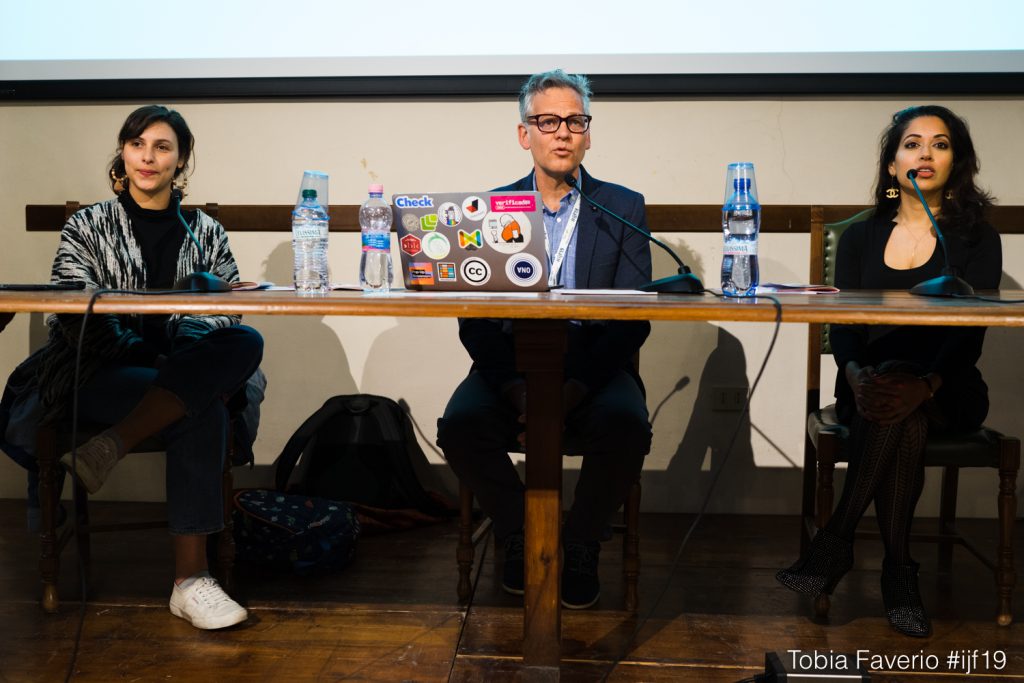 Today we are inviting you to watch "Vaccinating against misinfodemics: journalists and public health misinformation". In the field of global health, information quality crises can quickly escalate into public health crises, with grave consequences for both population health and trust in institutions more broadly. Widening fears of vaccinations, diagnostic processes, treatments and interventions, based on misinterpretations and successive sharing of low-credibility content about health online leads to distrust not only between doctors and patients, but between communities and health information authorities. The role of strong journalism in health emergencies, as well as quality reporting about new and emerging health research, is essential for mitigating the risks of health misinformation; and this has far-reaching effects.


---
(Photo via Newtral Education)