Our personal weekly selection about journalism and innovation.
Stay up to date by subscribing to our Newsletter or by following our Telegram channel, and join the conversation on Facebook, Twitter, and Instagram.
Edited by Marco Nurra
---
Watch all #ijf19 sessions on-demand: media.journalismfestival.com

---
Financial Times names first woman as top editor in its 131 years. The Financial Times announced on Tuesday that Roula Khalaf will be its top editor, starting in January. She will be the first woman to lead the paper in its 131-year history.
Facebook defines 'politician,' but will it solve the problem? Politicians, Facebook says, are "candidates running for office, current office holders – and, by extension, many of their cabinet appointees – along with political parties and their leaders." The United States is where Facebook's policies and definitions will face – and already are facing – their greatest tests. But some fact-checkers, especially those operating outside the United States, say the definition of a politician in office or running for office carries some potentially unintended consequences.
Sarah Palin is not a politician under Facebook's rules, so her fact-checked post gets the "false information" treatment.

(h/t Factually: https://t.co/C9s2mVPlFc) pic.twitter.com/ODZpq9ZlPL

— Alexios (@Mantzarlis) November 14, 2019
Twitter is banning political ads. But it will allow those that don't mention candidates or bills. In other words: Ads talking about climate change generally are likely going to be accepted; ads about the legislation that would enact the Green New Deal are not.
Outrage after Turkish journalist re-arrested a week after his release. Turkish police have rearrested the journalist and novelist Ahmet Altan, just a week after his release from prison over alleged links to the failed 2016 coup. The Istanbul court sentenced Altan to more than 10 years in jail but ruled that he and another veteran journalist, Nazlı Ilıcak, should be released under supervision after time already served – around three years each. They were forbidden to leave the country.
As Erdoğan visits Trump, Turkey jails more journalists. "The international stage is already taking steps to reprimand Turkey over its human rights record, and Turkish authorities should take immediate steps to address these pressing concerns, including the arbitrary jailing of journalists," said Gulnoza Said, CPJ's Europe and Central Asia program coordinator, in New York. "For the past three years, Turkey has been the world's worst jailer of journalists. The country should release all jailed journalists and end its harassment of the independent press."
Behrouz Boochani, voice of Manus Island refugees, is free in New Zealand. Kurdish Iranian refugee and journalist – a multiple award-winner for documenting life in Australia's offshore detention system – has left Papua New Guinea.
Edward Snowden says autobiography has been censored in China. Sections on democracy and privacy appear to be missing in Chinese edition of 'Permanent Record'.
'It was just a joke': How satire is used to excuse disinformation in elections. Examples of misleading claims and videos dismissed as comedy in the UK general election echo similar strategies in elections around the world.
Twitter drafts a deepfake policy that would label and warn, but not always remove, manipulated media. What isn't clear, however, is how Twitter will be able to detect the deepfakes published on its platform, given that detection techniques aren't perfect and often lag behind the newer and more advanced creation methods.
Harmful speech as the new porn: Efforts to control it will be just as successful (not). "For the parallels between the fight against harmful and hateful speech online today and the crusade against sexual speech 50 years ago are stunning: the paternalistic belief that the powerless masses (but never the powerful) are vulnerable to corruption and evil with mere exposure to content; the presumption of harm without evidence and data; cries calling for government to stamp out the threat; confusion about the definitions of what's to be forbidden; arguments about who should be responsible; the belief that by censoring content other worries can also be erased," writes Jeff Jarvis.
Facebook and YouTube ban naming alleged Trump impeachment whistleblower. Republican political figures spread the name on Twitter.
Closed groups, messaging apps and online ads: The new battlegrounds of disinformation. While there is now more awareness around the online tactics of deception, new frontiers in digital spaces continue to open up, writes First Draft co-founder Claire Wardle in this extract from our Essential Guide.
Why big platforms are dropping "like" counts: It's for your sanity. Several of the biggest social media platforms are beginning to test changes that cut down on scorekeeping, discourage harassment and aim to improve users' well-being.
---
The International Journalism Festival #ijf19 On-Demand
Every week, one recommendation from the extensive programme of the last edition of the International Journalism Festival.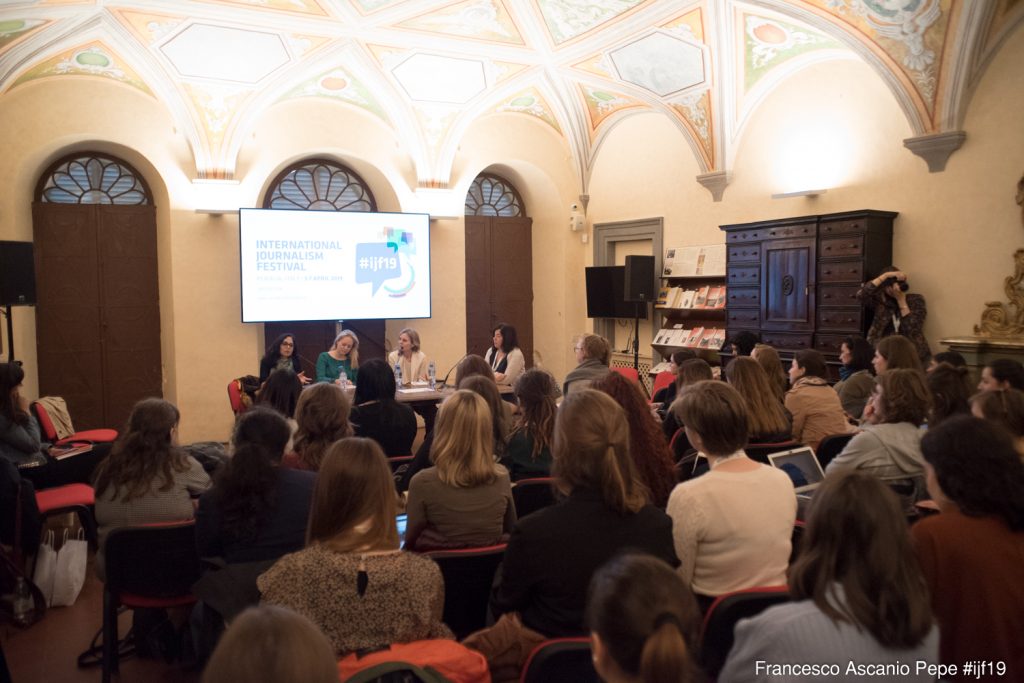 Today we are inviting you to watch "Women's leadership in media". Much has been said about women as journalists and media managers, about their being victims, about a lack of opportunity, about their being kept under glass ceilings, being paid less, given less opportunity for advancement, about harassment and assault. And while all of this remains true, and in spite of it, women are increasingly asserting themselves as more than capable contenders for leadership and top positions. Who are these women? How do they do it? And what can they tell the many others yet to be acknowledged who sometimes struggle to find their own voice in the face of all of the obstacles the industry throws in their way?


(Photo via Getty Images)