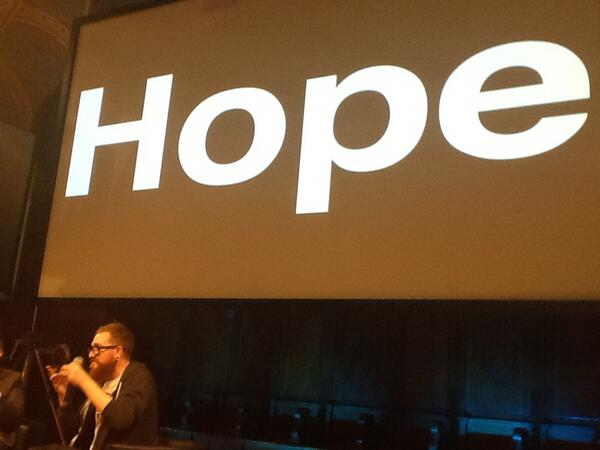 The fourth day of the International Journalism Festival 2013, has focused on the major topics of International interest for the information industry and generally for journalism. The analysis from the Buzzdetector powered platform, has highlighted the phenomenal growth in participation on Twitter, with 3,174 different unique users, who have produced 10,151 tweets, with a high level of re-tweets (47%).
The international world acclaimed guests included Anthony De Rosa, Emily Bell and Harper Reed, visionary professional, responsible for the recent electoral campaign for Obama.
Twitter is the most significant invention for journalism since the telephone – @emilybell #ijf13

— BBC Journalism (@BBCCollege) April 27, 2013
Emily Bell, director of Tow Centre for Digital Journalism and co-author for the report "Post Industrial Journalism: Adapting to the Present" from November 2012, invited journalism professionals to give birth to new breaking processes, which should stop the tradition to go ahead to innovation, during her speech. The thought provoking thoughts from Bell to stop the printing of the newspapers should not be interpreted literally. However, her message is strong on the need of journalists and media outlets to go ahead on a daily basis in this digital world.
.@antderosa tips on how to be more efficient on social media #ijf13 twitter.com/journalismfest… — journalism festival (@journalismfest) April 27, 2013
Social Media Editor of Reuters, Anthony de Rosa, spoke during his half speech/half discussion conference, with the readers, offering a concerete contribution on the impact of social media on news and more generally on the information industry. Therefore, he has given practical elements about a more effective management of the entire process of relationships with the social world.
#ijf13 gli italiani non sono un popolo "da abbonamento" quindi il paywall è culturalmente complesso spiega @marcoprat (la Rai è l'eccezione)

— Marianna Bruschi (@MariannaBruschi) 27 aprile 2013
Italians are not suitable for subscribing, so the paywall is culturally complex and Italian public broadcast television Rai is the only exception. – English translation for Italian tweet above
Another hot topic was the possibility of readers having to pay for the digital edition of online newspapers. The panel on the topic of the "paywall", has highlighted this both globally and locally. In fact, the tweet from Marianna Bruschi, local reporter for the Provincia Pavese newspaper, is the better summary of the difficulties and peculiarities of the Italian readership.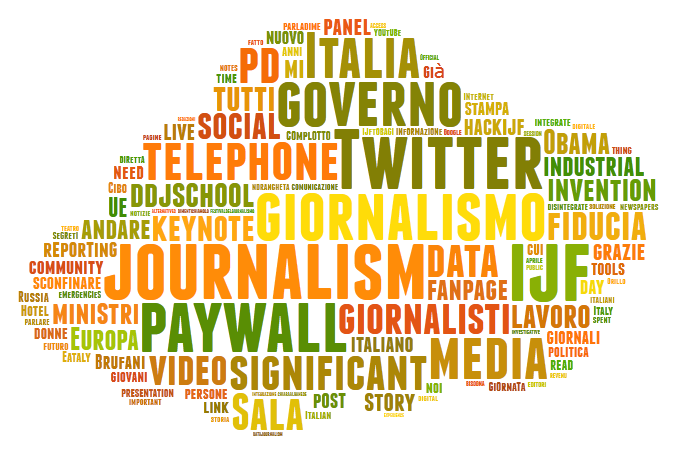 The presence of Giuseppe Civati, Italian member of parliament for the Democratic party and the coincidence with the birth of a new government could not be excluded from conversation on Twitter.
Not only politics, in fact Emily Bell has tracked a comparison between the telephone and Twitter, as a mandatory tool of communication. This concept gained the attention and attendance to the festival, which they mentioned many times.
Analysis by
Angelo Centini, data scientist for Buzzdetector
Aarti C. Thobhani, freelance journalist and festival volunteer
Matteo Di Renzoni, freelance data journalist
Pier Luca Santoro, expert in Communication and Media
Gianandrea Facchini, CEO and founder of Buzzdetector
Alessandro Belotti, journalist and festival volunteer