Our personal weekly selection about journalism and innovation.
Stay up to date by subscribing to our Newsletter or by following our Telegram channel, and join the conversation on Facebook, Twitter, and Instagram.
Edited by Marco Nurra
---
Watch all #ijf19 sessions on-demand: media.journalismfestival.com

---
Media bubbles aren't the biggest reason we're partisans. Maybe you call it a bubble. Maybe you call it a silo. Maybe you just call it an echo chamber. But whatever metaphorical, narrow and enclosed space you prefer, there's a good chance you've been told that one of the great social problems of our time is Americans getting their political news from biased sources. But here's the thing: That's not how it works. Turns out, news of our bloated, biased media diets has been greatly exaggerated. It could even be said that the "media bubble" narrative is… wait for it… fake news.
Tech journalism should embrace a more solutions-oriented approach. Buzzfeed's Craig Silverman suggests that tech journalism has just now entered its "the world is on fire" phase, and solutions reporting will follow. Reporters could identify and focus on activists and civil-society organizations putting forward specific ideas for change.
How journalists can responsibly report on manipulated pictures and video. Many newsrooms rely on their editorial guidelines and code of ethics. But as audiences become hyper-networked, technological innovations have expanded the ways in which news can be gathered and distributed. In response, agents of disinformation have devised increasingly inventive methods for manipulating journalists, the social platforms, and the subsequent media coverage. As a result, news organisations find themselves facing an array of new ethical challenges relating specifically to amplification. The first of six new guides from First Draft covers the tricky ethical terrain that comes with reporting in a world of information disorder.
Most deepfakes are used for creating non-consensual porn, not fake news. While media, politicians, and technologists panic over the risk of deepfakes impacting elections, a new study has found that the vast, vast majority of deepfakes are pornographic in nature. On top of that, to the surprise of absolutely no one, all of the pornographic deepfakes analyzed in the study exclusively targeted women.
Political 'deepfake' videos banned in California before elections. Ahead of what is expected to be a contentious election next year, California has made it illegal to distribute deceptively edited videos and audio clips intended to damage a politician's reputation or deceive someone into voting for or against a candidate.
Research says hiding likes can make Facebook fairer and reduce misinformation. Showing markers of content's popularity makes a marketplace of information more unequal and less predictable. Hiding them strengthens the correlation between popularity and quality. Like Instagram (which it owns), Facebook is experimenting with hiding the number of likes that posts receive for users in some areas (Australia for Facebook, and Canada for Instagram). In the new design, the number of likes is no longer shown. But with a simple click you can see who liked the post and, if you'd like, count them.
Turkey bans critical reports on military operation in Syria, detains 2 journalists. The Chief Prosecutor's Office of Istanbul today published a statement banning critical news reports and comments on Turkey's military assault on northern Syria. The statement says a person or persons who "target the social peace of the Republic of Turkey, domestic peace, unity and security" with "any kind of suggestive news, written or visual publication/broadcast" alongside "operational social media accounts" will be prosecuted according to the Turkish penal code and anti-terrorism law.
Gauging the global impacts of the 'Panama Papers' three years later. Collaborative global reporting projects like the Panama Papers raise anew the difficult question of how to measure and analyse the social impacts of journalism, and especially of investigative or 'accountability' reporting. Professional norms make journalists reluctant to weigh their work in terms of the results it produces, for fear of being seen as activists, but the question becomes more urgent as public affairs journalism increasingly relies on non-profit newsrooms supported by charitable giving or other subsidies. Meanwhile, global investigative projects are a new phenomenon and have rarely been studied in terms of impact. This factsheet offers the first systematic overview of the impacts of Panama Papers reporting around the world.
Subjectivity, hugs and craft: Podcasting as extreme narrative journalism. The literary journalism movement unleashed by Capote, Didion, Mailer and Wolfe in the 1960s is reinventing itself in a remarkably powerful way. The great literary journalists of the last 50 years traditionally employed the tools of fiction to write true stories: the real people they depict are developed as characters and interviews are quoted as conversations; deep research and analysis is conveyed as plot and reconstructed scenes; and the writer employs fresh, descriptive language to place the reader at various locations. This genre, also described as creative non-fiction or narrative journalism, thrives today as long-form articles in outlets such as Empire, Vanity Fair, and the New Yorker. Exemplars include Katharine Boo, Ted Conover, Susan Orlean, William Finnegan and the late David Foster Wallace. But when the audio medium is added to the arsenal of narrative journalism, its impact is hugely amplified.
---
The International Journalism Festival #ijf19 On-Demand
Every week, one recommendation from the extensive programme of the last edition of the International Journalism Festival.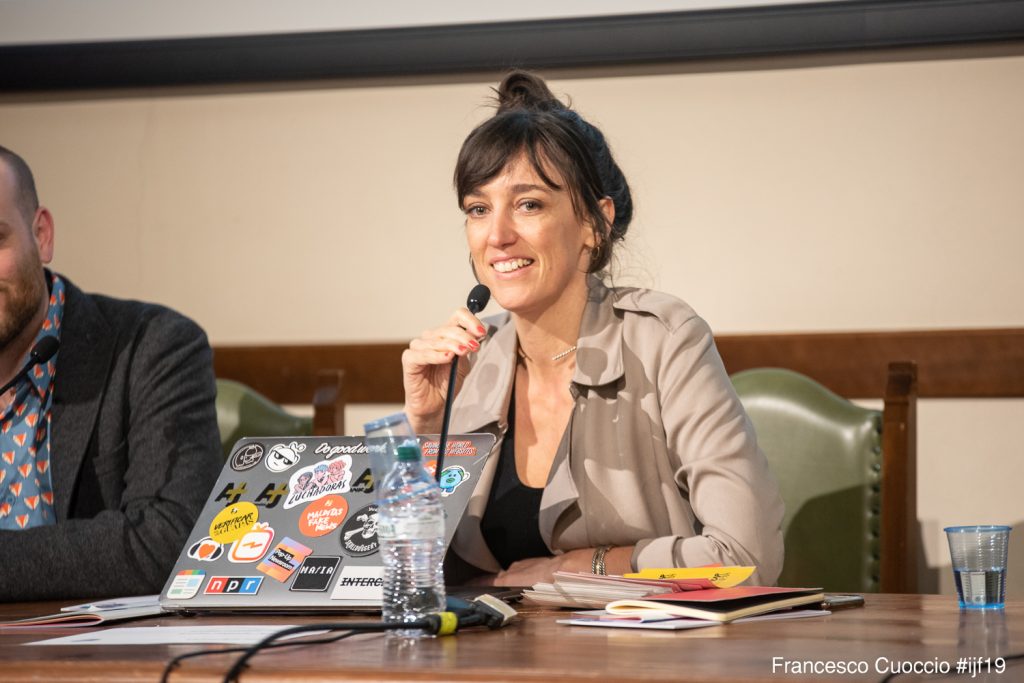 Today we are inviting you to watch "50 shades of collaboration". There is little doubt that 2018 has seen the rise of mass journalism collaborations to successfully tackle misinformation and navigate events at a scale that can't be achieved by an individual organisation. However, no collaboration is alike and building a successful project requires one of a few distinct methodologies. One of the most successful collaborations seen over the past year is Verificado 2018 in Mexico. Hear how the Pop-Up Newsroom and CrossCheck models work and join us to discuss how we'll see collaborations grow in 2019.

(Photo via rachelpasch / Flickr)