Our personal weekly selection about journalism and innovation.
Stay up to date by subscribing to our Newsletter or by following our Telegram channel, and join the conversation on Facebook, Twitter, and Instagram.
Edited by Marco Nurra
---
Watch all #ijf19 sessions on-demand: media.journalismfestival.com

---
The challenges of being a foreign reporter in China. "Given the growing repression, getting people to open up was not easy during my five years with NPR in Shanghai. My solution was to create a free taxi service, offering rides in exchange for conversation. Passengers felt comfortable raising sensitive topics in the taxi. 
Why the press struggles to cover the war in Yemen. The five-year conflict is culturally and politically complex. It is, admittedly, a story that requires a nuanced understanding of the cultures and the political currents of a whole region. Foreign journalists face access barriers, and local journalists are routine targets of smear campaigns.
Telling fact from fiction inside Kashmir's internet blackout. India shut off electronic communications in the Himalayan border region. Has the blackout been effective in closing down misinformation? Or made it worse?
Leaked emails show how white nationalists have infiltrated conservative media. Conservative institutions in the Donald Trump era have often sought to portray themselves as shocked and appalled by the so-called "alt-right." White nationalists have also engaged in their own efforts to differentiate themselves from the neoconservatives who dominated the GOP for decades. But neither narrative is true. The reality is that a host of supposedly veritable right-wing institutions have become a safe haven for the far-right.
'The threats follow us home': Survey details risks for female journalists in U.S., Canada. Ask any female journalist about harassment or safety while on assignment and they'll likely have a story to tell. The survey aimed to highlight the main issues and inform new guidance as part of CPJ's Emergencies Department's safety kit of resources for journalists out in the field.
How The Times uses FOIA to obtain information the public has a right to know. The Times' lawyer provides an update on why we're still filing so many Freedom of Information Act lawsuits.
Trump's attacks on the news media are accelerating, writes Margaret Sullivan. "On Monday, he made his intentions clear in a couple of rambling, overcapitalized tweets: 'Our real opponent is not the Democrats, or the dwindling number of Republicans that lost their way and got left behind.' No, he wrote, 'our primary opponent is the Fake News Media.' This was attached to a rant about what he calls the 'LameStream Media' and its supposed lack of sources and fact-checking: 'They are now beyond Fake, they are Corrupt.'"
"We realized Spotify for news was exactly the wrong thing to do." Here's what Kinzen is doing instead. Mark Little and Áine Kerr decided to switch their focus to helping publishers provide personalized news experiences on their own platforms, their own newsletters and websites, powered by Kinzen's underlying technology.
---
The International Journalism Festival #ijf19 On-Demand
Every week, one recommendation from the extensive programme of the last edition of the International Journalism Festival.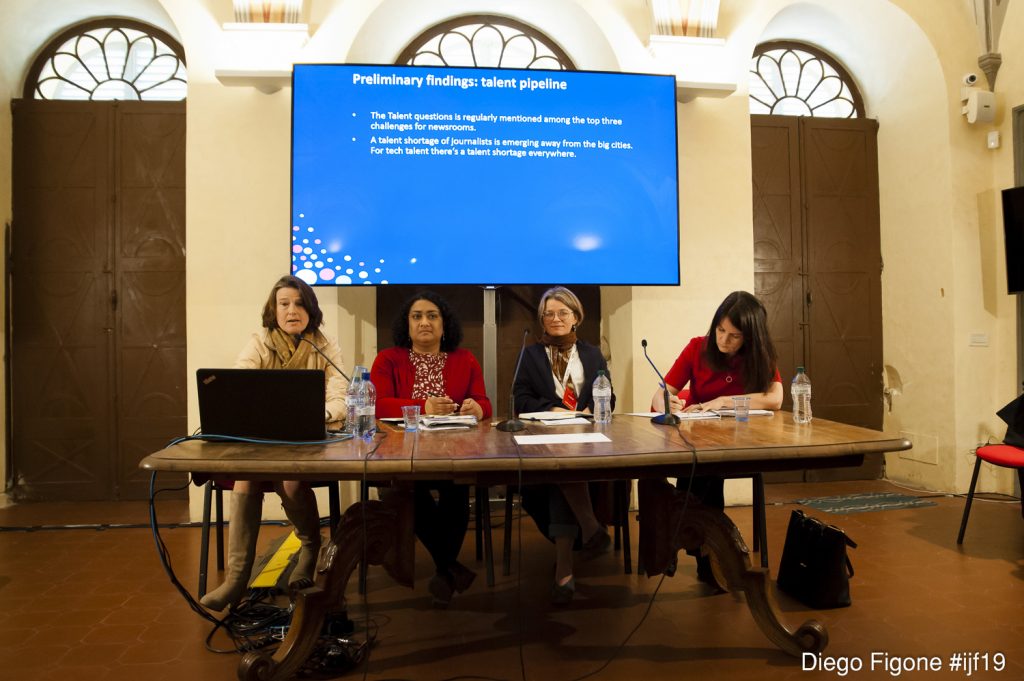 Today we are inviting you to watch "The talent challenge: how to attract the right people to make newsrooms more diverse and sustainable". To be a journalist used to be a sought-after profession. But with job prospects declining and the trust debate in full swing, becoming a reporter or editor is losing out on attractiveness for many. At the same time, editors are striving to enhance diversity in their newsrooms. Not just because this is the right thing to do, but also because they hope to regain trust with audiences by presenting more perspectives on the world. Who wants to be a journalist today and what are best-practice measures of getting more diversity? The panel will discuss these questions and present preliminary results of a study done jointly by the Reuters Institute for the Study of Journalism and the University of Mainz.

---
(Photo via NPR)