Our personal weekly selection about journalism and innovation.
Stay up to date by subscribing to our Newsletter or by following our Telegram channel, and join the conversation on Facebook, Twitter, and Instagram.
Edited by Marco Nurra
---
Watch all #ijf19 sessions on-demand: media.journalismfestival.com

---
How journalists can take care of themselves while covering trauma. If you haven't gotten training on handling trauma, ask about it. If your newsroom hasn't communicated safety protocol, ask about it. If you want to be proactive, The Dart Center has a wealth of resources on trauma, self-care and peer support. "If we really believe in the importance of our work in journalism and our responsibility to the communities we cover, we need a responsible self-care plan," said Bruce Shapiro, executive director of Columbia Journalism School's Dart Center for Journalism and Trauma. We tackled this topic at #ijf16: "Making secondary trauma a primary issue" and "Covering violence: psychological injury, resilience and self-care".
Bringing awareness to newsroom stress. Trauma is not just for war correspondents. It includes dealing with "Car crashes, crime, catastrophic floods… being harassed or stalked, getting email threats, hearing 'fake news' shouted, or being criticized for appearance – things every journalist has experienced." We tackled these topics at #ijf18 and #ijf17: "#UsToo: sexual harassment, gendered threats and press freedom", "Trolls in the newsroom: coping strategies for online harassment", and "How to tackle trolls and manage online harassment"
Want to feel less anxious about the state of the world? Try diversifying your online news sources. Participants who reported actively trying to diversify their online news streams by interacting with people and content espousing different points of view also reported lower levels of anxiety related to current events.
Julian Assange shows psychological torture symptoms. Assange is showing all the symptoms associated with prolonged exposure to psychological torture and should not be extradited to the US, according to a senior UN expert who visited him in prison.
Yemeni journalist denied entry to US to receive Pulitzer Prize: I am disappointed yet defiant. "The embassy told me that the reason was that Yemen was ranked as a place that has terrorism. […] It was baffling to me. As a Yemeni citizen, I know how we Yemenis are the first victims of terrorism. Terrorists in Yemen are foreigners who come from outside. They exploit the deteriorating security situation in Yemen and use that for their own interests."
Brazilian journalist Robson Giorno shot and killed in Rio de Janeiro state. On May 25, unknown individuals knocked on the door of Giorno's home in Maricá, a coastal town in Rio de Janeiro state, and lured him to the street, where individuals in a car shot him six times. He died at the scene.
Malta failing on rule of law after journalist's murder. The failure of Maltese authorities to identify the masterminds behind the murder of investigative journalist Daphne Caruana Galizia raises questions about the rule of law in Malta, according to Europe's chief human rights watchdog. Matthew Caruana Galizia was a #ijf19 speaker:
🎥 Fighting back: #ijf19talk by @mcaruanagalizia – #ijf19 on-demand https://t.co/cU9PW8JEP5

(Moderated by @mariocalabresi) pic.twitter.com/RVJEAH1Imy

— journalism festival (@journalismfest) May 28, 2019
What do we do when everything online is fake? "The real danger of deepfakes: If anything can be faked, then everything could be, so why not believe what you want to? This is a much more dangerous prospect than people trusting what they see, and being fooled now and again." James Ball was a #ijf19 speaker:
What the altered Nancy Pelosi video shows about how the media cover misinformation. Fact-checkers worldwide regularly debunk videos that are lightly edited or simply taken out of context to advance a false claim on social media. It happens in the United States as it does in any other country with a large proportion of Facebook users. Aside from its virality, the Pelosi video was no different. But American journalists treated it as if it were a litmus test for the current state of online political information — a treatment that lacks the nuance required to better understand the problem.
The Goliath in misinformation is Fox News. "I understand the fear about digital fakery. But to focus on Facebook instead of Fox News is to mistake the symptom for the disease. The disease is an entrenched, well-funded, decades-in-the-making, right-wing propaganda network, one that exists to turn faintly sourced rumors into full-blown, politically convenient narratives. […] And it is devastatingly effective: Just about every political lie that has dominated American discourse in the past two decades — the Swift Boaters and the birthers, death panels, the idea that undocumented immigrants pose an existential threat but climate change does not — depended, for its mainstream dissemination, on the Fox News machine," writes Farhad Manjoo.
After four years of handing out money for European news projects, Google is expanding its funding to North America. Projects, which should be related to local news or revenue generation, can receive up to $300,000 in funding. As in Europe, the launch comes with talk of government regulation in the air.
The International Journalism Festival #ijf19 On-Demand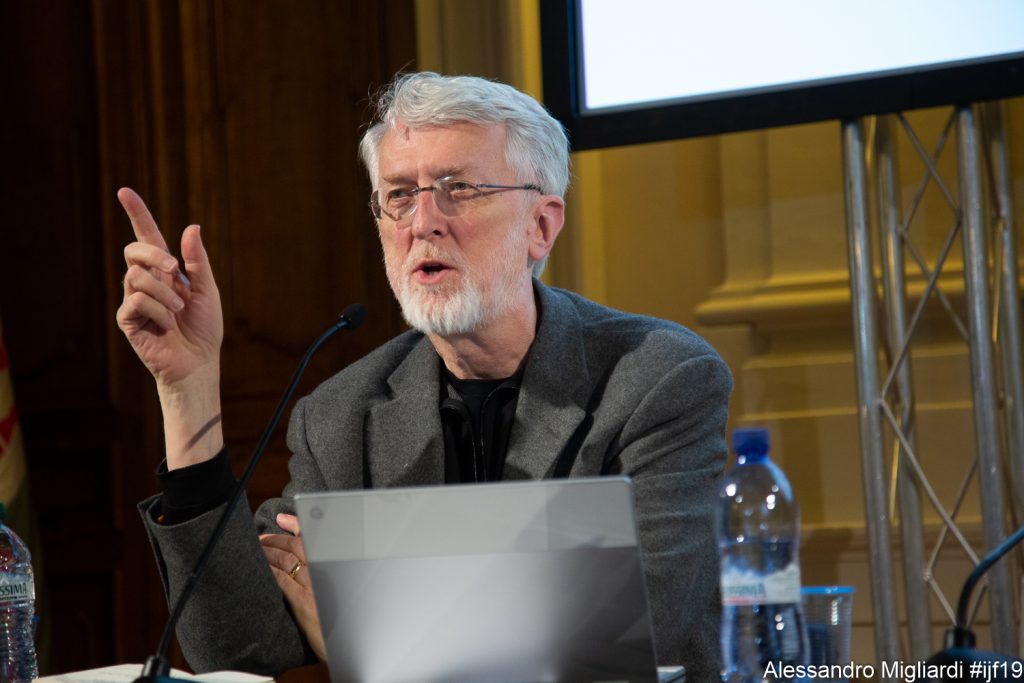 Every week, one recommendation from the extensive programme of the last edition of the International Journalism Festival.
Today we are inviting you to watch "The Spiegel scandal and the seduction of storytelling". Is the "story" the atomic unit of journalism or a seductive siren that leads us to favor drama and engagement over truth? The Claas Relotius scandal at Der Spiegel – revealing rampant fictionalizing by a star reporter – forces us to question whether the story is a necessity or a corruption and whether journalists and the public have become addicted to narrative. This session takes as its starting point the 24 December 2018 post on Medium by Jeff Jarvis entitled The Spiegel scandal and the seduction of storytelling.
---
(Photo via First Draft)