Our personal weekly selection about journalism and innovation.
Stay up to date by subscribing to our Newsletter or by following our Telegram channel, and join the conversation on Facebook, Twitter, and Instagram.
Edited by Marco Nurra
---
Watch all #ijf19 sessions on-demand: media.journalismfestival.com

---
US mass shootings: What we know about El Paso and Dayton attacks. In distant parts of the country, just 13 hours apart, two mass shootings rocked the US.

America's hate problem. In the 20 years since the 1999 Columbine High School massacre, the U.S. has had 88 mass shootings (each with 4 or more victims), with 736 killed.
White extremist ideology drives many deadly shootings. In the past 18 months, white-extremist active shooters in the U.S. have been responsible for 63 deaths in 7 episodes, including attacks on a Texas Walmart, a Florida high school, a Texas high school and a Pennsylvania synagogue.
10 tips for covering white supremacy and far-right extremists. White supremacists and other far-right extremist groups are among the greatest threats to U.S. domestic security, the FBI and Department of Homeland Security wrote in an unclassified Joint Intelligence Bulletin in 2017.

The El Paso and Dayton shootings show how disinformation spreads on messaging apps. In group chats, copy-and-pasted texts about active shooters jumped from group to group. On Telegram, personalities who were banned from Twitter, Facebook, and YouTube found a safe haven and continued to mislead their followers. Some of that information was then screenshotted and published to Facebook groups and Instagram or Snapchat stories. None of it could be effectively countered by fact-checkers.
Here's how Facebook, YouTube, Twitter, and 8chan handle white supremacist content. In light of mass shootings in El Paso, Texas, and Dayton, Ohio, over the weekend, Recode reviewed how these platforms handle content that promotes violence and spreads hateful ideologies.

Fox News host Tucker Carlson dismisses white supremacy as 'a hoax'. "'It's actually not a real problem in America," he said.
Tucker Carlson's claim that white supremacy is a hoax is easy to prove wrong. Just watch his show. "Tucker Carlson's nightly show does a great deal to portray nonwhites as the dangerous "other," a force to be beaten back to save America. His denials and rhetoric must be called out for the lies that they are," writes Margaret Sullivan.
The media amplifies Trump's racism. Should it stop? "Whether we like it or not, we in the media are the crucial amplifiers of American politics. Trump has learned that he can get us to amplify racist invective as often as he wants. We have set up a very particular incentive structure for not only him but everyone else in politics, where the coverage that can be generated by abnormal, offensive behavior far outweighs the coverage on offer for simply trying to do a good job and be a decent person," writes Ezra Klein.

O'Rourke, then Ocasio-Cortez, then Glaude give journos a lesson in their field and their nation. "When politicians are schooling journalists in their own field, it may be time to reflect," writes Jeff Jarvis.
Turkish government destroys more than 300,000 books. "In just three years, the publishing landscape in Turkey has been all but decimated, with 29 publishing houses shut down by emergency decree for 'spreading terrorist propaganda."
Legal battle between president Duterte and Maria Ressa's Rappler shows the Philippines 'dark reality'. In the span of 14 months at least 11 complaints, investigations and court cases have been lodged by President Rodrigo Duterte's government against Filipino media site Rappler and its CEO. Maria Ressa was a #ijf19 speaker.

The Markup is back, with Julia Angwin reinstated as editor-in-chief, a new leadership team, and the same reporters. Angwin is part of a new leadership team: Nabiha Syed, formerly associate general counsel at BuzzFeed, will be president, and Evelyn Larrubia, who was executive editor of Marketplace, will be managing editor. Julia Angwin was a #ijf19 speaker:
🎥 Witness vs. forensics: the future of data-driven investigative reporting. #ijf19talk by @JuliaAngwin – #ijf19 On-Demand

(moderated by @dangillmor)https://t.co/OzbT4rxyND

— journalism festival (@journalismfest) August 7, 2019
How First News helps kids understand the world around them. From Brexit to the climate crisis, 60 per cent of UK's 12-15-year-olds are interested in news. But how do you report for younger audiences without overwhelming them?

The New York Times and The Guardian are celebrating good digital revenue news today. The New York Times now has 3.78 million digital subscribers, the company said in its second-quarter earnings report released Wednesday, while The Guardian confirmed that it broke even in 2018 for the first time in years and also broke out its international digital revenue for the first time.
---
The International Journalism Festival #ijf19 On-Demand
Every week, one recommendation from the extensive programme of the last edition of the International Journalism Festival.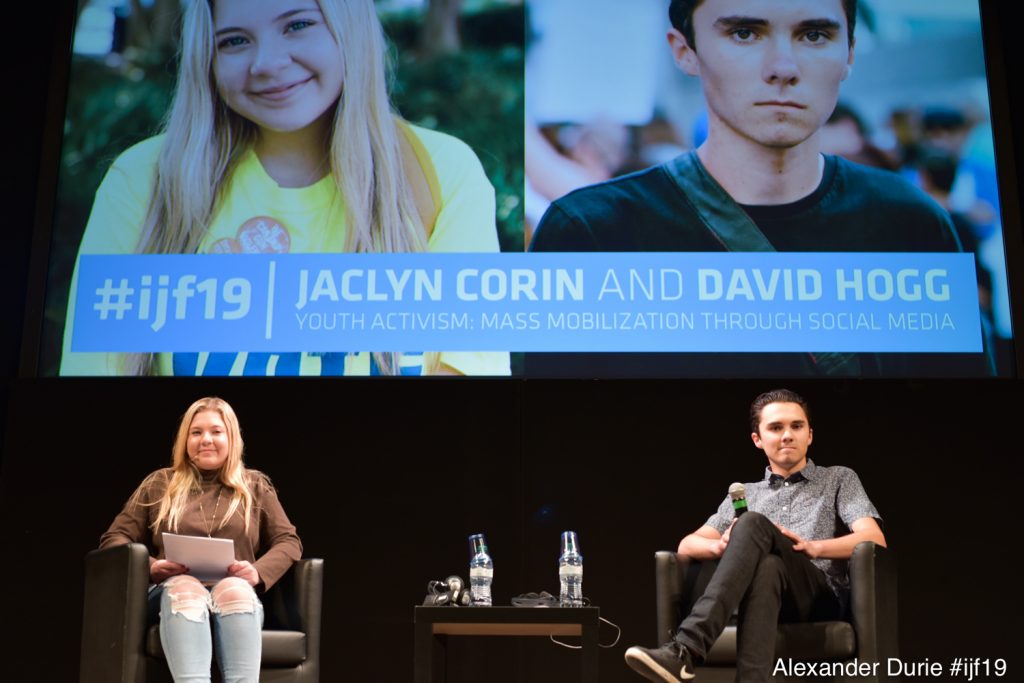 Today we are inviting you to watch "Youth activism: mass mobilization through social media". Having survived one of the worst mass shootings in America, students of Marjory Stoneman Douglas High School in Parkland, Florida, reacted immediately by mobilizing to prevent such an atrocity ever happening again. Through a smart use of social media they created the March For Our Lives movement to put pressure on politicians to change gun possession laws. After a March 2018 rally in Washington DC that was one of the biggest youth-led demonstrations since the Vietnam war era, they organized a tour across America to invite young people to register for the vote. Jaclyn Corin and David Hogg, survivors of the Parkland mass shooting and among the founders of March For Our Lives, talk about their experience, about how a mass movement can be created by using social media networks, and about the commitment of young people to really change things.

---
(Photo via NBC)