Amparo Serrano de Haro
UNED Madrid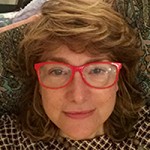 Amparo Serrano de Haro has been a tenured Professor of Art History since 2000 at UNED (Universidad Nacional de Educación a Distancia) in Madrid, Spain. Her research focus is on Modern and Contemporary Art History, with a special emphasis on gender studies. She is also a fiction writer.
She is the author of Palabra y Pintura. La crítica de arte anglonorteamericana (de 1850 a 1950) (2000) and Mujeres en el arte: espejo y realidad (2000) and the editor of Retrato de Dama Renacentista (2012). She has contributed to a wide array of academic publications, including Ciudadanas y protagonistas históricas. Mujeres republicanas en la II República y la Guerra Civil (2009), Sustrato cultural de la violencia de género (2010), Arte del siglo XIX (2010), Arte del siglo XX (2011) and Arte y realidad del Barroco (2012).
Her novels are Mujeres de Mármol (1998), Nocturno de Nueva York (2002) and La Luna de Artemisia. Aventuras y desventuras de una mujer artista del s.XVII (2011).