Leonardo Bianchi
VICE Italy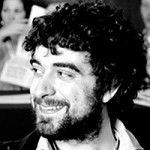 Leonardo Bianchi is news editor of VICE Italy. He also contributes (or has contributed) to Valigia Blu, Internazionale and other publications. Since 2008 he has written the satirical blog La Privata Repubblica on politics, current affairs and culture. He holds a degree in Law from the University of Bologna.
His first book is 
La Gente. Viaggio nell'Italia del risentimento 
(Minimum Fax, 2017).
Videos
IJF 2018
Leonardo Bianchi will speak at the following events:
---
---
IJF 2017
Leonardo Bianchi will speak at the following events:
---
IJF 2016
Leonardo Bianchi will speak at the following events:
---
Photos