Abdalaziz Alhamza
founder Raqqa is Being Slaughtered Silently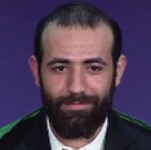 Abdalaziz Alhamza is co-founder and spokesman of Raqqa is Being Slaughtered Silently (RBSS). He currently lives in exile in Berlin.
On 25 November 2015 in New York he received on behalf of RBSS the Committee to Protect Journalist's International Press Freedom Award. He also received the 2015 Foreign Policy Global Thinkers Award - in the Chroniclers category - on behalf of RBSS.
For further information please see his November 2015 BBC interview with Anna Bressanin.