Molly de Aguiar
The Geraldine R Dodge Foundation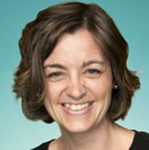 Molly de Aguiar is Program Director, Informed Communities, at the Geraldine R Dodge Foundation.
She directs the Foundation's Informed Communities grants, which foster robust civic engagement through inclusive, people-powered news and information projects across the state of New Jersey. These grants support a range of projects and ideas that explore the future of local journalism, with an emphasis on collaborative reporting, community participation, and creative storytelling formats.
She also directs Dodge's communications initiatives, exploring the intersections of philanthropy, communications, local journalism and community building. She led the overhaul of the Dodge website and brand update, and continues to oversee special projects that shine a spotlight on Dodge grantees as well as promote the value and impact of philanthropy in New Jersey.
Prior to joining the Dodge staff in 2005, Molly spent 10 years working for arts and education nonprofits in Philadelphia and was active in independent media issues.
She is a list maker, a weekend baker, and an avid traveler with her family. She writes about philanthropy at Philanthropy Sketchbook and also contributes to the Local News Lab. Molly has a B.A. in Journalism from the University of Wisconsin – Madison.
Molly de Aguiar will speak at the following events:
---