Yasir Khan
senior editor digital video Al Jazeera English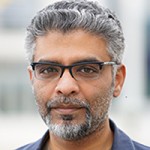 Yasir Khan is the Senior Editor of Digital Video at Al Jazeera English. He leads AJE's digital video, social video and audio podcast teams.
An award-winning documentary filmmaker, Yasir switched from TV to Online in 2013 after realizing he hadn't turned on his TV in years. Since then he's been an essential part of enlarging the channel's digital footprint, and grow its digital audience. He is also the founder and executive producer of AJE's digital short documentary strand AJ Shorts.
When he's is not making content, he is making content creators, teaching multimedia journalism and documentary filmmaking at Northwestern University in Qatar, the Royal Film Institute of Jordan, and the American University in Cairo.
He lives with his wife and daughter in Doha, Qatar.
Yasir Khan will speak at the following events:
---