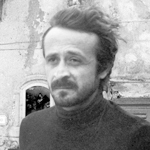 The annual A Story Still to Tell award invites the submission of short articles and/or videos on the circumstances surrounding the murder of an Italian journalist. The 2011 award is dedicated to the memory of Peppino Impastato. The award is kindly supported by UniCredit.
Peppino Impastato was a Sicilian anti-Mafia activist and radio speaker. In 1977 he founded Radio Aut, a self-financed radio station on which he denounced the criminal activities of local mobsters and politicians. He was killed in a bomb explosion in Sicily on 09 May 1978.
The 2007 first edition of the award was dedicated to Ilaria Alpi and Miran Hrovotin, the 2008 second edition to Enzo Baldoni, the 2009 third edition to Giancarlo Siani, journalist of the Naples daily Il Mattino murdered in Naples in 1985 at the age of 26 while investigating local organised crime, and the 2010 fourth edition to Maria Grazia Cutuli, journalist of the Italian daily Corriere della Sera killed in an explosion in Afghanistan in 2001. The award is open to university students, journalism school students and journalists under the age of 30. First prize is 2,500 euros in both the written and video categories. The deadline for submissions is 28 February 2011. The winners will be presented with the award during the 2011 festival.