Our personal weekly selection about journalism and innovation.
Stay up to date by subscribing to our Newsletter or by following our Telegram channel, and join the conversation on Facebook, Twitter, and Instagram.
Edited by Marco Nurra
---
Watch all #ijf19 sessions on-demand: media.journalismfestival.com

---
"Inside Syria's secret prisons": A harrowing account of how Assad's torture machine crushed dissent. A shocking exposé by the New York Times looks at how Bashar al-Assad's government has jailed and tortured tens of thousands of Syrians since the uprising began in 2011. According to the Syrian Network for Human Rights, nearly 128,000 people have disappeared. They are presumed to be either dead or still in custody. The group estimates almost 14,000 individuals have died under torture. The detentions are continuing even as the fighting winds down. Democracy Now! has speak with the report's author Anne Barnard. We tackled this topic at #ijf19:
🎥 Memory and justice: the case of Syria – #ijf19 on-demand

with @SaraAfshar, @Hadi_alkhatib, @anwaralbounni, @francescacaferr https://t.co/fnpwlEtvsB

— journalism festival (@journalismfest) May 17, 2019
Jamal Khashoggi fiancee: 'The world still has not done anything'. Hatice Cengiz criticises lack of action and calls for sanctions on Saudi Arabia. We tackled this topic at #ijf19:
🎥 Jamal Khashoggi: born 13 October 1958 (Medina) murdered 02 October 2018 (Istanbul) https://t.co/4YECQXkT9U – #ijf19

With @iyad_elbaghdadi @ghoshworld @francescacaferr @margheritamvs

— journalism festival (@journalismfest) May 7, 2019
Mena Mangal: journalist and political adviser shot dead in Kabul, just days after she warned on social media that she feared for her life. The attack, in broad daylight in a public place, prompted an outpouring of grief and anger from women's rights activists, directed at authorities who had left her unprotected in the face of threats.
The real threat to press freedom is prosecuting leakers. People who leak information to the media have a variety of motivations, usually complex. Some are whistleblowers, and others are motivated by politics or anger. Everyone involved recognizes there can be serious legal and professional consequences if sources are exposed; they can be fired, sued, or prosecuted for such crimes as mishandling confidential information. But leaking to the media is not a form of espionage, and to prosecute it as such not only conflates leaking with spying, it chills media-source interactions and sets a dangerous precedent in the United States and around the world.
I went to prison for leaking state secrets. Now, I want to make sure sources are protected. "In an 83-page-decision, Justice Rahamim Cohen ruled Haaretzand Uri Blau—one of their leading investigative journalists—were responsible for disclosing my identity as a source who gave them classified documents. Haaretz and Blau didn't do enough to protect me and will have to compensate me for the damages my exposure caused," writes Israeli journalist Anat Kamm. We tackled this topic at #ijf19: The Perugia Principles – a new set of guidelines for journalists working with whistleblowers in the digital context published in English, Spanish, Greek, German and Russian. These guidelines were developed collaboratively with an international panel of investigative journalists and academics, and they take their name from the International Journalism Festival held annually in Perugia.
🗓️ The Perugia Principles: new guidelines for journalists working with whistleblowers #ijf19
with @JuliaAngwin, @SueletteD, @f_obermaier, @julieposetti, @RyleGerardhttps://t.co/kB143Ani1l

— journalism festival (@journalismfest) March 20, 2019
The legal limbo of Chelsea Manning and Julian Assange. Assange already faced "multinational legal woes." Last week, things got even more complicated. Eva-Marie Persson, a top prosecutor in Sweden, announced that an investigation into a rape allegation against Assange—dating to 2010—would be reopened.
The BBC's 50:50 Project shows equal gender representation in news coverage is achievable — even in traditionally male areas. The BBC has publicly taken the tactic of setting a target. A year ago, the BBC set out to achieve gender equality in its on-air programming, with the goal of at least half the contributors to BBC programs and content being female by April 2019. The effort was already underway at some individual programs, starting with Ros Atkins' "Outside Source" back in 2016. Ros Atkins was an #ijf19 speaker:
On Twitter, news outlets amplify Trump's false statements. Media Matters found that, in a three-week period, news outlets tweeted false or misleading statements by Trump without clearly correcting them in the body of the tweet 65 percent of the time. Authored by Matt Gertz and Rob Savillo, the study examined more than 2,000 tweets posted between January 26 and February 15 from the Twitter accounts of major American print, online, and broadcast news outlets.
Trump won't stop coining nasty nicknames for his foes — but the media must stop amplifying them. "They are often false and always meant to bully.And the news media must stop trafficking in them. Journalists may not be able to ignore these nicknames altogether, but they should stop doing Trump's dirty work for him: amplifying their power through prominent placement and frequent, unquestioning repetition," writes Margaret Sullivan.
How The Washington Post tallied more than 10,000 Trump falsehoods in less than three years. To Glenn Kessler, who has covered every U. S. president since Ronald Reagan, that's remarkable. "I don't think (the tally) would be as useful with the (previous) presidents," he said in a phone interview. "They relied very heavily on White House staff to vet things before they said them. In Trump's case, he'll see something on TV and he'll just retweet it or say it and sometimes his staff has no idea."
The fascist next door: how to cover hate. There remains significant disagreement among journalists who cover the far right over how to portray killers seeking notoriety, and the organizations that inspire and abet them, sometimes with journalistic pretensions.
YouTube and its users face an existential threat from the EU's new copyright directive. YouTube creators fear their livelihood and creative outlet could be threatened by a new EU copyright directive that makes platforms liable for infringing content posted on their sites. EU member states still have two years to write the vague language of the directive into law, and YouTube is not done pushing back on it.
---
The International Journalism Festival #ijf19 On-Demand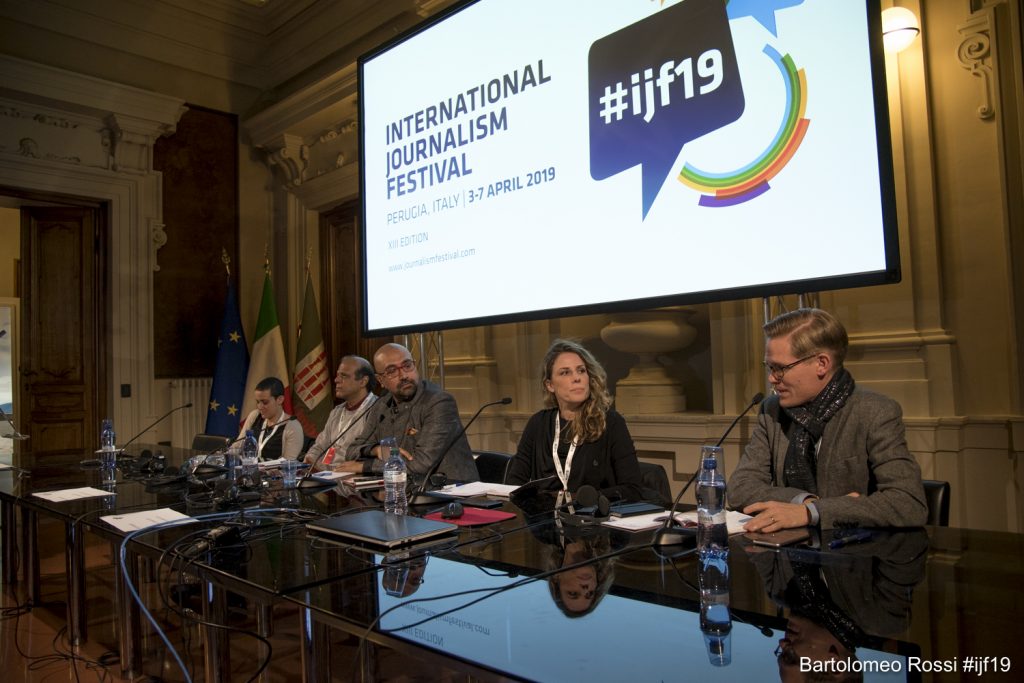 Every week, one recommendation from the extensive programme of the last edition of the International Journalism Festival.
Today we are inviting you to watch "How to protect journalists from political pressures". With journalism under pressure from major politicians across the world, how can editors and others work to protect journalists? This panel offers a wide range of different perspectives on how pressure is applied, who are most vulnerable, what barriers can withstand different kinds of pressure, and what tactics and strategies can help enhance independence.
---
(Photo: Memos sent to Syria's head of military intelligence reporting the deaths of detainees in custody. Some information was blacked out to protect the integrity of evidence for possible prosecutions. Source: The New York Times)