#ijf17 day by day: Saturday 8 April
8 April 2017 italian version
We invite you to check out the full festival programme on the website, but to provide a taster we have prepared the following brief overview. By clicking on +info► you can link to full details of each session, and then add it if you wish to your personal festival day-by-day agenda on your computer or smartphone.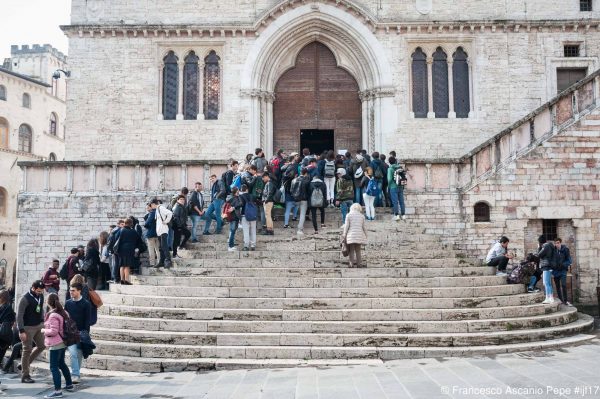 09:00 – 10:00 > Hotel Brufani – Sala Raffaello | panel-discussion
American journalism in the Trump era +info►
Ever since Donald Trump entered the political arena, the US media have not just reported on the story – they have become part of it. What are the challenges facing US journalism? How will they rebuild trust with an audience that is deeply polarised?
09:15 – 10:30 > Sala del Dottorato | panel-discussion
A world of censorship +info►
In this session Index correspondents from Mexico, the Gulf, the Horn of Africa and Europe will provide an update on censorship worldwide and reaffirm the need for increased vigilance in the fight to maintain, or indeed reinstate, freedom of expression.
09:15 – 10:15 > Centro Servizi G. Alessi | panel-discussion
Something old, something new: digital media and the coverage of climate change +info►
During the US presidential campaign and the Brexit referendum, the media hardly mentioned climate change. Some of the digital-born players like BuzzFeed, Huffington Post, Vice and Quartz are helping to fill the gap by adopting innovative ways to cover the 'old' topic of climate change.
09:15 – 10:15 > Hotel Brufani – Sala Perugino | workshop
Stories on the move: documenting the global migration crisis +info►
Migration has become a highly debated topic in both Europe and North America. This workshop will highlight film clips from two projects about migration and address issues of forced migration, resettlement, integration, asylum policies and refugee representations in media. What roles should journalists and media professionals play when covering migration?
09:30 – 10:45 > Palazzo Sorbello | panel-discussion
Collaborative fact-checking to monitor elections +info►
Five panelists involved in monitoring the EU referendum, the US election, and the upcoming French and German elections will talk about ambitious projects which involve monitoring social media and collaborative fact-checking. Is collaboration just a buzzword or are we seeing new ways of reporting elections?
10:00 – 11:00 > Hotel Brufani – Sala Raffaello | books
Journalism after Snowden: the future of the free press in the surveillance state +info►
This book, edited by Emily Bell and Taylor Owen and published by Columbia University Press, examines the changing power dynamics between reporters and government, specially in an age of heightened surveillance, where the need for – and threat to – watchdog journalism has intensified.
10:00 – 11:00 > Sala delle Colonne, Palazzo Graziani | panel-discussion
Cracking the code: digital-born and start-up news organisations in Europe +info►
How are European journalism start-ups and digital-born news media handling the basic challenges facing all new (and old) journalistic outfits: what do you focus your editorial resources on, how do you distribute your journalism, and how do you fund it? This panel brings together different kinds of digital journalism to discuss editorial, distribution, and funding models for digital journalism in Europe.
10:30 – 11:15 > Sala del Dottorato | panel-discussion
Optimizing for trust +info►
What if news organizations optimized every part of the operation for trust rather than speed? How would that change our products, our processes. What, when and how we publish? This panel will posit just such a future, and what optimizing for trust could mean for us.
10:45 – 12:00 > Palazzo Sorbello | panel-discussion
How to tackle trolls and manage online harassment +info►
A 2014 UK study of Twitter abuse targeting celebrities found that "female journalists receive roughly three times as much abuse as their male counterparts". How can we manage this problem and what practical steps can women journalists take to protect themselves?
11:00 – 12:00 > Sala dei Notari | ijf17talks
Zaina Erhaim: covering the Syrian war as a journalist, activist and woman +info►
Zaina will speak about the risks mainly Syrian journalists inside Syria and in neighboring counties are facing, the differences between them and the international journalists covering the Syrian conflict. Challenges that she has faced on a personal level as a journalist and as a trainer who helped those trying to be journalists inside Syria.
12:00 – 13:00 > Sala dei Notari | ijf17talks
How we saved Chelsea Manning's life: when activists, lawyers and journalists mobilize together online +info►
A talk with Evan Greer, campaign director of Fight for the Future and Manning's friend, has been one of the most vocal people in this fight and coordinator of the campaign that literally saved Chelsea Manning's life.
12:15 – 13:15 > Sala del Dottorato | panel-discussion
Pollsters or astrologists? The social role of opinion polls in politics +info►
Both Brexit and Donald Trump's victory were declared highly unlikely in many opinion polls until just a few days before the referendum/election. What to do, then, to prevent polls completely losing their public credibility?
14:00 – 14:45 > Centro Servizi G. Alessi | presentations
Million-dollar fund for media innovation in Africa +info►
Presentation of the innovateAFRICA project. Media pioneers and organizations in Africa will benefit from a new $1 million fund designed to spur digital innovation that can improve news distribution, revenue flows and audience engagement in news coverage about the health and well-being of Africans.
14:00 – 15:15 > Sala delle Colonne, Palazzo Graziani | panel-discussion
The rise of live journalism +info►
Journalism organisations have run many experiments aimed at strengthening engagement, expertise, and revenue – holding debates, opening cultural venues, running cafes, and sponsoring hackathons. This panel brings together live journalism experiments and businesses different countries, to share new lessons and ideas about journalism, trust and engagement.
14:00 – 15:15 > Sala del Dottorato | panel-discussion
News beyond advertising +info►
On this panel, speakers will discuss what news look like beyond (display) advertising, what the consequences will be for journalism, and what role journalists should play in the development of new business models for news.
14:00 – 14:45 > Hotel Brufani – Sala Priori | engagement
The Coral Project: free engagement tools for newsrooms +info►
The Coral Project, a collaboration between The New York Times, The Washington Post, and the Mozilla Foundation, has worked for two years on open-source tools to help news organizations create and enliven communities around their journalism. Find out what the team has learned about engagement strategy and how your newsroom can use its open-source tools.
15:00 – 16:00 > Hotel Brufani – Sala Raffaello | panel-discussion
Hacking democracy? Wikileaks, Russian hackers, US elections +info►
In June 2016, the storm of hacked emails, released by WikiLeaks, hit the US elections. Did Wikileaks effectively deliver a piece of the White House to Donald Trump, working in only one direction to damage the Democratic Party, or has it lived up to its ideals?
16:00 – 17:00 > Hotel Brufani – Sala Raffaello | panel-discussion
Improving news literacy through collaboration +info►
Facebook and Arizona State University (ASU) last month brought 50 educators, academics, journalists, technologists, platforms and third party organizations together for a working group on news literacy. This panel discussion will provide an update on the working group's ideas and proposals.
16:00 – 17:00 > Sala dei Notari | in-conversation
15 years without charge: Mohamedou Slahi on the hell of Guantanamo Bay +info►
The incredible and terrifying story of Mohamedou Ould Slahi, arrested in 2001 in his home country Mauritania and from there taken to the detention camp at Guantanamo Bay in Cuba. Now finally you can listen to live testimony from Mohamedou, who was released in October 2016 after 15 years of detention. Fifteen years without charge, in the name of security and of the fight against terrorism.
16:00 – 17:00 > Centro Servizi G. Alessi | panel-discussion
Making sense of content in a post-truth world +info►
Post-truth, alternative facts and highly politicized speech have become hot topics for debate. What impact does this new reality have on journalistic credibility? This panel, featuring project leaders with funding from Google's Digital News Initiative Full Fact, Deutsche Welle and Le Monde (tbc), will debate the good, the bad and the ugly.
16:30 – 17:30 > Sala delle Colonne, Palazzo Graziani | panel-discussion
LGBTs in the media +info►
Words can be walls or bridges: they can create distance or help the understanding of problems. Journalists can be protagonists of a narrative that reduces the risk of discrimination, but how should the media talk about this risk?
16:30 – 17:45 > Sala del Dottorato | panel-discussion
Investors in independent media: new challenges, new possibilities +info►
Around the world, people are building independent news- and journalism-related technology and content businesses – and investors are investing in them. How do these investors see the world, how do they think about investments, and what advice do they have on building viable journalism businesses?
17:00 – 18:00 > Centro Servizi G. Alessi | panel-discussion
Trolls in the newsroom: coping strategies for online harassment +info►
Journalists increasingly face the kind of abuse and harassment that poisons genuine debate and in some cases can lead to real psychological harm. Panelists will share experience, offer their personal strategies for pushing back against the toxic tide and discuss what it may take to create a free and civil online space for both journalists and their audiences.
17:30 – 18:30 > Sala dei Notari | in-conversation
Enough said. What's gone wrong with the language of politics? With Mark Thompson +info►
The crisis of confidence in institutions and mainstream media represents a danger to democratic life. If the media cannot find an appropriate language for citizens, those spaces risk becoming a moat that anti-establishment rhetoric easily fills with a language of hatred, anger and division, undermining the basis of society. What does this imply about the actual state of health of our democracy?
17:30 – 18:30 > Palazzo Sorbello | panel-discussion
The right to disappear digitally in Europe: what are the implications for journalism? +info►
Google and other search engines are subject to European privacy laws, and a 2014 decision gave European Union citizens the "right to disappear." Do editors and journalist have to be worried that a plaintiff in Belgium will demand that a story be withdrawn or redacted?
17:45 – 19:00 > Sala delle Colonne, Palazzo Graziani | panel-discussion
Your right to facts: doing journalism with a FOIA +info►
The Freedom of Information Act (FOIA) has become an important working tool for journalists in all countries where it was introduced. Three months after the first Italian FOIA became law, journalists and activists will discuss how to use it to improve news reporting and the obstacles still to overcome.
17:45 – 18:45 > Hotel Brufani – Sala Priori | presentations
Offshore journalism: securing digital archives from deletion and censorship +info►
Big companies have used offshore vehicles to legally optimize their tax burden, wouldn't it make sense for news media to build and use offshore vehicles to optimize their freedom of expression, and their readers' freedom of thought? The panel will introduce the report on the first phase of a project that builds an Offshore Journalism Toolkit.
17:45 – 18:45 > Sala del Dottorato | panel-discussion
Communicating the news to young people +info►
18:00 – 19:15 > Hotel Brufani – Sala Raffaello | panel-discussion
Towards a relationship of trust: journalism, philanthropy and newsroom independence +info►
Should foundations, particularly now, invest more civil society's institutional structures and therefore in journalism more generally? Or does this 'tear the wings off' new media? What can be done to make sure that journalism independence is respected and that independent media is being cultivated and sustained?
19:00 – 20:00 > Sala dei Notari | panel-discussion
Truth and justice for Giulio Regeni +info►
More than a year after the death of Giulio Regeni, the Italian Cambridge University PhD student tortured and killed in Egypt, the search for the truth conducted by his family and by humanitarian organizations such as Amnesty International continues. The panel will be followed by the documentary "State murder in Cairo: the disappearance, torture and murder of Giulio Regeni".
20:00 – 21:00 > Sala dei Notari | documentaries
Nine days in Cairo. The torture and murder of Giulio Regeni +info►
La Repubblica and 42° Parallelo present the new documentary (in Italian with English subtitles) Nine days in Cairo. The torture and murder of Giulio Regeni By Carlo Bonini and Giuliano Foschini Written by Diana Ligorio.
21:00 – 22:00 > Sala dei Notari | documentaries
I love Dick +info►
From the cult feminist book I love Dick by Chris Kraus, the first two episodes of the new series produced by Amazon. With Kevin Bacon, Kathryn Hahn and Griffin Dunne. Organised and sponsored by Amazon.
22:00 – 23:45 > Teatro Morlacchi | theatre-shows
Gazebo live! +info►
Diego Bianchi and his Gazebo (RAI 3) team of journalists, cartoonists, comics and musicians with their alternative and innovative presentation of the news. A unique show in the Italian mediaspace.
…