#ijf17 day by day: Wednesday 5 April
5 April 2017 italian version
We invite you to check out the full festival programme on the website, but to provide a taster we have prepared the following brief overview. By clicking on +info► you can link to full details of each session, and then add it if you wish to your personal festival day-by-day agenda on your computer or smartphone.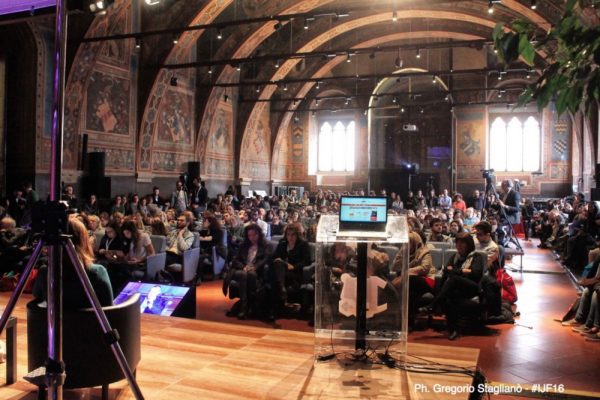 …
15:45 – 17:15 > Hotel Brufani – Sala Raffaello | panel discussion
Press freedom in south-east Europe +info►
In the first two months of 2017 the Vienna-based South East Europe Media Organisation (SEEMO) published more than 35 reactions and protest letters connected to press freedom violations in the SEEMO region. Strong censorship by states, self-censorship, pressure by advertisers, intimidation, threats, physical attacks, journalists in jail, police protection for journalists, but also pressure by business people, politicians and religious groups are part of the daily life of a journalist in south-east and central Europe.
18:00 – 19:00 > Sala del Dottorato | panel discussion
China: between traditional and digital media +info►
The panel will discuss the efforts by some traditional media to 'voice the citizens' and take more responsibility towards the public. Does the Internet offer enough opportunities for Chinese citizens and activists to air their concerns even though micro-blogging sites such as WeChat and Weibo enjoy massive popularity across the country? How much the citizens' and activists' posts and the growth of unfettered online activism have led the authorities to rein in micro-blogging sites over recent years? Can Chinese media industry adopt a "more reflective approach" which considers the needs of individuals and individual identity groups and promotes cross-sector collaboration?
18:00 – 19:00 > Hotel Brufani – Sala Raffaello | panel discussion
Populisms from Brexit to Trump +info►
How economic trauma, the migration crisis and dissatisfaction with traditional parties are shaking western democracies.
19:00 – 20:00 > Hotel Brufani – Sala Raffaello | in conversation
America, the whole world is watching +info►
The election victory of Donald Trump was a shock to many, both in the USA and elsewhere. The aggressive electoral campaign, the attacks on the media and minorities, the obvious support of the extreme right, the contradictory or patently false proclamations: none of these factors seem to have diminished his appeal, judging by the result. Why is American society so torn in two? Did mainstream media adopt a superficial attitude, underestimating the Republican candidate? What is the state of health of American democracy?
…