The International Journalism Festival weekly round-up. Stay up to date by subscribing to our newsletter, by following our Telegram channel, or by joining us on Facebook and Twitter.
The festival will take place next week. Here is an overview of how to make the most of the festival, whether you will be here in Perugia or will follow it online from afar.
FREE ENTRY The festival is free entry for all attendees for all sessions on a first-come-first-served basis, without any need for registration. Just come to Perugia and enjoy the festival.
PROGRAMME Here is the 2023 English-language festival brochure in an easy-to-read flip format. Alternatively, you can download it in PDF. Here is the festival speakers page, with the session(s) of each speaker listed at the bottom of their profile. And here is the festival programme, which can be divided into content categories or venues for ease of reading. There is one last-minute addition to the festival programme: #IStandWithEvan: Free Evan Gershkovich, scheduled in the lunchtime slot of 13.00-13.45 on Saturday 22 April. Note that this session is not in the festival brochure.
SIDE EVENTS PROGRAMME Social gatherings (drinks receptions, dinners, etc) and work-related meetups (of various kinds) are listed in the Side Events programme. Note that this programme will continue to be updated until the day before the start of the festival. The intention is to indicate to festival attendees and speakers what's going on off-programme and to provide off-programme event organisers with an effective way of communicating with the festival community.
WELCOME POINT Are you looking for information or a festival brochure? The festival Welcome Point (open daily from 09.00 to 19.00) is in the Hotel Brufani in Piazza Italia, Perugia.
Content from our partner McKinsey & Company

Six CEO priorities for 2023:
Leaders around the world are confronting many uncertainties. To begin making the most of novel opportunities amid ongoing change, and to learn how to focus on what matters,
explore here.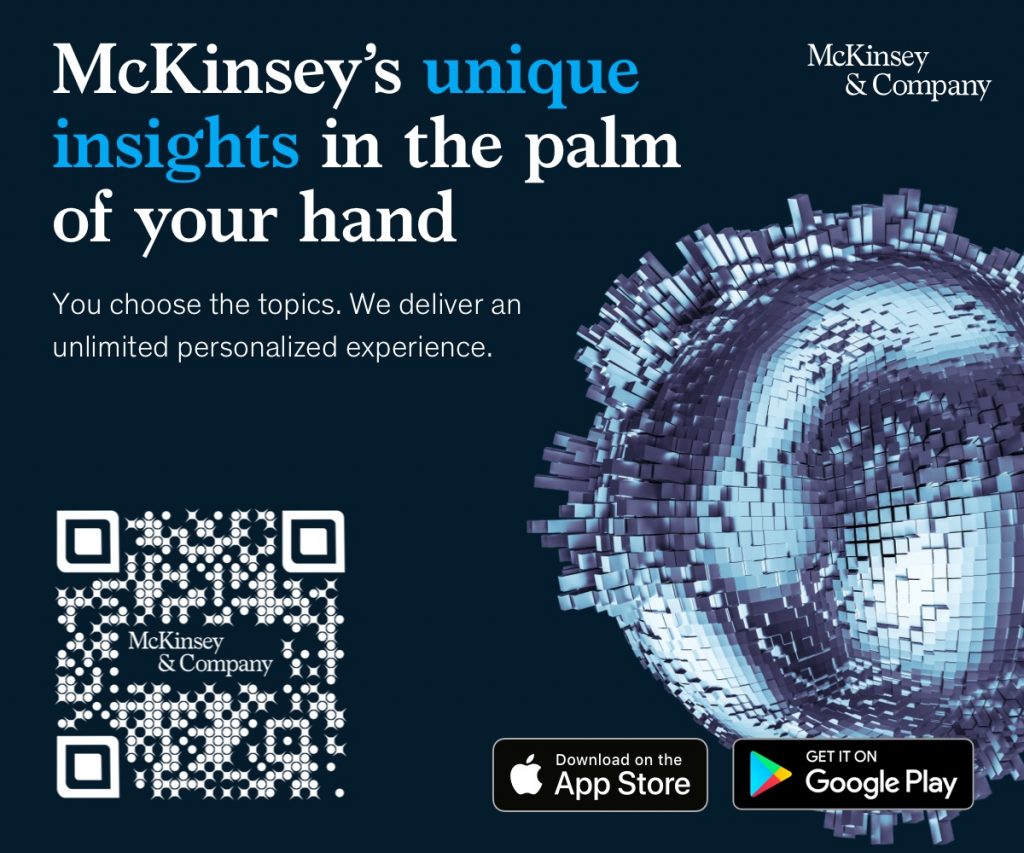 LIVE STREAMING AND ON-DEMAND VIDEOS Worried about missing some festival sessions? Too much interesting content to follow directly? No problem! The video platform media.journalismfestival.com will offer live streaming and on-demand videos of all 2023 festival sessions. You can also follow all sessions live-streamed on the festival YouTube channel. So too on the festival website, where live streaming and on-demand videos will be embedded at the top of each session page in the festival programme and at the bottom of each speaker profile on the festival speakers page. The videos can be downloaded and used without restriction.
FREE WI-FI Free Wi-Fi will be provided to all festival attendees in all festival venues, with Wi-Fi name journalismfestival and Wi-Fi password journalismfestival.
SIMULTANEOUS TRANSLATION The 2023 festival will feature a novelty. For the first time, an AI-generated real-time translation service will be provided for all sessions in all venues. This is W-AIspeech, created by the International Journalism Festival in collaboration with WILDOO.AI. There will be no more queues to collect or return simultaneous translation headphones, thus significantly reducing turnaround times between sessions. It will now be possible to follow any festival session even if you do not share the language of the speakers. All you need is your mobile phone and your earphones. See here for more details.
We look forward to welcoming the festival community back to Perugia next week.
Arianna and Chris
Photo: festival attendees waiting to enter the Sala dei Notari venue