Our personal weekly selection about journalism and innovation.
Stay up to date by subscribing to our Newsletter or by following our Telegram channel, and join the conversation on Facebook, Twitter, and Instagram.
Edited by Marco Nurra
---
Watch all #ijf19 sessions on-demand: media.journalismfestival.com

---
US charges Julian Assange with 17 counts under Espionage Act. "For the first time in the history of our country, the government has brought criminal charges under the Espionage Act against a publisher for the publication of truthful information. This is a direct assault on the First Amendment," writes ACLU.
The Trump administration is waging a war on journalistic sources & using the Espionage Act like a chainsaw. He's surpassing Obama's horrid 8 year record in just 2.5 years in power. An alleged drone whistleblower is now facing 50 years in prison. pic.twitter.com/640nAPYG5A

— jeremy scahill (@jeremyscahill) May 21, 2019
"The Signals" wants to be a full ecosystem for whistleblowers. Last week, five European media published the result of a nine-month-long investigation coordinated by The Signals Network. The non-profit wants to be a one-stop shop for sources willing to come forward. Frederic Filloux was a #ijf19 speaker:
At #ijf19 there were many excellent sessions discussing the business side of news. You should watch them (especially if you're a journalist and believe you don't need it). You can start with this one with with @amichel, @filloux, @fichtalina and @farano https://t.co/UaeTnYyjiQ

— Federica Cherubini (@fedecherubini) April 17, 2019
I went to prison for leaking state secrets. Now, I want to make sure sources are protected. "In an 83-page-decision, Justice Rahamim Cohen ruled Haaretzand Uri Blau—one of their leading investigative journalists—were responsible for disclosing my identity as a source who gave them classified documents. Haaretz and Blau didn't do enough to protect me and will have to compensate me for the damages my exposure caused." We tackled this topic at #ijf19:
🎥 The #PerugiaPrinciples: new guidelines for journalists working with whistleblowers – #ijf19 on-demand

with @JuliaAngwin, @SueletteD, @f_obermaier, @julieposetti, @RyleGerard https://t.co/kB143Ani1l

— journalism festival (@journalismfest) May 20, 2019
The Sky News journalist Alex Crawford and her camera crew have been deliberately targeted by the Syrian government and repeatedly shot at while reporting on the regime's assault on the province of Idlib. Dramatic video footage shows Crawford and her team under attack.
Prominent French journalist summoned by police for reporting on corruption in Macron's government. Ariane Chemin first broke the news in July 2018 of what has become known as the "Benalla affair," a story about misconduct by a former Macron security aide that has fueled allegations of a coverup within the Elysee Palace. France's national security police division has demanded that Chemin appear for questioning on May 29, intensifying concerns about press freedoms in the Macron era. In February, representatives of the Paris prosecutor's office raided — without a warrant — the offices of Mediapart, another news outlet, over its own Benalla reporting.
'We face a different danger,' war photographer Paul Conroy says. In a Q&A with CPJ, British the war photographer discusses his last assignment with Sunday Times reporter Marie Colvin in Syria, in 2012, and the dangers for photojournalists, especially when covering conflict. Paul Conroy was a #ijf19 speaker:
🎥 War photojournalism: in conversation with @reflextv and @nicoletung6 – #ijf19 on-demand https://t.co/WxZR99KtCH

(moderated by @martaserafini) pic.twitter.com/OMLFNtjYF3

— journalism festival (@journalismfest) May 23, 2019
Snapchat employees abused data access to spy on users. "Multiple sources and emails also describe SnapLion, an internal tool used by various departments to access Snapchat user data," writes Joseph Cox (Motherboard) in his article. Joseph Cox was a #ijf19 speaker:

🗓️ Inside the mind of a hacker: why all journalists need to care about digital security #ijf19
with @josephfcox https://t.co/96ydfCLvrq

— journalism festival (@journalismfest) March 28, 2019
Media can help fight misinformation, says Harvard's Joan Donovan. While mass shootings are clearly newsworthy, Donovan says, the internet introduces a new dynamic where all stories on a topic are instantly available to virtually anyone anywhere around the globe. And the fact that they are shared and re-shared and commented on via half a dozen different social networks means that "journalists quickly lose control over the reception of their work," she says. "This is why it is even more crucial that journalists frame stories clearly and avoid embedding and hyperlinking to known online spaces of radicalization." Despite this kind of advice from Donovan and others, a number of media outlets linked to the Christchurch shooter's writings, and at least one even included a clip from the live-streamed video of his attack. Joan Donovan was a #ijf19 speaker:
🗓️ Disinformation in covering migration #ijf19
with @icfjoyce, @BostonJoan, @Moonchild509, @JacopoOttavianihttps://t.co/oZHUdzqPyf

— journalism festival (@journalismfest) March 16, 2019
After completing its initial two-year funded experiment, the The Bureau Local is laying out its story, learnings and frameworks for those seeking to replicate or take parts of the model to their countries, cities or sectors. Megan Lucero (director The Bureau Local) was a #ijf19 speaker:
🎥 Nationwide collaborations on local investigative reporting in Germany and the UK – #ijf19 on-demand https://t.co/JZMzOnzBmL

with @CharlieBeckett, @Megan_Lucero, @David_Schraven pic.twitter.com/J4e95HBIy6

— journalism festival (@journalismfest) May 21, 2019
---
The International Journalism Festival #ijf19 On-Demand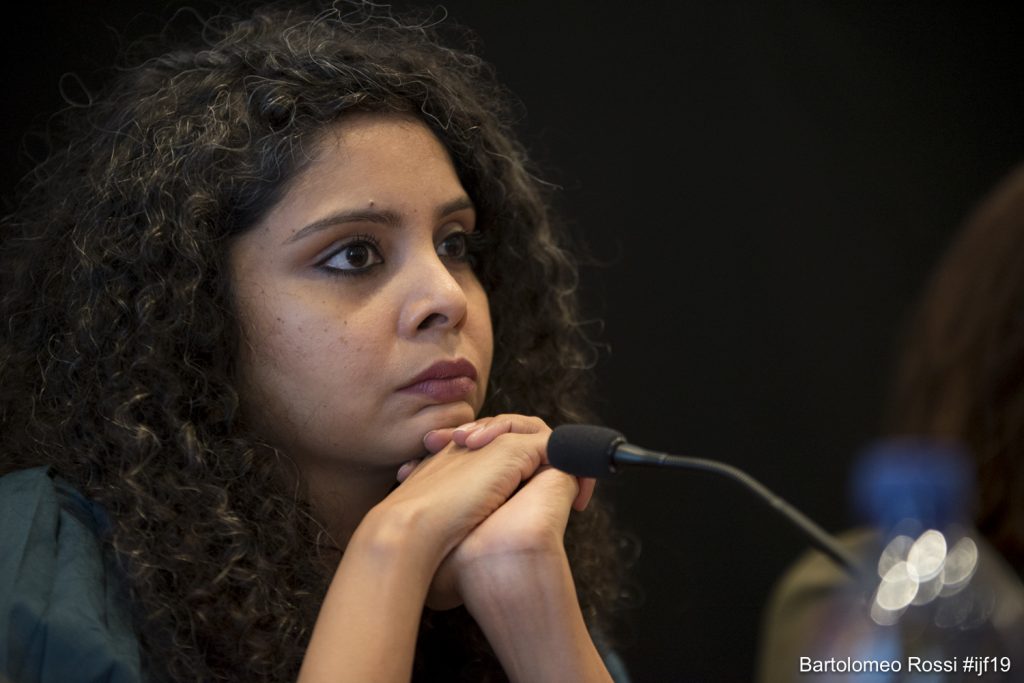 Every week, one recommendation from the extensive programme of the last edition of the International Journalism Festival.
Today we are inviting you to watch "When a state trolls: strategies for responding to online harassment against journalists". In the Philippines, a coordinated campaign of "paid trolls, fallacious reasoning, leaps in logic, poisoning the well" were among "the propaganda techniques that helped shift public opinion on key issues" levied against Rappler. In Malta, coordinated hate campaigns organized on secret Facebook groups targeted blogger Daphne Caruana Galizia before her murder. In India, Rana Ayyub left the country after on online harassment campaign following her reporting on government corruption. These are only a handful of the cases that the Committee to Protect Journalists and other organizations have documented in which state-affiliated trolling campaigns have targeted journalists in an attempt to intimidate and silence reporting on critical issues of public interest.
---
(Photo via Committee to Protect Journalists)