by Vincenzo Marino – translated by Roberta Aiello
The resurgence of paywalls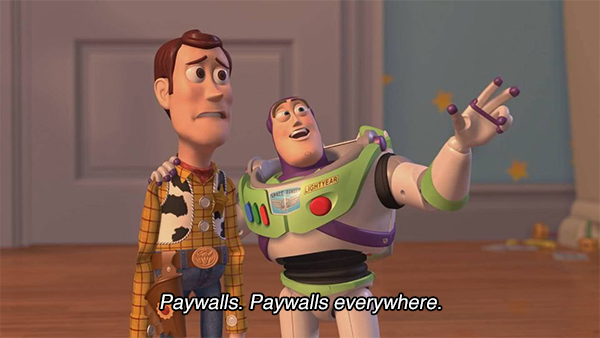 One of the largest publishing groups in America is back on the paywall road, without fully embracing its philosophy. This week, Digital First Media CEO John Paton announces that, over the next several months, most of the 75 newspapers of the group will adopt a metered subscription model – a 'softer' paywall, which guarantees some free content – in an attempt to make it a "short-term tactic" rather than a long-term strategy. Paton has never been a big fan of paywalls but when he verified the ineffectiveness of other models tested so far, from the hard paywall to the agreements with Google, he tried to find a way to make the online work of his newspapers profitable. He decided to bring down 'the wall' of subscriptions to most of the Digital First Media newspapers as a way to survive the current environment: «They don't transform anything; (…)  I have said that often enough in the past. But it's a tactic that will help us now». On his blog, Paton clarifies that the crisis scenario that has to be confronted is well known, where «print dollars are becoming digital dimes». However, if costs remain roughly the same, a new revenue stream is needed to survive this 'perfect storm'.
The revenue from digital advertising increased by 89 percent, the CEO says, but «if we are going to complete this journey of print-to-digital transformation» we need more gas in the tank. According to a calculation made by Ken Doctor, with the decision taken by Digital First Media the percentage of US online dailies which have adopted the paywall model will rise to 41 percent. This represents a big change in the trend compared to the setbacks that medium-large sized newspapers were gradually preparing for regarding online subscriptions (by the way, Los Angeles could be the most paywalled newspaper city). This week, Google announces the launch of a new product that will replace the failed Currents project. It is a Flipboard-style digital news-stand for Android, with free and paid content. In the range of choices available with the Newsstand app, it will be possible to read subscription-only content of The New York Times and The Wall Street Journal, and users will be able to import accounts they already have with those outlets.
The possibilities that await Greenwald's project
One of the most discussed articles of this week is the analysis of Frederic Filloux of the business models adopted by the new editorial creature that will involve the eBay founder Pierre Omidyar (who invested about $250 million) and the former Guardian journalist Glenn Greenwald (whom we have already discussed here). The new newsroom, which has been enriched – although not without criticism –  through journalists such as NYU professor Jay Rosen, is now facing a critical scenario, rather hostile to the new publishing initiatives. It will certainly be an advantage to start from scratch without suffering the weight of hereditary costs, but with the handicap of a natural financial vulnerability devoid of references or examples to follow due to the peculiar nature of the project. For Filloux, one of the first questions to be resolved is deciding whether to aim for high volume access to resell to potentially numerous advertisers – who will be offered many small spaces – or to offer higher quality, build a strong brand and – from the financial point of view – lean on the parent company for as long as necessary.
From the point of view of revenue, one option could be subscriptions, Filloux affirms. Investigative journalism, the heart of the whole project, could justify a subscription campaign that has already born fruit elsewhere, such as in the case of Médiapart in France. With a broad English-speaking audience and global coverage – not Washington-centric – the creation of Omidyar and Greenwald is likely to reach a figure of between 500,000 and 800,000 subscribers in a few years, up to $40/60 million in yearly revenue. On the production side, Filloux imagines a mobile-oriented project, highly multimedia (with a web TV platform and a weekly paper version for longreads), thematically segmented, able to get into linguistically attractive markets (China), imagining «a global approach to public interest journalism in large democracies, but also in countries that are deprived of a free press».
Online newspapers and the reliance on Facebook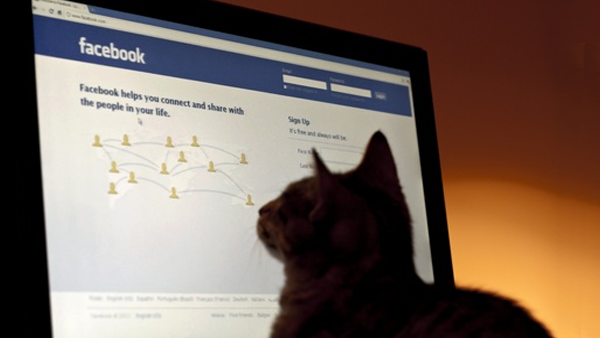 The rise of Facebook has inevitably affected the way millions of readers access and share news. Research published in October showed that, from September 2012 to September 2013, the average referral track from Facebook to media websites has grown 170 percent and that the rise depends on the increase of mobile users (+253.25 percent of visits referral track from Facebook Mobile on an annual basis). There are more and more smartphone users willing to share and like, says the research conducted by Shareaholic. More than half of this growth was due exclusively to the mobile industry in a global market – according to another study by the Pew Center – where Facebook represents a segment of 64 percent of adults in the US, of which a little less than half is generally accustomed to consume news on Facebook. Numbers that lead some to wonder if Mark Zuckerberg is the person to look to for the survival of online publishing.
This week Charlie Warzel of BuzzFeed tries to answer this question, reasoning about the latest data. «Facebook has sent unprecedented levels of traffic to publishers across the internet in recent months, a dramatic and unexpected increase affecting a large range of sites serving a wide variety of content», Warzel explains. Analyzing a collection of 200 websites, ranging from The Huffington Post to Slate, with more than 300 million users each month, traffic from Facebook referral to partner network websites is up 69% percent from August to October. In August, the sudden change of speed exceeded 100 million referrals for the first time. In the same month, Facebook announced major changes to its News Feed algorithm that would affect the reappearance of the posts favoring those with more interactions. Facebook has publicly called on publishers to adapt in order to take advantage of this new type of indexing, and more generally to pay more attention to what is decided in Palo Alto. More than Twitter, which seems to be an "obsession" for many journalists, Facebook is actually crucial for the proper functioning of its online content. According to Warzel, the 'persuasive' turning point of Facebook (with its tips of various kinds and a net increase of 170 percent of average visits) with regard to publishers, arrived at the same time as the IPO of Twitter to remind online newspapers where the real flow of readers and news passes through.
Doing journalism in an entirely accidental way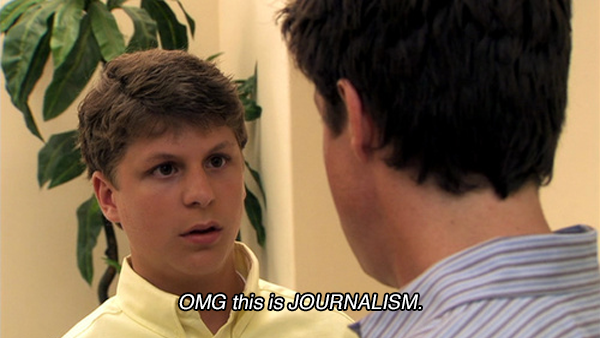 Eliot Higgins is a 34-year-old unemployed married man who lives in the provincial town of Leicester (UK). He spends his days monitoring military activities in the Middle East under the name of Brown Moses. Patrick Radden Keefe of The New Yorker dedicates a long profile to the British blogger who has become a precious resource for journalists on Syrian affairs and in particular on the verification of the weapons used in the conflict. He is a long-distance source, who has «probably broken more stories than most journalists do in a career», says Stuart Hughes, a BBC News producer in London. Passionate about weapons and war video games (he can play for more than 24 hours in a row), Higgins has monitored a huge amount of multimedia content continuously, for 18 months, especially on Syria. He has become one of the reference points regarding the type, the use and origin of the weapons shown in the documents found. He cross-checks photos, videos and tweets, assembles playlists on YouTube, collaborates with others using platforms like Storyful, geolocates clashes and bombings, and seems to be crucial in the process that led to the attention of the world to doubt that Assad's troops used chemical weapons. His work, Bianca Bosker of The Huffington Post specifies, has lead to agreements on inspections and the destruction of chemical weapons.
Higgins is not a journalist, he doesn't have any training on the retrieval and processing of  'classified' material, he has never been to Syria and doesn't speak Arabic. He states that he started in part out of boredom and in part out of obsession after realizing – during a flame on the Guardian website – how easy it was to get to certain sources and work using social networks. «Brown Moses has been supplying a lot of information for the coverage of the Syrian war» explains CJ Chivers, a New York Times reporter, «so c'mon, let's say it: many people (whether they admit it or not) have been relying on that blog's daily labor to cull the uncountable videos», a job that leads him to sift through about 300 videos per day, all for free. A few months ago, Higgins launched a crowdfunding campaign that provided him with about $10,000 in less than a month, which made Mathew Ingram of Gigaom wonder if he can be considered a model of crowdsourced journalism, of citizen journalism in 'remote', or journalism in general. Higgins' brother speaks of him as a person who gets tenaciously into things (whether video games or videos on the weapons of war) and in an era of media within the range of all and platforms for UGC, it is easier than ever to fall – accidentally or not – into the realm of journalism.