Alex Entwistle
BBC Radio 5 Live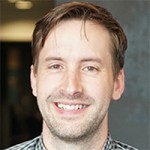 Alex Entwistle is an Assistant Editor at the BBC and leads the Digital Pilots team on 5 live News, telling the stories of younger women in Northern England.
After starting in commercial radio, he has spent over a decade working across the BBC in many guises: social media, online, audio and video production, directing and editor – from Radio Lancashire to the World Service, Radio 4 and currently 5 live.
An analytics addict and numbers junkie, he is dedicated to improving content based on user behaviour.
Videos