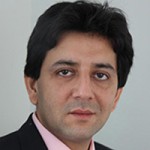 Ali Dayan Hasan is currently Senior Technical Key Expert on Human Rights Capacity Building and Training for the European Union-funded Huqooq-e-Pakistan project tasked with helping Pakistan government-run human rights institutions become more responsive. In this position, and previously as Senior Human Rights Advisor to the United Nations Development Programme in Pakistan, Hasan has designed and executed trainings, capacity-development programmes and policy initiatives for a range of state-established national and provincial human rights institutions including the National Commission on Human Rights (NCHR) and the government of Pakistan's Khyber Pakhtunkhwa province. Hasan is the author of the Government of Khyber Pakhtunkhwa Human Rights Policy 2018 and has specialized expertise in international human rights law, international humanitarian law and human rights research and advocacy.
Hasan previously served as Human Rights Watch's Pakistan director between 2003 and 2014 and prior to that as senior editor at Pakistan's premier political news magazine, Herald between 1998 and 2003. He has been a member of the World Economic Forum's Global Agenda Council on Human Rights and prior to that on the WEF's Global Agenda Council on Pakistan, a Senior Fellow at the United States Institute of Peace in Washington DC and a Research Fellow at the Leverhulme Changing Character of War Programme at the University of Oxford.
Hasan has a B.A. from the London School of Economics and a Master's degree from St. Antony's College, Oxford.