Bahareh Heravi
University College Dublin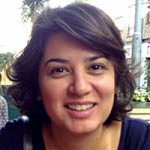 Bahareh Heravi is a Data and Computational Journalism researcher, trainer, practitioner and innovator. She is an Assistant Professor in Information and Communication Studies at University College Dublin (UCD).
Prior to joining UCD, Bahareh was the head of Insight News Lab and a Research Fellow at the Insight Centre for Data Analytics at the National University of Ireland, Galway. She is the former Lead Data Scientist at The Irish Times, where she spearheaded the Irish Times Data, and led the paper's R&D programme. She has also led a number of R&D projects with the Irish National TV and Radio broadcaster, RTÉ, through her academic-industry collaborations.
Bahareh has lectured on Data Journalism in several Irish universities and institutions, including National University of Ireland and Dublin City University. She is a programme board member of Journalism Studies at NUI Galway.
In 2011 Bahareh was awarded Google's 'Women Techmakers' Scholarship, an award given to recognise outstanding young women scholars in computer science and related fields. She is also the founder and primary organiser of Hacks/Hackers Dublin.
In collaboration with Mirko Lorenz, Bahareh is running the 2017 Global Data Journalism study.