Claire Prentice
journalist and author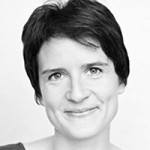 Claire Prentice is a journalist and the author of two non-fiction books, The Lost Tribe of Coney Island and the bestselling Miracle at Coney Island, both of which unearth extraordinary true stories from New York's social history. As a journalist she has covered three U.S. presidential elections and has contributed to The Times of London, the BBC, The Washington Post, The Guardian, NPR, The Smithsonian magazine, The Huffington Post, the Sydney Morning Herald, the  Daily Telegraph, The Sunday Telegraph, The Sunday Times, The Independent, Scotland on Sunday, The Scotsman, The Sunday Herald, Grazia, Marie Claire Australia and Cosmopolitan. She was a 2016 Robert Louis Stevenson Fellow.
The Lost Tribe of Coney Island tells the story of a group of 50 Philippine tribespeople who were taken to America in 1905 and exhibited at Coney Island, NY. The Igorrote tribespeople became a national sensation and made their manager, Truman Hunt, a rich man. But by the end of the summer season, Truman, with the tribe in his care, was being chased across the U.S. by ex-wives, creditors, Pinkerton detectives and the American Government. This is a story of the American Dream which makes us question who is civilized and who is savage.
Miracle at Coney Island presents Martin Couney, "the incubator doctor" who exhibited premature babies in incubators at fairs, expos and amusement parks across America at a time when hospitals didn't have incubators and mainstream doctors didn't believe premature babies could or should be saved. Couney operated his exhibit like a miniature hospital ward, using advanced techniques and employing a team of doctors and nurses. Couney is credited with saving 6,000 babies and though he is undoubtedly a heoric figure, Prentice has discovered that he invented important facts about his past.