Darcy Padilla
photojournalist and UC Davis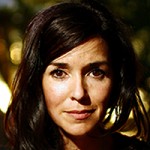 Darcy Padilla is an American documentary photographer and photojournalist who specializes in contemporary issues and long-term projects.
Her awards include a Guggenheim Fellowship, Alexia Foundation Grant, Canon Female Photojournalist Award, Open Society Institute Fellowship, Getty Images Grant, Alicia Patterson Fellowship, Photo-Reporter Grant, three World Press Photo Awards, and the W. Eugene Smith Grant for Humanitarian Photography.
Exhibited internationally and published in The New York Times, Le Monde, ELLE France, Wired, Rolling Stone, Granta, The New Yorker, and more. Padilla has lectured at the San Francisco Art Institute and led workshops at Rencontres d'Arles. Family Love, her recent book, is based on Padilla's award-winning documentary The Julie Project that follows a family for 21 years — an intimate story of poverty, AIDS, and social issues.
Padilla is pursuing her post-graduate degree at the Art Studio of the University of California, Davis, and lives in San Francisco.