Diana Henriques
journalist and author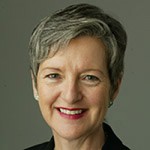 Diana B. Henriques, the author of the New York Times bestseller The Wizard of Lies: Bernie Madoff and the Death of Trust, is a contributing writer for The New York Times, which she joined in 1989. She was previously a staff writer for Barron's magazine, a Wall Street correspondent for The Philadelphia Inquirer, and an investigative reporter for The Trenton (N.J.) Times.
In 2005, she was a finalist for a Pulitzer Prize and won a George Polk Award, the Worth Bingham Prize for Investigative Reporting and Harvard's Goldsmith Prize for her 2004 series exposing insurance and investment rip-offs of young military consumers. She was also a member of The New York Times team that was a Pulitzer finalist for its coverage of the 2008 financial crisis.
In May 2011, HBO optioned The Wizard of Lies and, in May 2017, will air its film-length adaptation of the book, with Robert De Niro starring in the title role and Ms. Henriques playing herself.
Henriques's new book, A First-Class Catastrophe: The Road to Black Monday, The Worst Day in Wall Street History, will be released by Henry Holt in September 2017. She is also the author of three previous books: The Machinery of Greed, Fidelity's World and The White Sharks of Wall Street.