Frédéric Martel
sociologist and journalist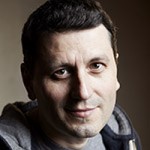 Frédéric Martel is a senior researcher and journalist. He has a PhD in Social Science and four Masters degrees in Law, Political science, Philosophy, and Social science. He has been a visiting scholar at Harvard and teaches at Sciences Po Paris and, previously, on the HEC's MBA programme. He has been invited as a keynote speaker to dozens of countries and universities around the world.
He is the author of nine books, including On Culture in America (Gallimard, 2006) and the best-seller Mainstream: On the Global War on Culture and Medias (Flammarion, 2010, translated in twenty countries).
As a journalist, Frédéric Martel is the anchor of the weekly radio program Soft Power on French National Public Radio (France Culture/Radio France), Foreign Affairs Columnist for Slate.fr and the editor of the book review website nonfiction.fr
He is currently a Senior Researcher Fellow at the ZHdK University in Zurich and a fellow at CERI, the Center for International Relations Studies at Sciences Po Paris. He advises the European Commission and he is a member of New Narrative for Europe, the cultural task force of the president of the EU.
His latest book Smart: On the internets (Stock, 2014) is in translation in nine languages and a dozen countries.