Jim MacMillan
School of Media & Communication Temple Univ.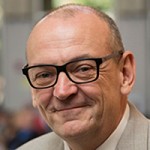 Jim MacMillan is Assistant Director of External Affairs for the School of Media and Communication at Temple University, where he also manages the Center for Public Interest Journalism and maintains Temple's part of the Open Data Philly partnership.
From 2012 through 2014, MacMillan led the Gun Crisis Reporting Project, a small nonprofit news organization focused on solutions to gun violence in Philadelphia. Previously, he produced War News Radio as the journalist in residence at Swarthmore College, was an assistant professor in convergence journalism at the University of Missouri, taught multimedia reporting for graduate students at the Carter Journalism Institute at New York University, and led urban photojournalism workshops with the Institute for Global Leadership at Tufts University.
MacMillan spent 17 years at the Philadelphia Daily News as a sports photographer, senior photographer, photo columnist and the paper's first video news producer. He photographed the war in Iraq for the Associated Press in 2004 and 2005, for which his team was awarded the Pulitzer Prize.
MacMillan has also been honored with the Bayeux Prize for War Correspondents, a National Headliner Award and the Distinguished Visual Journalist award by the Keystone Press Association. Local recognition includes a Best of Philly award, a Philly Geek award, a Pen and Pencil Club award and Partners in Peace honors from Mothers in Charge.
MacMillan studied journalism and psychological trauma as a Dart Center Ochberg Fellow as well as with the Knight-Wallace Fellows at the University of Michigan. He was also Social Innovations Lab Fellow with Fels Institute of Government at the University of Pennsylvania.