John Mills
Media Innovation Studio Univ. of Central Lancashire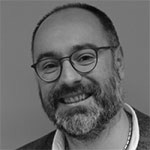 Based at the Media Innovation Studio at the University of Central Lancashire (UCLan), John Mills' research interests span journalism, the Internet of Things (IoT), augmented paper, mobile journalism, wearables, HCI, drone journalism and innovation theory. 
In recent years his research has increasingly moved into the realm of the Internet of Things, and how news organisations could utilise physical platforms and experiences. This work includes the Google-funded NewsThings project, an IoT content management system and conductive ink and web-connected print. He has taught multimedia journalism techniques and theory at UCLan, and is currently a PhD candidate at the Digital World Research Centre and the Centre for the Digital Economy at the University of Surrey.
Commercially, he has established business-to-business editorial operations in Manchester and Leeds, and managed large teams of online correspondents both in the UK and further afield.