Kate Robertson
co-founder One Young World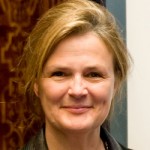 Kate Robertson is the co-founder of internationally recognised forum and conference One Young World.
She studied law at the University of Cape Town before getting into selling radio advertisement space for an independent radio station and realising she excelled in communicating ideas to people. She moved from sales into advertising and worked for a number of large agencies including J Walter Thompson, Lintas, Bates and Scholz, culminating in her current position: UK group chairman of Euro RSCG Worldwide. In this role she runs twelve companies within the UK spanning a range of marketing communications disciplines from advertising to financial public relations.
In 2008 she created One Young World. One Young World brings together young future leaders and gives them a voice to affect change among governments & businesses worldwide. One Young World is becoming the world's premier forum for young leaders. The forum has been attended by noted humanitarians including Kofi Annan, Desmond Tutu and Bob Geldof. In 2011 the conference hosted 171 countries and 1200 delegates.