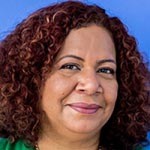 Luz Mely Reyes is a Venezuelan journalist, entrepreneur, writer and political analyst. She is co-founder and CEO of Efecto Cocuyo, an independent online media platform based in Caracas. She has specialized on in-depth journalism, investigative reporting and political reporting, with a focus on election coverage.
Previously, she spent 12 years at Cadena Capriles and Diario 2001, the most important media groups in Venezuela. For ten of those years, she was a political editor, head of the investigative unit at Últimas Noticias, and editor of the best-selling Venezuelan Sunday newspaper. In 2012, she became the first female editor-in-chief of a national newspaper at Diario 2001. In 2015, she resigned and co-founded Efecto Cocuyo with her colleagues Laura Weffer and Josefina Ruggiero. Efecto Cocuyo, which in English means Firefly Effect, is an innovative website that delivers in-depth reports and has built a strong community of users through social media. In 2016, Reyes was a fellow of the Tow-Knight Center program for Entrepreneurial Journalism at the Graduate School of Journalism of City University of New York. She also obtained an international scholarship from the Konrad Adenauer Foundation and was a fellow of the OAS in Bogota at Pontificia Universidad Javeriana.
She is the winner of the 2018 CPJ International Press Freedom Award and the 2019 German-French Prize for Human Rights.