Mark Bunting
visiting associate Oxford Internet Institute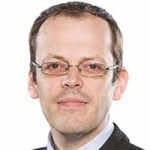 Mark Bunting is a Visiting Associate at the Oxford Internet Institute, a multidisciplinary research and teaching department of the University of Oxford, dedicated to the social science of the Internet. His research interests include public service media, news, digital distribution, democracy, public consultation, participation, e-democracy, e-government, digital media, social media, platforms, online research, online communities.
Mark has held a series of senior strategy and policy roles at the BBC and Ofcom, and now works independently as an expert advisor on the digital transformation of public service media. Until November 2016 he was Head of Distribution Strategy at the BBC, where he developed the BBC's long-range plan for transition to Internet distribution. He was formerly the BBC's head of Global News Strategy & Policy where he developed the strategy to transform BBC World Service into a digital-first, multilingual multimedia news provider. At Ofcom he led a number of broadcasting policy projects, including the second review of public service broadcasting in 2007-08 and a review into the future funding of Channel 4.
In the early 2000s he developed innovative approaches to engaging online communities as Director of Research & Consulting at Infonic, a specialist Internet research and communications agency. Prior to that he worked at Opinion Leader Research, where he pioneered new forms of public consultation including Citizens' Juries and deliberative forums, and at MORI, where he worked for a range of public sector clients on social and political research projects.